Twenty years after its founding, many of the owners of the American Football League, who were still around, got together in New York's "Club 21" to celebrate the occasion. The hosts were the league's founder, Lamar Hunt, and the owner of the Boston Patriots, Billy Sullivan.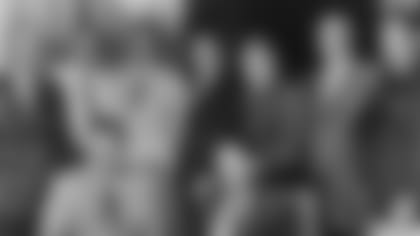 A number of invitations had been sent out to include media like New York Times columnist Dave Anderson, the San Diego Union's Jerry Magee, Paul Zimmerman, then with the New York Post, and Larry Felser of the Buffalo Evening News, who Anderson dubbed the paper's "poet laureate." Early club execs like Don Klosterman, the mastermind of drafts that put the Chiefs in two Super Bowls, and Chet Simmons, the former president of ABC Sports, the network that gave the league its sudden street cred, showed up too to spin some yarns.
And then, there were the players and coaches like Jack Kemp, Jerry Mays, Don Meredith (the Texans first pick in an early AFL draft, but who signed with the Cowboys) and Sid Gilman. And, there was Al Davis, who apparently had come up with the idea for a reunion and had called Sullivan, who in turn phoned Hunt. Even Maxine Eisenberg, the league's second employee and secretary to Commissioner Joe Foss showed up. Missing were Foss and Sonny Werblin, the mastermind who had signed Joe Namath and turned the AFL's New York franchise into one of pro football's premier teams.
Hunt and Sullivan busily hopped tables throughout the night and took turns at the lectern, it was said, and the stories, well, there were plenty of stories and nothing was left out, even if it poked fun at those who were not there.
Prevalent on the list of stories were those involving the late Harry Wismer, the New York Titans owner. "Harry had the energy; he just did not have the money," Anderson wrote that Sullivan said. "But, he got us going in New York" (before selling out to Werblin, who changed the team's name to Jets). Sullivan's son told the story of Wismer repeatedly calling the Sullivan house late at night impersonating Cardinal Cushing.
Hunt talked of Wismer taping league meetings that were held in the New York owner's apartment and the attempt by the fellow taping them to strong-arm money for the tapes, thinking they were of something important. Hunt's response? "Keep 'em."
Whenever the Titans got a bad call, Sullivan recalled, "Harry would fire off a telegram to Joe Foss and at the bottom, it would say, 'Copies to: John F. Kennedy, J. Edgar Hoover, Gen. Douglas MacArthur, Adm. Chester Nimitz." As Magee later wrote of the evening and of Wismer: "…he could be charming, saying 'congratulations' to everyone he met, moving fast, going nowhere; his cheeks rosy as a boy's and his pockets as empty as a boy's.'"
Klosterman laughed that some people called the league "the A.F. of L., as if Samuel Gompers were our commissioner" and Simmons talked of the game's television producers ordering a kickoff over, when his cameramen missed it. Davis, a true AFL believer, if there ever was one, offered to give Pittsburgh's Dan Rooney - in attendance that night as an owner of an AFC team (the AFL teams were incorporated into a new conference, after the merger) - his $3 million dollars back for moving to the new conference. Gilman laughed about losing his quarterback Jack Kemp to the Buffalo Bills, because of his technical error in placing him on waivers. Davis reminisced on attending a banquet, where Nicky Hilton was mistaken for Barron Hilton, owner of the Chargers, as "the man who made $100,000 with a baseball team in Los Angeles."
It was that kind of night and that kind of league.
As Magee later wrote, he wished the late Paul Christman could have been there. It was Christman partnering with Curt Gowdy on television that helped acquaint the fledgling league to viewers all across the country.
"I wish everybody whoever played in dusty [Houston's] Jeppeson Stadium could have been there," he waxed on. "I wish everybody whoever sat in [San Diego's] Balboa Stadium on those cement seats, while the water closets overflowed, could have been there. I wish Cookie Gilchrist could have been there. And Abner Haynes. And Paul Lowe. And Cotton Davidson.  And Butch Songin."
And, given those of us who are reading this now and profess an interest in the AFL and its bygone days, how great would it have been if we had been there, too?