While a lot of the hype continues to build up Sunday's matchup of rookie right tackles, Kansas City Chiefs T Eric Fisher and Jacksonville Jaguars T Luke Joeckel, the score at the end of the game ultimately comes down to all three crucial phases, offense, defense and special teams.
The game won't start without an opening kickoff; so it seems fitting that the first Chiefs coordinator to address the media after the team's walkthrough Thursday was Chiefs special teams coordinator Dave Toub, who discussed the reality of roster changes.
"It's kind of the nature of the business," Toub said. "Guys get hurt all the time from week to week and when a guy gets hurt, my guy has to move up and play offense or defense and I end up getting a new guy. This is the same situation. We've lost a few guys, but we also gained some guys, some good players and we're going to move forward." Next up was Chiefs offensive coordinator Doug Pederson, who said keeping QB Alex Smith out of the team's final preseason game won't hinder his performance this Sunday.
"I don't think taking a game off is going to affect a guy like Alex," Pederson said. "He has started a lot of games in the National Football League, so he knows how to handle an opening day. He's started his preparation several weeks ago for this particular game. He approaches it the same way he does a preseason game and he'll get himself ready to go. The time off won't affect him, because he's played so much and had a lot of starts under his belt."
One of Smith's WRs, Chiefs WR Dexter McCluster is ready for the Jags and excited to be playing with #11.
"A. Smith is a guy that notices progressions," McCluster said. "He knows how to read defenses and he doesn't force anything. If it's not there, he is going to get rid of the ball and live to play another down. He is a guy that wants to win – he's mobile, so he can keep plays alive. All we have to do is get open and he'll get it to us."
Last and certainly not least, Chiefs defensive coordinator Bob Sutton met with the media, essentially describing the work that's already cut out for his guys.
"I think we have a big challenge," Sutton said. "We're playing against an outstanding back in No. 32 (Maurice Jones-Drew). I think he's been a good football player in our league for a number of years. He's a different kind of back in the sense that he's not a big person, stature-wise. The thing that he does, as we say, he's capable of either bouncing all the way out, or cutting all the way back. He's sometimes hard to find, because he's short and he gets in behind those linemen, but he's a really good football player and he's going to present to us some really significant challenges as we start the season."
One of the players asked to help stop MJD is Chiefs DE Mike DeVito, who followed coach Sutton to KC from the New York Jets. DeVito commented on the new-look Chiefs and the already-developed chemistry on the team.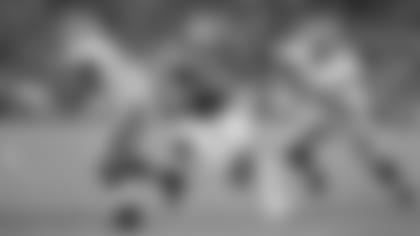 "This team has gelled really fast, compared to the different teams I've been on," DeVito said. "Especially when you have a lot of different guys coming from different places, you still have a great foundation of guys over here. From OTAs to preseason, everybody has really come together quick. That's going with the playbook, going with the family and we've seen it on the field in the preseason, so we're going to continue to build on that and we're excited to finally get a real test."
Class starts at high noon on Sunday.