The Kansas City Chiefs took a break from the field last weekend, but they were still hard at work making a difference for local families in need this week.
The Chiefs Community Caring Team, led by the team's tight ends, joined representatives from Farmland Foods, the Kansas City Steak Company, Harvesters and Hy-Vee to officially kick off the Chiefs Kingdom Food Drive on Tuesday by assembling holiday meal boxes.
"We teamed up with Harvesters and a few Kansas City favorites today for some Thanksgiving meals," said tight end Travis Kelce. "We're just trying to give back to the community and to bring some happiness to everyone."
Kelce, along with fellow tight ends Demetrius Harris, Ross Travis and Orson Charles, helped unload and pack meals for families that may not have had something to eat otherwise.
"The Chiefs are clearly ingrained in this community and they show that every day by their involvement," said Valerie Nicholson-Watson, President and CEO of Harvesters. "We have players here, we have administrators here, we have cheerleaders and, of course, KC Wolf, and you know it's just what they do - they show up. They do what it takes to help others."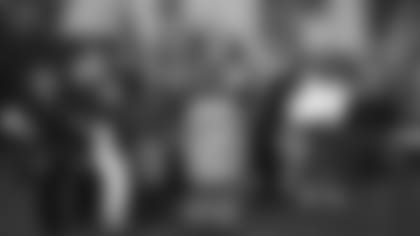 As significant as the event was, it was just the beginning.
Throughout this month, the Chiefs are providing several ways for fans to get involved in the effort to end hunger in Kansas City.
Local Hy-Vee stores will accept non-perishable food donations from Nov. 18-29, and fans can also make a monetary donation online at www.chiefs.harvestersvfd.org.
That all leads up to the Chiefs' game against the Buffalo Bills on Nov. 26, which serves as the official Chiefs Kingdom Food Drive day.
As guests arrive at Arrowhead, they'll be greeted by volunteers with instructional cards about the campaign. Volunteers from Hy-Vee, Farmland, the Kansas City Steak Company and Harvesters will manage collection bins for non-perishable food items around the stadium. Fans can also purchase tickets for the Hunt Family Foundation 50/50 Raffle during the game, with proceeds benefitting Harvesters.
It's all part of the largest food drive of its kind in the NFL, which provided 285,000 meals for local families in need last season.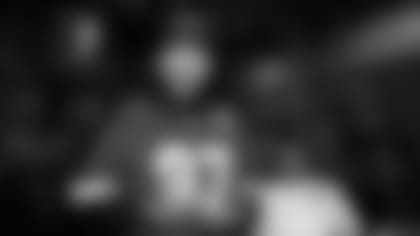 "Throughout the past few years Chiefs Kingdom has come together to support this food drive and the community, setting record donations each year," said Chiefs President Mark Donovan. "We are proud to have become the largest hunger relief program of its kind in the NFL and we are fortunate to be able to serve our community."
It's a relationship that makes a difference for those who might not know where their next meal will come from – Harvesters serves 141,000 people each month, to be exact.
"Many of these people are hardworking people who have a low income," Nicholson-Watson said. "This week, while many of us are planning what we will have for our holiday meal, many families might be wondering if they will eat at all."
The Chiefs Kingdom Food Drive does something about that.
"We're here today to provide food, but the gift we are actually giving to these families who are needy this holiday season and every day is really the gift of hope," said Marcy Johnson, the Director of Brand Marketing at the Kansas City Steak Company. "I would like to say with hope you have everything, and that's what we're actually able to do today."
As of Tuesday, that hope is on the way.
"The Kingdom is so important to us," Kelce said. "We wouldn't be anything without the fans and the people that come and support us. Just getting out in the KC area and community - it's always smiles everywhere we go. It's a fun gig."
The Chiefs Community Caring Team and Chiefs Tight Ends will join with representatives from Farmland Foods, Kansas City Steak Company, Harvesters and Hy-Vee to assemble holiday meal boxes.