When Kansas City Chiefs head coach Andy Reid was hired in January, he brought defensive line coach Tommy Brasher (and his 24 years of NFL coaching experience) with him, expecting more production up front in 2013. Fast forward to offseason minicamps and voluntary workouts and the reviews from coach Brasher's d-linemen have been five-star quality.
"So far, I've learned a lot within these past two weeks that we've been with him," Chiefs DT Anthony Toribio said. "Especially on pass rush and stopping the run and just the whole attacking style of the defense; he has a lot of knowledge. He's been around a lot of great players, so the guy definitely knows what he's talking about. We're all excited and we're definitely paying attention and taking notes."
Knowledge is power and the expertise of coach Brasher is resonating ith his players.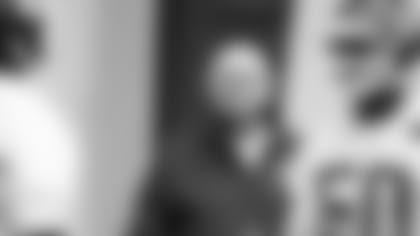 "He gets the respect because he commands it," Chiefs DT Daniel Muir said. "He's been in the league for over 20 years...he's (coached) Pro Bowlers, so, you want to listen, because you want to get to that level."
Hall of Fame DE Reggie White and Philadelphia Eagles teammate DE Greg Brown are just two of the star players coach Brasher has assisted along the way, both totaled 13 sacks during the 1985 season.
"He's an old-school coach, who's like 'Hey, get the job done'," Anthony Toribio added. "He's all about relentless, being aggressive in this new defense, new style of play. He's definitely bringing something new to the table for the defensive lineman."
Improving the team's entire defensive line begins one player at a time, another one of coach Brasher's focus points.
"He's serious on coaching and he's serious about getting players better," Chiefs NT Dontari Poe said. "Pretty much everything we've learned is new. He's kind of breaking it down, teaching us how to do it and showing us the best way to do it; it's a lot of learning going on right now."
Chiefs head coach Andy Reid continues to preach accountability, which is molded into coach Brasher's teaching style.
"He coaches best by telling you what to do and if you don't do it, he's going to move on to the next guy," Daniel Muir said. "You have coaches who are different; you have coaches who are all in your face, but at the end of the day, if you're not doing your job, you're going to lose your job. He just tells you what he wants and if you're not giving it to him, he goes to the next guy."
While commanding respect is just part of who coach Brasher is, he also leads by example.
"He really treats us like grown men, which makes us show him the same respect back, on getting our craft better," Dontari Poe said. "He's not the type to holler at you but if he needs you to do something, he'll let you know what you're going to have to do."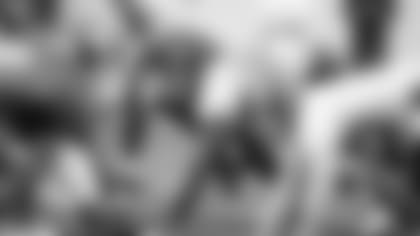 If the d-line wants to see what toughness looks like, they look to coach Brasher, who endured treatments to overcome a cancerous tumor in his parotid gland (one of the salivary glands), beginning in 2001 and later he received the Ed Block Courage Award.
"He's strong," Poe said. "Everybody knows the severity of cancer and for a person to come back and still do what he's doing these days, coaching isn't an easy job, so, he's a strong, strong, mighty person."
Chiefs fans hope the strength and toughness of coach Brasher helps their team's defensive line do great and mighty things in 2013.