For nearly five decades, the Chiefs, along with members of the Marine Corps, have hosted its annual Toys for Tots collection. On Sunday, the tradition continued and Chiefs fans donated 1,310 toys and $19,475 to Toys for Tots.
"We have been out in the parking lots at Arrowhead Stadium since 10A.M. collecting toys for children in the Kansas City area," Bill Clinton, Toys for Tots Coordinator for Eastern Kansas, as well as a former Marine explained. "It never ceases to amaze me how grateful Chiefs fans are for our service, how generous they are, and that year after year they continue to give to Toys for Tots."
The Chiefs Toys for Tots collection is the longest of its kind between an NFL franchise and the Marines. This year's drive will once again help meet a significant need for area children.
"The Toys for Tots program is an example of communities helping one another," Gunnery Sergeant James R. Rollins said. "It is wonderful to see the sense of community that has been shown year after year by the greater Kansas City area to provide a toy for the many children that would not be able to have a happy holiday without their support."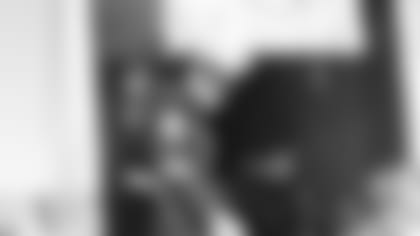 Along with the many toys donated, bikes and scooters were also collected. The Red Coaters participated in this event, donating 37 bikes, 27 scooters and 30 helmets.
"This event tugs on my heartstrings, it's just awesome," Carolyn Lehnus, Chiefs Red Coater said. "If a child gets a toy for a year, they may only use it a year, but if a child has a bike, they'll use it for several years. We hope this helps puts a smile on a child's face and that they are able to use it for several years."
Carolyn, and her husband Mike, have been donating bikes to the Chiefs Toys for Tots event for the past eight years and have started a movement within the Red Coaters club.
"This started with two Red Coaters, Mike and Carolyn Lehnus," Patti DiPardo-Livergood, Chiefs Special Projects Coordinator noted. "The couple has been donating bikes every year for the past eight years. This year, they challenged the rest of the Red Coaters to donate bikes or scooters as well and the results are amazing."
The toys, along with bikes and scooters, were collected and taken to the Toys for Tots warehouse where they will then be organized and distributed to local charities. The monetary donations are used to buy toys that are still needed.
"It's a real thrill to do this every year and see the support of the Kansas City community," Clinton said. "The toys, bikes and the monetary donations are greatly appreciated and will make a big impact on children's lives this holiday season."
To donate a toy for a tot and help make a difference in a child's life, visit a local Toys "R" Us or Walgreens and drop toys in a donation box located at the front door.