The Kansas City Chiefs running game ranked fifth best in league last year, totaling 2,395 yards after 500 carries (4.8 yard/rush avg). The Chiefs RBs averaged 149.7 yards per game, crossed pay dirt nine times, including a 91-yard bolt of lightning dash by Jamaal Charles that silenced the Superdome crowd as fast as the Chiefs Voice Mitch Holthus could say, "Touchdown, Kan-sas City."
Enter the new Chiefs regime, led by general manager John Dorsey and head coach Andy Reid, who hired Eric Bieniemy to coach the running backs.
As for the team's leading rusher in 2012, Jamaal Charles is ready for another standout season but not before getting in sync with his new coaches and teammates.
"It's been good," Charles said of the voluntary workouts. "We're here trying to build chemistry together, meet all the new coaches, install all the new plays; it's been going good so far."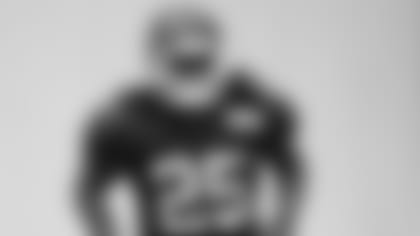 Not just learning names and personalities of new coaches and teammates, the Chiefs players are learning a new playbook as well, requiring extra study time.
"It's like going back to school," Charles added. "They have math problems, algebra, all types of angles and verticals (routes), so you learn it by what you've been doing your whole life (in school and), based off your instincts."
A new playbook for a new Chiefs offense could also mean different roles for the Pro Bowl back.
"I've been able to help my team in the past," Charles said. "I'm just trying to bring that all in the future. I just go out there and play hard and practice hard and do whatever the coaches tell me to do."
Fellow Chiefs RB Nate Eachus is excited for the upcoming season and knows exactly what to expect from Jamaal.
"He's just a natural runner," Eachus said. "Obviously, he has the top-end speed; he's one of the fastest players in the league. He's naturally a great runner and he's fun to block for."
During the offseason, especially one filled with so many changes, developing team chemistry is pivotal and the Chiefs RBs are already ahead of the game.
"We're pretty tight knit, that's the main thing," Chiefs RB Shaun Draughn said. "We help each other out, always. For example, we just had this new drill with a speedy tempo and we're out there yelling at each other what to do. Sometimes you get out there, in front of coaches and you freeze up, you don't know exactly what to do, so your boy is yelling what the formation is and the protection and helps you out. We're unselfish."
Any time a new player is added to a team, such as Chiefs rookie RB Knile Davis, some players may not be as welcoming, in fear of losing their job to the new guy; not the case with this team's RBs.
"I'm just welcoming him to the team," Jamaal Charles said. "He's coming to a good organization, good teammates and I'm just encouraging him as he gets ready to come to work....There's no pressure on me. I can't control that stuff; all that stuff is done from upstairs and I'll I can control is go out and play football."
Fellow Chiefs RB Cyrus Gray agreed.
"Just like in college," Gray said. "They bring guys in on scholarship to come in and guys get hurt; the running back career in the NFL is short, so you need to have extra guys, just be prepared at all times."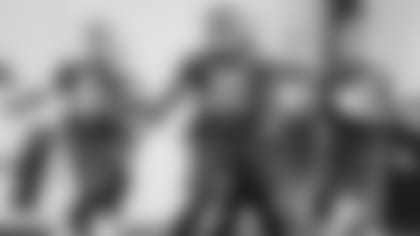 Regardless of the new-look Chiefs, the goal remains the same for 2013.
"It's all about winning," Jamaal Charles said. "In this league, it's about, 'What have you done for me lately?' My expectation is, we have good coaches (and) good players that came from other teams that are now on the Chiefs, let's win the Super Bowl."
Chiefs fans couldn't say it better themselves, Jamaal.