Despite beginning their offseason workout program just two days ago, tight ends Travis Kelce, Demetrius Harris and the rest of the unit were out in the Kansas City community Tuesday afternoon to visit Fort Leavenworth and specifically, the Patton Junior High School gym.
After introducing themselves and thanking the troops and their families, the players broke away from the group into their respective Play 60 stations for the 75 children in attendance.
Kelce, as he's now used to, was put in charge of the touchdown dance station, an area where kids mimic a running back by hurdling over pads before breaking out their best celebration.
"When you have a station like that, you have to bring a lot of energy," Kelce said. "You always have to enjoy not only being around the community for the support they give us, but giving back to the little ones, giving them hope in that we're just human.
"We're the same people that they are at their age. It's fun to come out and have fun with some kids."
Parents enjoyed watching the players in action with their children.
"It's exciting," Annette Silver, a mother of five with her son Luke in attendance, said. "He loves football and he has a passion for it and it's just so fun to have him meet the players that he gets to see on television."
Following the Play 60 event, Kelce and the players awarded their special guest, Sergeant First Class Clayton Cunningham, a game ball to thank him for his service.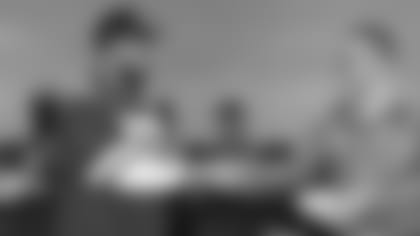 "I'll put it up in my house for my kids to see," Cunningham, a father of three, explained. "I have a lot of buddies that are jealous that I'm here right now … I'm going to definitely take some pictures to go back to those guys."
Cunningham, a 14-year veteran on the United States Army, is stationed at Fort Wainwright in Alaska. He is currently in training at the SHARP Academy.
After the ball ceremony, the players and cheerleaders moved to Px, a local shopping mall at Fort Leavenworth.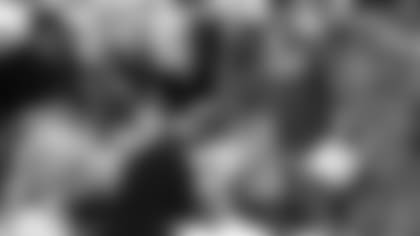 More than 300 Chiefs fans had the opportunity to meet and greet the players and cheerleaders and laugh with K.C. Wolf.
"It was good," Harris said after the autograph session. "It's nice mingling with the fans and they were just showing their support. They do a lot just to come see us, so it's a big thanks to them."
---
2015 marks the sixth year the Chiefs will make a series of visits to local military bases.
The Kansas City Chiefs community caring team including the TE group visit with soldiers and students at Ft. Leavenworth