After an eventful offseason, Kansas City Chiefs tight end Travis Kelce is one of the most recognizable players in the National Football League—particularly when talking about the league's elite tight ends.
Among his position, Kelce currently ranks second in the NFL in targets (82) and third in both receptions (57) and yards receiving (675).
Over the past two games, Kelce has put together two solid performances from a statistical perspective—totaling 15 receptions on 24 targets with 209 yards receiving.
It's the first time in his career he's had back-to-back 100-yard performances, and he's currently on pace for career highs in targets (119), yards (982) and receptions (82).
Last week, in the thrilling overtime victory over the Denver Broncos, Kelce was targeted a career-high 15 times.
To take it a step further and illustrate what's even more impressive about that, seven of Kelce's 15 targets came on the final three drives for the Chiefs offense, which was twice to tie the game and then on the eventual game-winning drive in overtime.
The Chiefs looked to Kelce in some of the most important situations of the game.
"Normally in big games, your good players show up and you try and dial them up," Chiefs coach Andy Reid explained. "Now, [the Broncos] had a plan for [Kelce]. You saw a couple times where they had two guys on him and that makes it a little tough. Then, the other guys stepped up and made a good play.
"[Kelce] is always going to be a part of your game plan. We'd be foolish not to make him a part, and so, then you have to kind of overcome the teams' [plan] and try something else if they double him. We have him moved all over the place, so we're lucky that he can do that."
Versatility is a word often used to describe Kelce, who has done everything from playing a traditional in-line role at tight end, to splitting out wide and taking bubble screens, to taking jet sweeps in the red zone. He even practiced as an emergency long snapper earlier this year.
He can do a little bit of everything.
Those seven targets late in Sunday's game netted Kelce and the Chiefs 56 yards of offense, including receptions of 21 and 16 yards, respectively, in overtime.
"In my head, when we call a passing play, I have an opportunity to get the ball," Kelce said. "I don't really think that I'm going to be a big target this game or a main focus this game, I just go out there and play to the best of my ability every single play."
While the final numbers look good, Kelce isn't shying away from the plays he left on the field earlier in the game—plays he knows he needs to make.
"There's going to be times were you screw up and things like that—that's just the game of football," he added. "The football is shaped pretty awkwardly, it's going to bounce in all different directions. The game's not always going to go in your way.
"It's just a mindset that if something does go bad, let it clear out of your head and get it out of your mind so you can make the play for your quarterback the next time."
For a player who wears his emotions on his sleeve, as evidenced several times this season, the ability to move past a mistake and not let it affect everything else is paramount to Kelce's success.
"I play this game with a lot of passion," he added. "Everybody knows that, and playing with that passion – getting angry at myself or frustrated at myself for missing a block or dropping a catch – I try to hone that energy by playing more physical in the run game, playing that more locked in when the ball is coming my way.
"That way I can make the play when Alex [Smith] needs me to or make the block when one of our running backs needs me to. It can get tough, but it is what it is. That's what the great players do, you can't let your mistakes trickle where it ruins the entire game for you."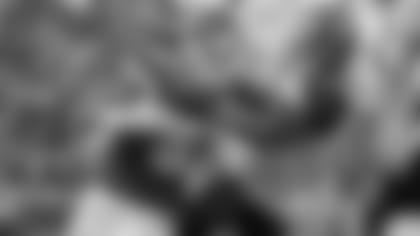 For an offense that has the third-highest percentage (53.3 percent) in the league of their total yards passing coming via after the catch, the athletic ability of a guy like Kelce is a perfect fit with a quarterback like Smith.
According to Pro Football Focus, Smith has the fourth-highest "adjusted completion percentage" in the NFL this season at 78 percent, a stat they use to determine how accurate a quarterback has been.
"You can't say enough about Alex," Kelce explained. "I've said this since the day I got here: the guy is the most professional and the guy I want running my team. He's the guy I want behind the center making the calls and distributing the ball because he's going to take care of it and put the ball where it needs to be. He's a competitor and the list goes on.
"Everybody can say what they want about him, but here in Kansas City we know what we've got—we've got a championship-caliber quarterback and that's where we're headed."
Kelce leads all NFL tight ends with 358 yards receiving after the catch this season.
It's something that's caught the attention of Atlanta Falcons head coach Dan Quinn, who is tasked with trying to slow Kelce and the Chiefs offense down this Sunday.
Quinn spoke about what stands out to him in particular about Kelce.
"It's the catching radius where a defender can be close by and [Alex] Smith is talented enough to know exactly where to place the ball," Quinn explained. "[Kelce] can go high to go get it, or it can be low and away and you can count on him to go catch it. But the most impressive thing to me is in the pass game, how [Kelce] matches up on different people.
"We use the term that you can 'break people off,' and in man-to-man, you have coverage on him. You think you have the right leverage and then he can stick a foot in the ground and change directions—that's really hard for a big guy to do and he has the ability to do that. When you have size and length and can break guys off and man-to-man usually you're going to be pretty good, and he is."
The Falcons possess the league's most explosive offense, averaging more than 32 points per game. They have scored at least 30 points in seven of their 11 games this season—a number the Chiefs have hit only three times—two of which are games that included overtime (Week 1-San Diego, Week 12-Denver).
That said, the Chiefs boast one of the league's best defenses, and Kelce is confident in what this team can accomplish when it concentrates on what it does. "We know going into it where we stand and if we play our best, we don't think anybody can match with us."