Kansas City Chiefs safety Eric Berry intended on being present for the trip.
However, he was back to work at training camp and wasn't able to attend. But it only took phone calls from Berry to fellow teammates Travis Kelce and Hussain Abdullah to ask if the guys could make this day special for the children of Camp ChiMer this past Wednesday, July 29.
"I told Eric if he ever needed any help, I'd be right here for him," Kelce said. "We all want his focus to be on the field and his recovery, so I'm happy to be here on his behalf."
Camp ChiMer is a summer camp offered to children on dialysis or who have had a kidney transplant.
"Our campers require constant medical attention so obviously a typical summer camp is not an option for them," Ariel Penner, guest relations and camp director at Ronald McDonald of Kansas City, explained.
"This was my first time in the Sports Lab," Kelce said. "We had fun looking at the calorie intake of a big strong football player. It was great to see the kids smiling and enjoying the day."
Abdullah was doubly happy to be there because of his proximity to the cause.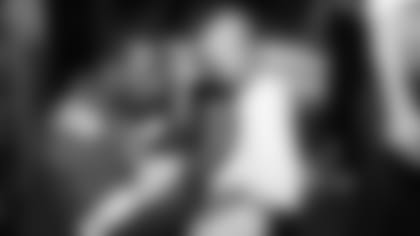 "I am very familiar with the process of dialysis. My father is on dialysis, so it was nice to share that with them and speak to the children about what life is like in regards to that," he said. "I know what Eric Berry stands for and what he likes to do, so I was more than happy to come out and help today."
Thanks to that hand from Kelce and Abdullah, along with nurses from Children's Mercy, Berry actually pulled off being in two places at once.
With his inspiring return to the NFL, Berry serves as a role model the campers can relate to.
"Our campers can relate to Eric being that he had his own treatment and beat odds returning to his normal activities," Penner added. "These kids face challenges daily, so to provide a summer camp for them to participate in things children without illness do is something they'll never forget."
After the tour, the children shared snacks and snapped pictures with Kelce and Abdullah to ensure these memories of this day would last forever.