By the time the Kansas City Chiefs first fourth-round pick, offensive lineman Parker Ehinger, picked up the phone for a conference call with the local media last Saturday, an old friend from 2012, his redshirt freshman season at Cincinnati, had already texted him.
It was Chiefs tight end Travis Kelce, who as a college senior had served as a mentor for Ehinger that year.
"That's my guy," Kelce said of Ehinger. "I spent an entire year and a half of just being with that guy and communicating with him every single play, and it's one of those things where in college, you bond so well off the field just because you're around each other all the time. That's one of my brothers from UC."
In 2012 on the Cincinnati offense with Kelce, Ehinger started 12 times and played in all 13 games. His play that season helped a Bearcats team to a 9-3 regular season record and a Belk Bowl victory against Duke.
The Bearcats offensive line that year allowed for Kelce to have his best season as a college player, as he compiled 722 yards and 8 touchdowns, and a running back named George Winn rushed for more than 1,300 yards.
"He was our right tackle our senior year—he moved all over," Kelce added. "He's an all-around player on the offensive line. He can play at least four of the five positions. He's one of those guys who's going to come in, he's going to mesh right away in terms of character, in terms of being in the locker room and on top of that, he's a smart guy."
When asked on the call about his greatest strength as a player on the conference all, Ehinger talked about those smarts Kelce alluded to.
"It's my football IQ," Ehinger said. "I can pick up in any system very quickly. I ran a couple different offenses throughout my college career, and then played in the East-West Shrine Game and played in a pro-style offense at the Shrine Game. I'm able to pick up stuff really quickly. I have a good football IQ, and anything they can throw at me, I'll be able to pick it up very quickly."
That will be important in learning Andy Reid's West Coast playbook, which is known as one that is complex and takes time to grasp, especially for offensive linemen, who may be asked to do certain things they have never done before.
Still, Ehinger sounded more than willing to accommodate any needs Reid and the Chiefs have.
"Wherever they need me at, I'm happy to play anywhere," Ehinger said. "If they need me to take center snaps, I'll take center snaps because I'd love to compete for a starting position at some point, so if that means playing anywhere they need me at, I'm happy to play anywhere."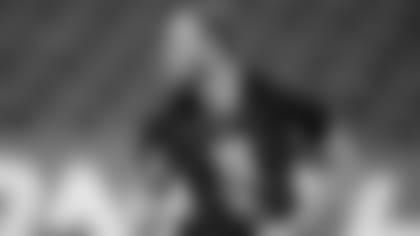 On that first welcome text string between friends, Ehinger said Kelce explained how much he'd love playing for Reid and living in Kansas City, before telling him to be sure to contact him when he gets to town.
That will be this Friday night, when Ehinger will be at the Chiefs facilities for the rookie dinner before rookie minicamp begins this weekend.
Kelce believes that if Ehinger is anything like the player and teammate he remembers, he should be a perfect fit for these Chiefs.
"He's a fun personality," Kelce said. "He doesn't take anything too seriously, just like I don't. He's a little bit more well-mannered than I am which is a good thing, but it's also one of those things where he's determined to be very good at what he does, so he takes the time to perfect his craft and be the best player that he can be."