Over the past two-plus years, we've come to know Kansas City Chiefs tight end Travis Kelce as a playmaking entertainer—never shy on showing everybody just how much fun he's having on a football field while he's out there making plays.
But Kelce, a first-time Pro Bowler last year, wasn't a star tight end right away, and he didn't actually take up the position until his junior year of college at the University of Cincinnati.
Before that, Kelce had always played quarterback, but the first day of the transition to tight end is something he'll never forget, as he described in his article for The Players' Tribune, titled "What You Don't Know About: Being a Tight End."
Kelce recalls going up against his college teammate, Connor Barwin, at practice.
"Most people know Connor [Barwin] as a defensive end for the Eagles, but when I was at the University of Cincinnati, he was my teammate. As a junior I determined the best chance I had to make it to the next level was to figure out how to play tight end.. Not long after I made that decision, I found myself lined up across from Connor in a blocking drill during my first practice in full pads. It was the first time I had ever really tried to block someone – as a quarterback, I'd never really ever participated in contact drills.
"Not surprisingly, I got my a* kicked.*
"Connor came off the ball, extended his arms and proceeded to just walk me right back. He could have walked me all the way across campus if he had wanted to — I was toast. I don't think I've ever felt that helpless before."
That was how Kelce described the beginning of his career at the tight end position, and he's obviously come a long ways since then—having been selected by the Chiefs in the third round of the 2013 draft.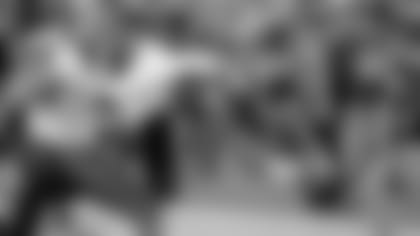 After a missed rookie season because of a knee injury, Kelce returned in 2014 and began making waves throughout offseason workouts, but the plays he was making in practice needed to translate to the field, which wouldn't happen until the first game of the 2014 season against the Tennessee Titans.
While the game is forgettable to fans because of the final score, there was a key lesson Kelce learned in that game that has served him well over the past few years.
After hauling in the first catch of his career early in the second quarter on a 27-yard pass from Alex Smith, Kelce attempted to make another catch later in the game.
*"I was running a slant across the middle of the field. I knew that was my assignment. You know who else knew that was my assignment? Bernard Pollard, one of the hardest hitting safeties in the NFL. As soon as I caught the ball, I was looking upfield and Bernard absolutely leveled me. Put his helmet right in my sternum. I was flat on my back and the ball popped out. *
"Fortunately it was just ruled an incompletion rather than a fumble, but I got the point. You have to really get rocked like that a few times to develop the senses you need to avoid the big shots."
Here's a video with the two plays Kelce described in his article:
Kelce currently leads the Chiefs this year through four games with 22 receptions for 220 yards and two touchdowns, and the two stories he wrote about above in how he got to the position he's in today are just a small handful of what he talked about in his article on "The Players' Tribune."