The word alone holds strong connotations and when you stop to think about it, we trust a lot of people and things, during our lifetime.
Those looking for a caffeine boost in the morning trust the automatic timer on their coffee maker to work, so that a hot, fresh pot of morning goodness is waiting, when they awake. We trust that our vehicle's engine will start, as soon as we turn the key, allowing us to get from point A to point B.
When the Kansas City Chiefs 2013 team began forming in the offseason, trust was a key ingredient and it has helped lead to the franchise's second 9-0 start in club history (2003).
Chiefs Chairman and CEO Clark Hunt trusted in head coach Andy Reid and general manager John Dorsey, hiring each man in January to steer the team in a winning direction. Nine weeks into the 2013 season, coach Reid highlighted the trust that his players have in each other as one of the very things that impresses him most, about his squad.
"The thing that surprises me most about the team and I would tell you that (the trust) and how close the group is; they don't care if they're ahead or down, they just keep encouraging each other," coach Reid said. "You guys see them in the locker room and that's really what takes place on the sideline, during a game. It's kind of a neat deal. It's a special quality to have and we'll keep building that. We bank on that now to help us win some games in the fourth quarter; that's one of the things I've been most impressed with."
The trust factor was again involved in Sunday's come-from-behind victory against the Buffalo Bills. Coach Reid said the team didn't hit the panic button, when trailing 10-3.
"It really comes back to the ebb and flow that takes place," coach Reid said. "They just kind of keep it consistent. I don't see a lot of panic with them, that's not what I see. You see that with teams, where guys seem to encourage each other and I think that helps in situations like that. It wasn't beautiful there; I mean, that's not what it was. They worked through it, took advantage of opportunities and it worked out okay. They trust each other there, so that helps."
On the offensive side of the ball, trust is employed by Chiefs QB Alex Smith, in his own personal ability, the protection by his offensive line, as well as his running backs, tight ends and wide receivers, each assigned with tasks on every given play.
"I think as a team, you're one of 11 out there and you have to trust the guy next to you and go out there and do your job," Smith said. "Offensively, there is so much that goes into that, all of us trusting each other to do our jobs. It takes that to go out there and execute at a high level. It's very important."
On the flip side of the ball, the Chiefs defense continues to be better than advertised, holding every one of its nine opponents to 17 points or fewer in 2013. The Chiefs became the only team to hold their opponents to 17 points or less in the first nine games of the season and win all nine contests.
One of the key additions to the defense this offseason has been LB Akeem Jordan, who finished Sunday's win with four tackles and one assist. Jordan was part of the Chiefs impenetrable goal-line defense, making his presence felt with a pad-shaking hit that stopped Bills RB Fred Jackson in his tracks on first-and-goal from the Chiefs one-yard line. Two plays later, Chiefs CB Sean Smith enjoyed a 100-yard pick-six return.
"It just feels like a hit, but when you see what happens after the hit, like the pick-six, it just feels good, like you started something; you got the ball rolling," Jordan said. "It just feels good seeing the whole defense making plays. We all just trust each other, first of all, we don't let adversity get to us; we know they're going to make some plays, so, we just try to limit them to a few plays and play hard, play together and play aggressive."
Trailing the Bills by seven points, in front of the opposing crowd, Chiefs Pro Bowl safety Eric Berry says the defense wasn't looking for Maalox.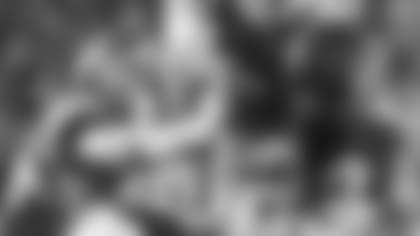 "We've been in rough situations and we've been in a lot of different scenarios and at the end of the day, when you have a guy lining up next to you, who you trust and you're lined up next to that guy and he trusts you, I think you can do a lot of powerful things," Berry said. "As long as we keep leaning on each other and holding each other accountable, I think we can pretty much attack any situation with confidence."
Trust in one another has a domino effect on the Chiefs team, according to its Pro Bowl punter Dustin Colquitt.
"I think trust is huge," Colquitt said. "I think it has to do with family. The offense is picking the defense up, the defense is picking the offense up and the special teams unit is contributing. It seems like one way or another, we are finding ways to win games. We're all in this together and it sure is fun to be a part of it right now."
Chiefs fans are saying the same thing, enjoying the historic ride of 2013 and excited to see what's ahead.
Click here to see a full game day photo gallery from the 23-13 win.