They grew up about four hours from one another in the same Southeastern state of Brazil—São Paulo.
The Kansas City Chiefs' Cairo Santos and the Kansas City Royals' Paulo Orlando didn't know each other before Wednesday afternoon, but the two Brazilians met in the locker room of Kauffman Stadium before the Royals took on the Cincinnati Reds.
"I thought we were going to go over there and talk for a few minutes and leave," Santos explained. "I thought he was going to be pretty busy. I didn't want to interrupt his time getting ready for the game. But he took his time taking me around the locker room and down to the batting cage and even out to the field."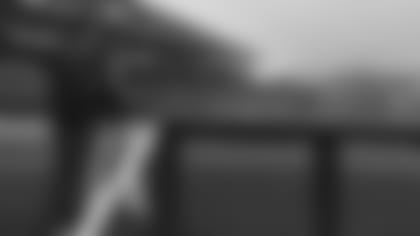 Santos and Orlando have a lot in common. They've both recently made names for themselves in the Kansas City sports scene.
Last year, Santos earned the Chiefs' kicking job out of training camp and went on to break Hall of Famer Jan Stenerud's rookie record with 113 points.
Orlando, who spent nine years in the minor leagues before earning a spot on the Royals' 2015 opening day roster, became the third Brazilian born player in major league history.
He started the season off as a triples machine for the Royals, picking up three-baggers in each of his first three major league at bats, which is a major league record. He was also the first Brazilian to ever record a major league hit.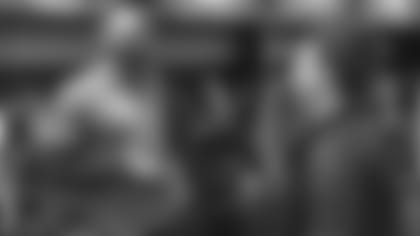 From the moment these two began speaking Portuguese in the locker room, it was obvious they were on the same page.
"We talked a lot about where we come from," Santos said. "We saw some similarities about where we grew up and coming to the United States and reaching the professional level. It was cool to share that experience with each other."
Santos said their discussion soon revolved around their favorite soccer teams back in Brazil.
"We talked a lot about Brazilian soccer. Unfortunately we don't root for the same team, but our teams are not big rivals so it's good that we don't have to dislike each other in that sense," he laughingly said. "It's just really fun to be able to speak Portuguese with somebody that you connect with.
"We talked about going to get some steaks at the Brazilian Steakhouse. It'll be fun to stay in touch with each other."
Even though they hadn't met before, Orlando said he remembered seeing a documentary a little while back about Santos' first year with the Chiefs when he was back in Brazil.
"I saw the news story in Brazil before I came up to spring training," Orlando explained. "I heard that he was playing in Kansas City and I was like, 'I want to meet this guy. I want to play better and make the team so I can meet him.'
"Today we made that happen."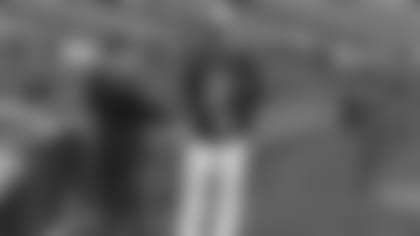 Santos said that Orlando was pretty surprised when he heard about a fellow Brazilian playing for the Chiefs.
"He was pretty shocked that there was a Brazilian in Kansas City playing American football," Santos explained. "But I think we're both pretty thrilled that we can cheer for each other, cheer for another Brazilian."
Orlando has been playing quite a bit for the Royals recently with the injury to veteran right fielder Alex Rios. Before Wednesday night's game, Orlando was hitting .258 with 12 runs scored and six RBIs.
He's also currently leading all of Major League Baseball with five triples.
"It's been great," Orlando said of his time in Kansas City. "It's a great city. The fans are out here supporting the team every night. Hopefully I can stay here for a lot of years."
Considering Brazil is known for soccer, Orlando explained how he got his start in baseball.
"I started playing when I was like 12 years old just for fun," he said. "As a kid, I never thought about playing professionally. I loved playing soccer, but as I got older I was told I had a chance at playing baseball in the United States. I wanted to pursue that and it's worked out for me."
Orlando was signed back in 2005 by the Chicago White Sox as an international free agent. He was then traded to the Royals in 2008 for pitcher Horacio Ramirez.
After all that time in the minor leagues, Orlando finally earned that big league opportunity in 2015.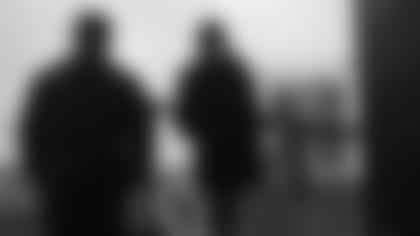 "I had a lot of people in Kansas City telling me about him," Santos, who like Orlando, was signed as an undrafted free agent, said. "They were saying, 'Have you heard about this Brazilian guy hitting all these triples for the Royals?'
"So I started paying attention and then we both started following one another on Twitter. I'm glad that we met and I can say that I'm rooting for a friend now, instead of just a fellow Brazilian."
What Santos thought might just be a few quick minutes of chatting in the locker room turned into more than an hour. Then, when Orlando wasn't showing Santos around the clubhouse, outfielder Jarrod Dyson introduced himself and started showing Santos around.
Santos and Orlando exchanged Royals and Chiefs shirts in the locker room and even posed for a few pictures before they went out to the dugout.
But as they both currently find themselves more than 5,200 miles away from their home state and country of São Paulo, Brazil, they're finding success in two sports their country has not been known to produce professional athletes.
It's a connection they share.
"It's definitely a bit strange that it's not soccer," Santos noted. "But being so close with the Royals and Chiefs, it makes it even cooler that we're succeeding in different sports."