Tyreek Hill was on a mission in 2017 to become a complete wide receiver.
The former track star's ability to change the game with the ball in his hands was never in question, but the technical side of the game – running routes, separating from coverage and completing the catch – was where he wanted to make strides in his sophomore campaign.
With a 1,000-yard season and a second-consecutive Pro Bowl nod in the books, it's safe to say Hill accomplished that goal.
"It means a lot to be back here," Hill said. "I worked my tail off all season, along with my teammates, and to be recognized by my peers means a lot."
That recognition is well deserved, as Hill hauled in 75 catches for 1,183 yards and seven touchdowns on the season – all the while knowing the opposition was keying in on him specifically.
"Everybody played off man (coverage) - like 18 yards," Hill said. "So it was a little harder when I had a go route. But I learned a lot this season, from players around the league and my coaches - especially Coach Reid, Nags (former Offensive Coordinator Matt Nagy) and (Wide Receivers Coach) Greg Lewis. I'm thankful that those guys are in my life."
Hill's evolution into a primary receiver was critical to Kansas City's division championship this season and drew attention from around the league in the process, including that of a perennial All-Pro in Pittsburgh Steelers' wide receiver Antonio Brown.
"He's so fun to watch," Brown said. "I'm just excited to be next to him. I think he has a lot of potential, and the more he taps into it, the better he'll be. He's a playmaker. He runs like a cheetah and can change the game at any point."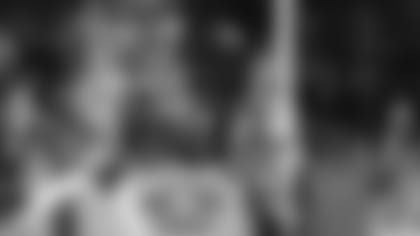 Los Angeles' Chargers wide receiver Keenan Allen also took note of Hill's progress offensively.
"I've really seen him develop," Allen said. "I always thought he was a fast guy – a great returner that could take it to the house – but now he's really evolving into a No. 1 receiver. The more he can develop and work on his routes, he'll be unstoppable."
The Indianapolis Colts' T.Y. Hilton echoed that sentiment.
"He just continues to get better," Hilton said. "He was always a kick or punt returner, but now he's catching passes and running the ball out of the backfield. He's a guy you have to prepare for and it's just a testament to his work in the offseason and how he continued to get better.
"The sky is the limit for him."
Perhaps the highest praise came from an individual that competes against Hill twice a year in Denver Broncos' cornerback Aqib Talib.
"He's looking great," Talib said. "He's actually one of the scarier receivers to go against because he has that speed factor. If you don't have the speed, DBs don't really fear you. He has that speed, so once he gets his routes all the way up to par, he's going to be a big deal in this league."
And Hill is just getting started.
"The Pro Bowl isn't only fun, I can learn from it – from AB, Keenan Allen, Jarvis Landry and TY," Hill explained. "All those guys are here, so I have a chance to learn from them and take that back to the Chiefs."
Photos from day two of practice at the Pro Bowl.