The room was simple enough.
There was a long table centered in the middle, some large shelves lining the wall and a box of produce just outside the door – all tucked away in a corner of Hillside Christian Church.
Families began to file in, one-by-one, with the intent of grabbing some food for the week.
But on this particular Monday afternoon at the Hope WRX Food Pantry, there was a particularly speedy volunteer tasked with bagging the groceries.
It was wide receiver Tyreek Hill, and just a day removed from another Kansas City Chiefs' victory, the AFC's second-leading receiver chose to spend his day off from practice with those struggling to make ends meet.
"I could come out here every day and do this," Hill said. "It means a lot to me to give back because I grew up in a small town and I was kind of poor, so I know what it's like to live with no lights and with no food. I don't want anybody to ever have to go through that – nobody – and especially not a kid."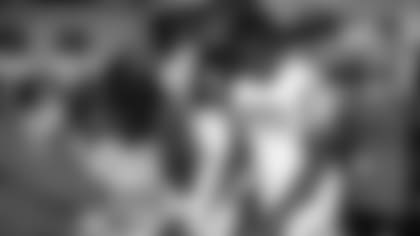 The Hope WRX Food Pantry, in partnership with Harvesters, shares that mission.
"Visits like this really help to get the word out that people are hungry in this community," said Paula Pratt, the Director of Community Engagement at Harvesters. "Sometimes, these individuals had a really rough day, and to see somebody like Tyreek come out and spend some time with them – it's just really special."
Of course, Hill accrued a little experience in this area before the two-time Pro Bowler was racing towards the end zone on a weekly basis. Arguably the fastest man in the National Football League today, Hill insists that he was equally quick bagging groceries as a teenager.
"I used to work at Kroger when I was in high school," Hill explained. "I was bagging groceries and I was a packer, too. I was stocking shelves and I'd have my music on…I used to be so fast."
Hill leaned on those skills for the first time in a while on Monday afternoon, but still found the time to take pictures, sign autographs and talk with the unsuspecting individuals coming through the door.
Each interaction was uniquely genuine in its own way, from Hill encouraging a young fan to take a picture together to carrying a watermelon out to another family's car.
Whoever came through, Hill's consistently jovial attitude was ever-present.
"I feel like a smile is contagious," Hill added. "I try to carry mine everywhere I go because that's the way that my parents raised me, and that's how I'm going to continue to live."
Hill did plenty of that on Monday, while lifting several spirits in the process.
"I just want to be a part of the Kansas City community, and I feel like giving back is the reason that we play the game," Hill said. "Giving back to these kids and these families – just meeting them – is special. I'm blessed, man."
To learn more about the Hope WRX Food Pantry, click here.
Tyreek Hill assisting at the HOPE.wrx food pantry