It was just another day for the varsity football team at Fort Osage High School last Tuesday afternoon before an unexpected visitor decided to stop by practice.
Strolling onto the field clad in a red jersey was Kansas City Chiefs' wide receiver Tyreek Hill, who was on hand to congratulate Fort Osage for being named the local "Monday Night Lights" representative.
The normalcy associated with a typical weekday practice quickly evaporated as Hill stuck around to see what the kids could do.
"I came out here just trying to give some words of wisdom to these great young guys," Hill said. "I just tried to teach them about football and about some of the things I didn't know growing up."
It was the opportunity of a lifetime for the kids at Fort Osage, who had a chance to meet and learn from the All Pro receiver.
"I know the kids are very excited," said Fort Osage Head Coach Brock Bult. "The wide receivers especially, because they got to work with one of the guys they watch on TV, see and root for, so it's very exciting. I'm glad our kids get this opportunity."
It wasn't just the kids that left practice with a smile on their faces.
"It was a great feeling, and it kind of surprised me a little bit - just the reaction of those guys," Hill said. "It made me feel good because I'm doing the right thing and trying to be a role model out here."
The "Monday Night Lights" program, crafted in partnership between the NFL and ESPN, highlights a local high school in each market that shares a strong connection with the community.
Fort Osage was selected from six finalists, and the team didn't know they had won until Hill appeared at practice.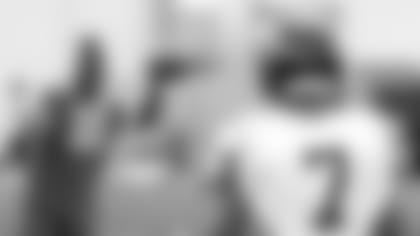 "It's a true 'Friday Night Lights' setting when you come out here," Bult said. "The community really supports us and everything we do."
The excitement from Hill's visit continued through the weekend, as the team was invited to the Chiefs' upcoming Monday Night Football matchup with the Washington Redskins. While the team is in the stands taking in the action firsthand, footage of Hill's visit will air either on Monday Night Countdown or during the game.
Prior to kickoff, Fort Osage and the five other finalists will participate in a parade on the field during warmups.
"For a lot of these kids, it's their only chance to get to do something like this," Bult said. "I'm glad they get the opportunity."
It's appropriate that Hill served as an ambassador for the event, as he often mentioned his memories of high school as motivation while playing under the lights in prime time.
Before he was dashing by defenders in Kansas City, Hill was just another kid playing high school football.
When asked if he saw any future "cheetahs" on the field at Fort Osage's practice, the second-year receiver surveyed the varsity athletes with a smile.