They made their way down the steps on this chilly fall afternoon, clad in pads and with a helmet in hand, as the Liberty High School football team got ready for practice.
It's not a far walk – just across a circle drive and down a slight hill – but as a familiar face sporting a red jersey came into focus, this brief trek provided plenty of time to realize that something was looming.
This was not an ordinary practice for a far from ordinary senior football player.
The team – and the unsuspecting individual of the hour – reached the grass to find none other than Kansas City Chiefs' cornerback Kendall Fuller waiting there for them, and as the last of the players reached the field, the group was instructed to take a knee and listen to what their guest had to say.
Fuller congratulated them on a great season and commended their effort on the field, but this particular visit was about more than football – it was to meet senior Graham McMorrow.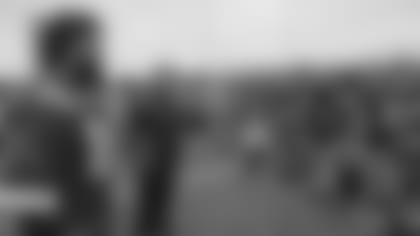 McMorrow, who was kneeling front and center in the middle of Fuller's audience of football players, has been playing tackle football since the eighth grade. He's both a tireless competitor and an eternal optimist, delivering a contagious spirit every time he straps on his helmet.
He also happens to have cerebral palsy.
And while this teenagers' jubilant attitude is a common sight at Liberty nowadays, there was once concern that he wouldn't live past infancy.
"Graham was born premature at just 26 weeks," said Dawn McMorrow, Graham's mother. "There were months where we didn't know if he would survive."
At just 13 ounces, Graham weighed a hair more than a can of soup. The fact alone that he's alive today defied the odds, no matter that he can talk, walk and, of course, play football – a dream that began while watching the Super Bowl exactly a decade ago.
"He lives, eats and breathes football, and he always wanted to play," Dawn explained. "My husband actually coached his flag football teams in elementary school and up through middle school, but then he wanted to move to a tackle team in eighth grade. We were hesitant about that, but we just prayed and prayed about what the right thing was to do until we decided that we weren't going to live in fear."
It was a decision that would touch more lives than the family could have ever imagined.
"I was initially thinking of ways that he could just help with the team, whether that be with film or stuff like that, but he expressed to me that he had a true desire to play," said Liberty Head Coach Chad Frigon. "He has never let us down. He does every drill, every conditioning, every practice – he's really earned the respect from his coaches and teammates, and he's been on the field on Friday nights, which is a neat thing. He sets goals and he achieves them."
"He's always positive – he's the forever optimist," said Jordan English, one of Graham's teachers and coaches at Liberty. "From football to basketball and everything else, he's always thinking that every team can improve and has a chance to win state. It's infectious."
Graham has brought that unique attitude to the field in each of the last five years, even scoring a touchdown in a game as a junior, but his contributions far exceed the final score.
"His biggest impact on our team, without a doubt, is the encouragement that he gives everybody else. He's the same whether we're up 20 at halftime or down 20 - he's always positive and looking for ways that he can help everybody else," Frigon said. "I think every one of our players just thinks the world of him, and not because of the challenges that he's facing, but just because of the way that he acts and treats others."
It's simply who Graham is, unconcerned with the circumstances with which he has no control.
"It could not have been a better experience," Dawn added. "It has turned him into a leader on the team and he's made so many friendships. It's just been amazing."
Which brings us back to this brisk afternoon, as Graham joined Fuller in front of his teammates and the third-year defensive back revealed a piece of cardboard for the entire team to see.
It was a ticket to Super Bowl LIII, and Graham was going.
"Yeah!" Graham yelled, as his teammates erupted in celebration.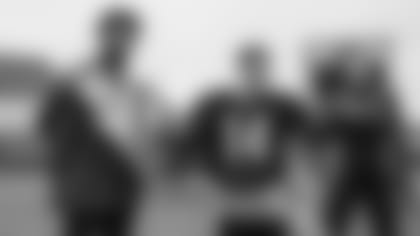 There was once a question if this incredible young man was going to live at all, and now, 10 years after his love for football began while watching the Super Bowl on television, he was going to the game.
"Hopefully, the Chiefs will be there," said JC McMorrow, Graham's father. "It's just something that we never dreamt of being able to do. The Super Bowl is a once in a lifetime experience for us, and it's such an exciting opportunity."
Fuller stuck around after the surprise, keen on getting to know Graham, who was still smiling ear-to-ear.
Of course, even while in the spotlight, Graham wasn't interested in talking about himself.
"He was asking me how I was doing. There's all these things that he could be going through, but he wanted to know how I was," Fuller said. "You never know what people are going through and some people are so positive no matter the situation. This will stick with me."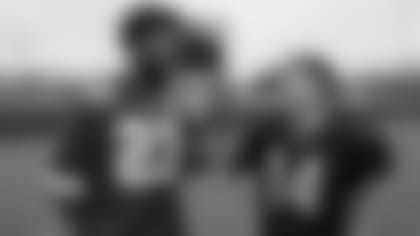 It was a special day for an extraordinary young man. There was once a legitimate fear that Graham would die as an infant, and all these years later, he's teaching everyone about life.
"It seems just surreal to me that he continues to be such an inspiration to people and that it's all led to this," Dawn said. "God has a plan for him that is so much bigger than what we could have ever dreamt."
Graham McMorrow, a senior football player with cerebral palsy and kidney disease at Liberty High School, was surprised with tickets to Super Bowl LIII by Kansas City Chiefs cornerback Kendall Fuller on Tuesday,, October 30, 2018.