The Chiefs First Pass program is powered by Blue Cross and Blue Shield of Kansas City (Blue KC) and intends to spotlight members of Chiefs Kingdom who make the Kansas City community a better place to live, work and play.
"Chiefs Kingdom Champions," selected from nominations submitted by Kansas City Chiefs fans, will be recognized during pregame festivities at each Chiefs home game at Arrowhead Stadium.
On Sunday, in the Chiefs game against the Chicago Bears, Dr. Anne O' Dea, who specifically focuses on breast cancer treatment, threw out the first pass.
"It was a wonderful experience and I was honored to be able to do that, to represent my colleagues at University of Kansas Cancer Center," she said of the experience. "We know that breast cancer is so very curable when it's caught early and so events like that are so important."
O'Dea explained how breast cancer awareness really can make a difference in the real world.
"I just saw a patient in my clinic that was attending a breast cancer event this October and at her high school volleyball tournament and she went home that evening and did a breast self-exam and noticed something," she said. "At the age of 33, she went in and got checked out, was diagnosed early and now has a very curable cancer."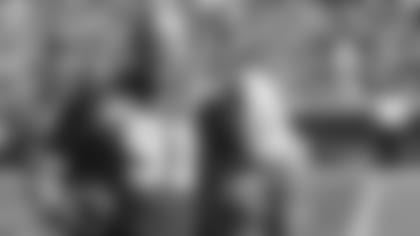 O'Dea threw her first pass to former Chiefs defensive tackle Ken Kremer.
"He was actually nice enough to throw a couple warm-up passes on the sidelines to make sure that I didn't totally humiliate myself and he was very sweet," she said. "I got to meet a lot of nice ex-Chiefs players and all kinds of people down on the sidelines and it was a wonderful experience."
To nominate a champion for the Chiefs First Pass program, click here.