OPENING STATEMENT: "Okay, injuries, Demetrius Harris sprained his ankle in practice last week. He has a slight high ankle, well, it's not even slight, he has a high ankle sprain. We'll just see how he does here. Dexter McCluster, he's making progress, we'll see how he does here, in the next couple of days as we get closer to Wednesday's practice, but he is moving around better. Branden Albert is doing better. (Anthony) Fasano is doing better. (Eric) Fisher, who was hurt yesterday, he's actually doing a little bit better today. Justin Houston, again, he's doing better. JMJ (James-Michael Johnson) had an AC sprain, slight AC sprain. He's doing okay, a little bit sore, but he's doing okay. If we would have practiced today, we would have most of them back and ready to go. Again, a good win yesterday and as I mentioned a lot of things go into that. The people in this building here, number one, and the great effort that they have put in and I'm saying the whole organization. It starts with Clark Hunt and the Hunt family. We've all pulled together as an organization and that has contributed to the success. It's not just about the players. It's not just about the coaches. I would include in there The Kingdom and the great support that we get every time that we step into Arrowhead and on the road. The fans are spectacular and their support has been a great contributor to leading us into the playoffs here.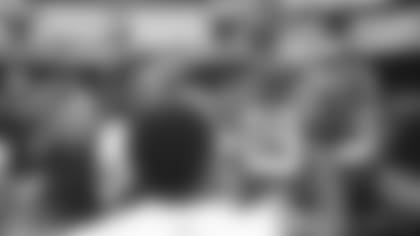 We clearly have a ton of room to improve and need to improve, and we're going to keep working on that. I thought it was a good effort by the fellows, coaches and players, yesterday. It is a tough thing to come off a win like we had in Washington, and then come back strong and not let your guard down, but work even harder and work at getting better and still respecting your opponent. Then, getting yourself right and going through that whole process. It's easier to say; it's a hard thing to do. We're human beings and in this business, the natural tendency for us humans is to let yourself (go) and they didn't do that. They kept their drive up and they followed the process all week and came out and put together a pretty good game. Again, I just want to reiterate, in all three phases, we have plenty of room to improve and we'll keep doing that. We're able to get some guys back healthy here, which would lead me into just mentioning John Dorsey and his staff. We've had guys who have been banged up and other guys have stepped in and done a heck of a job, and that's a tribute to John and his staff on keeping the competition level very high amongst the different positions and thus when somebody gets hurt that next person comes in at a high level. My hat goes off to John and his crew there. With that, the time is yours."
Q: Will you look at injuries and who you decide will play or not differently, now that your team has clinched a playoff spot?
REID: "Well, like I said, with that competition that we have here amongst the positions, we're able to allow the guys, not that other teams don't, we're comfortable with the guys healing up. We're not forcing anybody back in that's in a position where they would reinjure themselves. We haven't done that all season, so we're not going to start doing that now or ever as long as I'm here. That's not how we roll, but if the guys can play, then they're going to play. That's what they do and they want to do that. The rest of our season is as important as the beginning. We're not letting off on anything there. We'll keep working the process and making sure we get guys ready to play. We'll do our part as coaches and we'll do our part as players."
Q: Does Jamaal Charles look as healthy as he has all season? Did his blisters heal?
REID: "Well, his injuries have been just nicks and bruises, which are typical. We had him wear a couple pairs of socks (for his blisters), that was it. It was that simple, we get him healed up and then put a couple pairs of socks on him and that worked out okay for him. He's good. He takes great care of himself and he has a certain routine that he goes through every day and as you know, that's a tough position for him to play. This time of year, you see running backs whose production starts going down a little bit; he's been able to maintain a high level and I think some of that also is Knile (Davis). Knile is getting better and that's giving him an opportunity to be spotted, every once in a while."
Q: Does a good divisional record mean a lot to you? Or is every year a new year?
REID: "Well, I mean, that's important. You want to win every game and you want to maximize yourself every week, going through the process to win every game. You want to establish a certain thing within your division there. I would say yes, every year is a different year, but I'd tell you that absolutely; there is a great rivalry amongst the AFC West, so when you have an opportunity to play those teams you want to give it your best shot. That's what you want to do."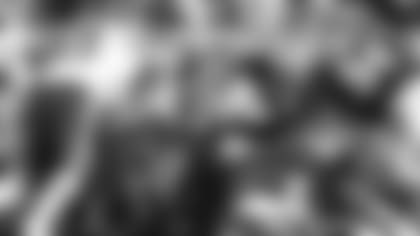 Q: Have you seen enough from Donald Stephenson to know more about what he might do in the future?
REID: "I haven't looked forward on it. I could tell you that he is doing a nice job. I think he could play either tackle at a high level. After however many games he has started here, I would tell you that. I would tell you that there are some things that he knows he needs to get better at and he's wired right, where he will keep working on that. I always keep in mind that he is a second-year play and he is doing a nice job, playing against pretty good competition."
Q: As far as the Colts being your opponent this week and there being a chance you could face them in the playoffs, does that change your game plan? Do you save certain plays?
REID: "I don't think you do. We're far enough along in the year; you have enough in the playbook that you can draw from on both sides of the ball and special teams-wise. I don't think there's any reason to do that. Plus, the season is still alive. I mean, you want to go in and give it your best shot. I'll probably tell you the same thing that I told you when we played Denver, you give it the best shot your first time and then you come back, two weeks later, and give it your best shot then. That's how we'll approach it."
Q: Is it good to have the division title still up for grabs?
REID:"Yeah, I guess it is. This team is wired a little different than that question. I never sensed at any time, or heard them talking about if New England won or lost, I didn't hear any of that, or if Miami won or lost. There was none of that going on. So, I think that they're going to finish out strong, no matter what the outcome is. I feel as a coach, you tell them to go get them; they're going to go get them. That's how they are wired."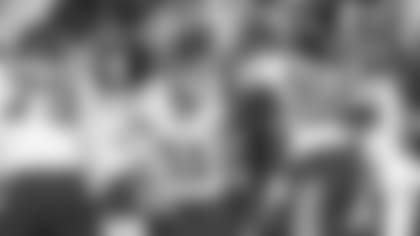 Q: Can you evaluate the offensive game plan yesterday?
REID: "Doug (Pederson) put the game plan together, I thought he did a good job. Brad Childress actually had a big part in it, too, with that one touchdown call on the third-and-one. That was a play, where Brad always stays in advance; part of his job is to stay a week or two in advance on each team and he had that one drawn up two weeks ago and ready to go. Between the coaches there, and I'm saying all of them, I thought collectively, they all did a nice job, and the players, they believe in what the coaches are teaching them. They went out and did a great job with it. Every player has to execute and they executed very well, I thought. It's great to see guys complement each other and you see that from the defensive side, within the defense; you see it within the offense and then you see the defense complement the offense and so on. Cyrus (Gray's) run there in the end, Brandon Flowers was sitting on the bench in the back, when sees Cyrus get the first down and he bolts off the bench to come greet Cyrus on the sideline; that kind of stuff, that's good stuff. That's what a team is all about."
Q: How concerned are you with defense giving up such big plays?
REID: "Yeah, we have to cut down on that. Big plays can hurt you, obviously. We're addressing that and we'll get that worked out. I wouldn't get hung up on it, too much now. The final score is what you're looking at, that and turnovers. When a defense puts together as many turnovers as our defense put together and gave the offense an opportunity with the field position, along with the special teams giving the offense the opportunity for field position, that's important stuff."
Q: What was the atmosphere like when Oakland closed it to four?
REID: "You could say that the momentum was swinging in their favor. I didn't feel that, necessarily on our sideline. I felt like our guys just kind of dug in and said 'Hey listen, we have to recapture this thing and finish it the right way,' and that's what they did. I didn't feel panic from the coaches or players. It just was kind of a refocus. You know, and you see this in the NBA, you see it in baseball, you see it in football and it's kind of the one thing that carries over, between the three, is if a team gets a big lead, there's normally one push that takes place. If you can shut that push down, you kind of have it. I thought Oakland did a heck of a job; they're a well-coached team and they've got good players. They made that push and we were able to kind of recapture on it and clamp on it. That was an important thing to do, obviously, to win the game."
Q: Do you need to consider getting the ball to other guys than Jamaal Charles, to prevent your team from being too easy to stop if it's all on one person?
REID: "Yeah, I mean the neat part was you saw Dwayne (Bowe) do some nice things early, with the big third down catch early and we went to him early for some big plays. He really had a couple of opportunities, the one sack, when we had the two backs in the backfield and he ran a beautiful route there and probably would have scored on that. So, Dwayne is a huge part of this thing and we feel very comfortable with him. (Dexter) McCluster is out and then you see A.J. (Jenkins) do a couple of nice things and you saw Chad (Hall) have a nice grab there in the red zone; you saw Donnie Avery with a couple of big catches, then Knile (Davis) keeps getting better and better, as we go here. (Sean) McGrath has made some big catches and had a nice touchdown for us in a traffic area. Right when you think you have all those guys down, the Sausage (Anthony Sherman) catches that one right at the end to ice the game for us. You have all of those different things. Those are all things that the defense has to be concerned about and Alex (Smith) knows when to dial them up and use all of them, which is the most important part."
Q: Do you almost just count on getting defensive or special teams touchdowns or is that something you have to still put yourself in position to do that?
REID: "I'm not sure you count on them as much as you strive to get them. In this business you don't count on anything; you go out and work to earn the right to get yourself in that end zone. Likewise, with your turnovers, I mean it's the same mentality at all of the positions. We don't count on that, we just work on it and we have high expectations for it."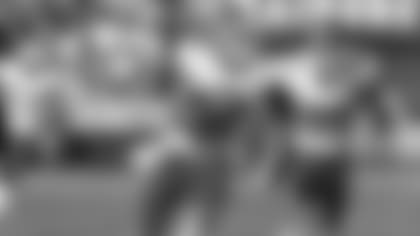 Q: What about Chuck Pagano makes him such a player's coach?
REID: "Chuck Pagano is a stud, he's a great person. He overcame a disease that was a challenge in his life and he stepped up and beat it, along with the doctors and the support of his staff and his football team. He's a special guy and he's a good football coach, on top of that. It's a family affair; his brother is John (Pagano), who is the defensive coordinator at San Diego, so they grew up a football family. He understands the game and does a nice job with coaching."