The Kansas City Chiefs newest defensive lineman, DT Vance Walker, addressed reporters via conference call on Monday, answering a wide variety of questions, including why he chose KC, thoughts on the Chiefs fan base, as well as what it will be like playing next to Chiefs Pro Bowl DT Dontari Poe.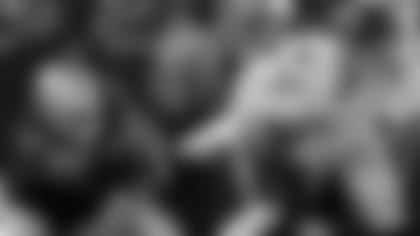 Q: What interests you about the situation in Kansas City?
WALKER: "I love the environment and the program there and what they're building there. As far as myself, I fit in a good bit with the team that they're employing on defense. I saw a lot of good possibilities for myself just to help the team, as well for them to be more successful than last year. I'm really excited about that. The defense, you know, they have a lot of good playmakers and I feel like I can add to be much more successful than last year."
Q: What did they tell you about your role here?
WALKER: "Well, nothing too specific. If anything, I've played pretty much every position on the d-line. I've been in the league for five years, so I have a good bit of experience at the nose or three technique end, defensive end, so really, whatever it is to help the team win, I'm sure I'll be moving between all of those positions. I play them all equally well, whether it's stopping the run or rushing the passer."
Q: Did you play on passing downs last year?
WALKER: "A good bit. We went to a three-down look. We just went d-tackle with the Raiders on third down. I want to say, I can't give you an actual statistic, but I was in there on third downs, probably I would say 80 percent of the third downs, I was in there. I got a lot of rushing from either the nose or three technique. I had a lot of good rushes from that position."
Q: Do you feel like you're going to be used for that here?
WALKER: "I would hope so. It's also on me to prove to those guys what I'm capable of doing and once I do that I'm sure John Dorsey will do exactly what he feels is necessary to help the team. I know I'm capable of doing both of those things, stopping the run and rushing the passer, easily."
Q: What are you expecting from the Kansas City fans?
WALKER: "I've gotten a very warm welcome, since I've been there and signed. The fans have definitely lived up to their reputation. Just being an opponent, last year, and playing in the Chiefs stadium at Arrowhead, it was tough. I believe it may have been the game they broke the record for the loudest stadium. Just to have those fans being so energetic really adds to the game, especially on defense, as a defensive guy. I think they do a great job. It's a football city and I'm really excited to play."
Q: What was the difference between the way the Falcons and Raiders used you in schemes?
WALKER: "I'd say, it wasn't necessarily the scheme; it was probably a little more political from the Falcons to the Raiders. The Falcons had a decent roster of D tackles, and even though I was showing and proving that I could rush the passer, I never really got the opportunity. That's what they promised I would be able to do out in Oakland. It kind of freed me up and let me show my abilities. Obviously, I know I would be a lot better, I could still be a lot better and learn from my mistakes and learn from others. I think (it was just) a personnel type of thing, with me being younger, with the Falcons; I guess they weren't ready to give me that role just yet."
Q: Do you expect to get a lot of one-on-one matchups and have ability to get after the quarterback being in there with Dontari Poe?
WALKER: "Honestly, it's either going to be me or him or whoever is in there with us; they can't double team all of us and that's without blitzing. I'm very excited. I consistently believe that if you get a one-on-one rush, you have to win. There is no doubt about it. I think that's an opportunity for anybody that doesn't get double-teamed, and even if you're getting double- teamed, you push the pocket. I just think it's a good opportunity and I really fear for offenses this year. It's going to be terrible for them."
Q: You're entering your prime right now; do you have goals, stat-wise, this year?
WALKER: "Yes and no. Personally, statistics aren't everything and I kind of proved that with the Raiders. Obviously, my numbers, I'm not going to say could have been better, because they were pretty good, but I feel like I impacted a lot of plays that offenses had or tried to have against us. It doesn't necessarily come down to statistics, but in a perfect world, yes you want so many sacks, so many hits and hurries. I guess the biggest thing is, even with the Raiders, you may not get that sack, but one of your teammates will. To me, that's a win, as long as somebody is getting the pressure or sack. You might have to sacrifice your rush on that play. I mean, yes, but I wouldn't say that I put too much faith in those numbers. I'm more of a every opportunity that I get to even get close to the quarterback, I'm there, that being sacks or hitting or whatever the case, that's what I do and at the end of the year, I'll look back and say that was good, that was bad; that's kind of how I am."
Q: Did they sell you on the idea of playing nose when Dontari Poe needs a rest or taking Tyson Jackson's spot? What did they say your role would be?
WALKER: "Mostly three technique and five technique, because (Dontari) Poe is obviously a major player. Even if he needs a breather or whatever be the case, I can do all of those positions. I've been with the Falcons and the Raiders; really, I don't know. We didn't get into that too much, but I would say three and five more specifically."