It didn't take long before veteran receiver Jeremy Maclin made an impact for the Kansas City Chiefs, and we're not talking about the franchise-record 87 receptions he had last year—his first in Kansas City, or even the 8 touchdown receptions he had, which led the team and were 8 more than the entire receivers group had as a whole the year before.
We're talking about the leadership he provided a group of young receivers from the first day he stepped in the building.
When he talked, they listened.
When he made plays, they took note.
When he said he was staying in Kansas City this offseason and working out, they joined him.
Now, heading into his second year with the Chiefs, the 28-year-old Maclin finds himself in a room that's somehow gotten even younger, averaging just 22.6 years old without him.
In a way, it's a vote of confidence in the young players in that room to have the mental acuity to grasp head coach Andy Reid's verbose playbook so early in their careers, plus the trust in receivers coach David Culley to have them ready to play, and finally, Maclin's ability as the leader in that room to keep everyone moving forward together.
In his seven-year career, Maclin has played in 94 games, while the combined number of receptions from the rest of the receivers room on the 53-man roster right now is just 108—between De'Anthony Thomas (40), Albert Wilson (51) and Chris Conley (17).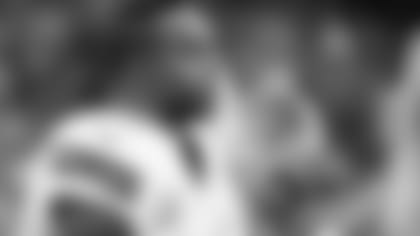 For comparison, Maclin has 430 receptions in his career, and much of that success, at least according to quarterback Alex Smith, can be attributed to the mental ability Maclin possesses to understand what defenses are trying to do on any given play.
"When you talk to Jeremy [Maclin], you realize that he thinks like a quarterback," Smith explained. "He has a great understanding of when the ball is coming to him—the leverage of how the defense is playing him, route running and the timeclock. He has a great understanding of where all those variables are at.
"[Maclin] is very aware of a lot of things and with those young guys being around him, his skills are only going to rub off on them too."
In seeing the game through the prism of a quarterback, Maclin explained what he's thinking after a play is called in the huddle and he's getting lined up.
"If I've got a guy on me and there's no safety on the top, I expect the ball," Maclin explained. "You can tell by rotations of safeties and the different tendencies—those are the type of things you take notice of (as a veteran). When they're playing cover-2 and his body is shaped this way, or if they're playing (cover) 3—he's going to roll back this way.
"You can pick up tendencies like that, and that's kind of what you want out of a receiver. I think that's when you become that veteran, when you get to that next step."
Smith has seen a difference in the young guys throughout the offseason.
"I think guys see the bigger picture and don't have tunnel vision on just their assignment or their line on the paper," Smith explained. "They kind of understand what we're doing, and the more those guys and the quarterback can think alike—the better we're going to be.
"If they know my time clock and what I'm seeing, what I'm thinking, and I can look out there and see what he has pressing off and his leverage and know what he has to do to get his job done—the better, and certainly Chris [Conley] is a great example of that, just building and banking all of that knowledge."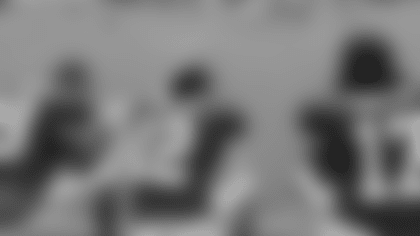 During their offseason workouts, Maclin would have Conley and Wilson focus on one thing per day.
Some days it was their feet, others it might have been their hips or eyes, and they'd train that specific area for the entire workout. Everything was done in an attempt to make the movements and techniques second nature to them, and his message to them through all of it was simple.
"Everybody in this league can run, jump, catch and block," he explained. "Everybody is big, fast, strong and physical, but it's the little things that make you different and the details you pay attention to are what set you apart from everybody else
On Sunday, Maclin and the young receivers group will try and take everything they've been working on to the field against the San Diego Chargers in the regular-season opener.
"We understand that if we don't start 1-5 last year and we win some of those early games, we're in a completely different situation at the end of the year," Maclin said of getting the season started the right way. "I think having a sense of urgency—knowing that there are no re-dos and if you leave a play out there on the field—that can potentially hurt us in the long run.
"I think just knowing that and understanding that can definitely help us on Sunday."