The Kansas City Chiefs currently have two players who are in the early running for the NFL's Most Valuable Player of the Year Award.
Quarterback Alex Smith is off to the best start of his 13-year NFL career, and rookie running back Kareem Hunt is off to one of the best starts for a running back in NFL history.
They have both been ridiculously impressive through the first four games of the season, but according to Cris Collinsworth—the NBC Color Analyst who will call the game on Sunday night against the Houston Texans, and who is also the majority owner of the football analytics website, Pro Football Focus—the most impressive thing about the Chiefs' offense thus far isn't one of those players.
"This one may surprise you, but I think what they've done despite losing two starters on that offensive line," Collinsworth noted. "They keep on rolling. I mean Zach Fulton and Mitch Morse are two completely different guys. That's been impressive."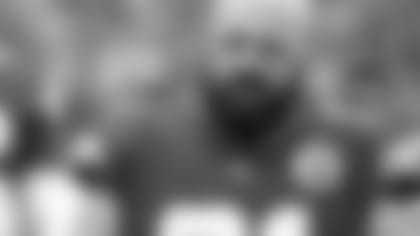 Starting center Mitch Morse injured his foot in the Week 2 game against the Philadelphia Eagles, and Fulton, who has at least appeared in every regular-season game of his career to this point, which dates back to when he was drafted by the Chiefs in the sixth round (No. 193 overall) in 2014—has been one of the most valuable offensive players for the Chiefs over the past few years.
Fulton has started 36 games all over the interior offensive line for the Chiefs over the past four years, and his ability to step in and contribute without the offense missing a step was one thing, and then the Chiefs lost starting right guard Laurent Duvernay-Tardif early in the game last week against the Washington Redskins to a sprained knee, and he has already been ruled out for Sunday's game against the Texans.
Despite the injuries, the Chiefs' offense was still able to roll with Fulton and Jordan Devey, who stepped in for Duvernay-Tardif, against the Redskins. They put up 22 points in the second half against one of the league's best defensive fronts, and they did it without two starters and a banged-up left tackle in Eric Fisher who didn't practice all week because of a back issue.
"And then the sheer volume of plays that they throw at defenses," Collinsworth added of what he likes about the Chiefs' offense. "Just watching the runs of Kareem Hunt, they're almost all different. A different guy is pulling, a different guy is trapping, a different guy is leading. They get Travis Kelce out on the edge blocking, fullback blocks for Conley. They just get so many different ways to attack whatever the weakness of a particular defense, and they just understand the angles of the game and if the guard has the better angle than the center, then they block down with the guard and pull the center around.
"Just what they've done with the read option by adding the shovel pass. I get the feeling there must be 500 plays on Andy Reid's call sheets and probably calls five in a game that he hasn't practiced all week, and now maybe that's wrong, but I don't know how they practice all that stuff. And they execute, and that's probably the most impressive part."
Collinsworth admitted that much of what's special about the Chiefs' offense is in the small intricacies of the details and blocking schemes, which makes sense from an offensive line aficionado like Andy Reid.
"I think to really understand offense in football you have to understand offensive line play protection and blocking schemes," Collinsworth noted. "And so, with a play designer (like Reid) who has played, he understands it's a lot easier to block down with the guard and pull the center than it is for that center to make that reach block. But I think he puts guys in really favorable positions and now he's got the guys that can make explosive plays off of it when he gets a crack in there.
"It's also the way he uses Hill. I mean Hill is a decoy about 70% of the time, but he's a heck of a decoy. You can't ignore him when he goes flying across on a jet sweep or when he's using that ghost motion around the back. I mean if you don't pay attention to him, you're going to give up a 70-yard touchdown."
Smith has completed 76 percent of his passes this year with an 8.8 yards per attempt average with eight touchdowns and no interceptions, and he's also picked up 89 yards on the ground with a touchdown there as well, which was on full display last week against the Redskins.
"There's a lot more to playing quarterback than arm strength, and I think Alex Smith helps you understand that as well as anybody," Collinsworth noted. "But the amazing thing about him is not only has his completion percentage gone up (this year), but his depth of target has gone way up. They're hitting big plays in a way they haven't in the past, and you have to credit Kareem Hunt with that.
"And they're smart, that when you can run the ball the way that they've run the ball and hit the big plays, you're forced to make decisions. Somebody has to get single coverage. Are you going to play the run? Are you going to double Kelce? Or are you going to spy on Alex Smith running the ball because Alex Smith ran the ball against the Redskins. That's when offenses become great.
"It all comes down to who you are going to double team, and if your quarterback is good enough, he'll go to the other thing."
Overall, Collinsworth is a fan of the Chiefs' offense.
"So, you have two guys that are contending for Player of the Year or MVP in Hunt and Smith right now, and you have two of the most exciting players in football in their respectful positions in Kelce and Hill," he explained. "And the rest of them aren't too bad either. [Chris] Conley's not a bad player, and [Albert] Wilson's a very underrated guy.
"It's a little unusual talking about how explosive the Kansas City offense is because the conversation has been the complete opposite of that for three or four years, and I do think adding the element of Kareem Hunt has really opened up the passing game." And it has all started up front, starters or backups, the Chiefs keep getting it done.