He keeps us on our toes—that's for sure.
Kansas City Chiefs general manager Brett Veach, as we've all learned over the past year, is aggressive when he sees a player he wants. He's not afraid to make a move that he believes is in the best interest of the organization.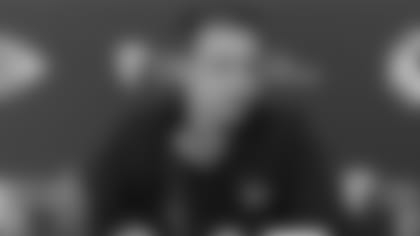 And it's important to note, it really does take a certain level of self-belief to do what he's done—considering he started making bold moves right out of the gate while also being one of the youngest general managers in the league. Veach simply believes in him and his staff's ability to evaluate talent.
Look at one of his first moves as general manager last year—trading a future mid-round pick for linebacker Reggie Ragland, who was coming off a knee injury and was deemed as expendable by the Buffalo Bills just a couple of years removed from earning the SEC's Defensive Player of the Year Award.
Fast forward a year and Ragland, who said he lost 10 pounds this offseason and is in the best shape of his life, looks to be the guy who will once again be stepping into the starting role he earned in the early part of last season, but also into a leadership role vacated by the departure of the franchise's all-time leading tackler in Derrick Johnson.
So, looking back, the trade for Ragland made sense on many levels.
There was the financial benefit of a starter on defense on a rookie deal, plus the leadership Ragland brings as a former team captain on his national championship team at Alabama, and also a guy who was one of the best 10 run-stuffing inside linebackers in the league last year, according to Pro Football Focus.
And along with the move for Ragland, we've seen Veach go out and be aggressive by making multiple trades to acquire picks and players he feels will better this team, plus the moves in free agency to acquire marquee players like linebacker Anthony Hitchens and receiver Sammy Watkins.
So, as Veach heads towards his first draft as a general manager, can we expect the same level of aggression that we've seen manifest itself in every other opportunity he's had to build this roster?
"I think that's just kind of who I am," Veach told the media this week. "I have a group of guys up there who are worried that I'm going to be too aggressive, so I'm glad I have those guys."
Veach, who was laughing as he said that, was asked about his willingness and desire to move up in the draft. The Chiefs first pick as things stand now is in the second round (No. 54 overall).
"Everyone does this, and we've done this the last five years, you go through mock drafts just like you see online," Veach explained. "We kind of just play that game ourselves in regards to what do we do if (this happens), or what about if this guy slides.
"I think every scenario had me trading up, and my [scouts] were like, 'We have a lot of good picks here,'" he laughed.
"I'll have a good group of guys helping me out there."
As he explained, Veach said trading up for a player in the draft is just as much about that particular player as it is the entire positional group in the draft at that spot. If there's a considerable drop-off in their mind at the talent at a particular spot, they might not want to wait and hope a guy falls.
"I think it's just the process of really identifying where those pockets are and where the strengths and weaknesses are," he explained.
On the flip side, if there's a certain pocket of talent at a specific group later in the draft, Veach said it could be in their best interest to wait.
These are the kinds of questions and the type of work and preparation he and his staff are working on right now.
"It's kind of a double-edged sword," Veach added. "It's hard when you do believe in the process and you do believe in your ability to evaluate. You know if a guy slides this may be the only opportunity that you have to get a guy of that caliber because once he goes off the board, you won't find someone with those exact traits.
"But there's the flip side in regards to the league is all about depth and I think the Philadelphia Eagles showed last year that if you lose a quarterback, a tackle, a running back, or you lose a starting Mike linebacker—they had depth. Where do you get those guys? You get them in the draft. You get them in all rounds, first, second, third, fourth, fifth, and so on.
"They are valuable because those guys will not only turn to starters, but they can turn into depth level players who will able to start and get you through a 16-game grind."
There are so many levels to each decision and the ramifications for those might not be noticed until two or three years down the road, and that's part of the decision-making process as well—the ability to look beyond the short-term and next season, but to the 2019-2020 seasons as well.
So, what's Veach's mindset going into this draft?
"I think all cards are on the table," he said. "That's the great part about the draft—you really never know how everything's going to play out. Sometimes you think this guy is going Top 15 and then you look up and you're at pick 28 and the guys on the board.
"So, I think it's our job to be prepared, and maybe it doesn't make sense to us—maybe the equity is too much and you don't want to give up two or three picks to get all the way up there. But I believe in the process and I know that we've identified guys all throughout the draft, rounds one through seven.
"But if there's that guy who we thought was a Top 10 pick and he's there at 28, we have to be a least prepared and we have to have dialogue throughout this process. That's why we have to start calling teams now and letting them know that we're always open for business."
Even without a first-round pick as it stands right now, Veach will definitely keep us on our toes throughout Thursday night—that's for sure.