OPENING STATEMENT: "Alright, the only injury was Chris Conley, and he's okay. Obviously, tough game

to lose. There's just a finalization to it that hits you right in between the eyes. So, I don't want to get

away from the fact that the guys, the team had a good year. The organization had a good year. At the

same time, we have to take care of business and improve as we go forward here and learn from this.

After watching the tape, I kind of felt the same way that I did last night when I talked to you, that little

things add up. I have to make sure I take care of that. We have to eliminate some of the penalties and

things early in the game that affected us down the stretch. I still felt like after watching the tape that we

had an opportunity there to win the game. I know [Eric] Fisher is going to have a lot of eyes on him for

that call. I'm not sure if I completely agree with what took place, but it did. The call was made, and we

live with that. Single elimination – this is how it works. We're all big boys, and we have to learn from it

and move forward."

Q: You didn't agree with the holding call though?

REID: "There are certain things that you agree with and don't agree with during games. It really doesn't

matter now that we're sitting here. So, I don't want to be fined any money. I would tell you that I was

probably leaning the other way, yeah. I thought [Eric] Fisher did what he needed to do on that particular

block to get that done. The problem is, people slipped, making it look worse than it was."

Q: So you agree with Travis Kelce then?

REID: "I don't know what Travis [Kelce] said exactly, but I agree with what I just told you."

Q: Do you find that referees in the playoffs generally call things maybe a little differently just in the

sense that they don't call every tick-tack foul?

REID: "Yeah, they normally let you play. They normally let you play is what they do, especially in key

situations like that. They normally just let it roll. Listen, we had plenty of opportunities before that. I

don't want to use that as an excuse by any means. We had plenty of opportunities before that to take

care of business. That's where we have to get that fixed by next year."

Q: Were you good with the offensive and defensive game plans?

REID: "I thought that. You come out of every game where you feel like you could have done something

better somewhere. It's important that people think that or you're not going to improve, right? So, I'm

not going to tell you that everything was perfect, but it put us in a position at the end, similar to Denver,

where we had an opportunity with momentum to take it into overtime. Because of what happened, it

didn't get to that point. We obviously flipped the feeling, the momentum in the game."

Q: After looking at the tape, how do you feel like Alex Smith did?

REID: "Again, I would say the same thing. I know he talked to you now. So, I know kind of what the

direction he took. It's probably what I said after the game. Are there plays that we probably would like

to have back? Yeah, there's some plays he'd like to have back. Did he do some good things? Yeah, he did

some real good things."

Q: You expect Alex Smith to be your quarterback next year?

REID: "You always get asked, is your staff going to be together, are players going to be here a day after a

game like this, come on. I am probably like you are – I was here till two in the morning going back

through the tape and looking at it and here I am. All that stuff, that's the last thing on my mind right

now."

Q: What do you see as the strength of this team coming back next year?

REID: "That kind of falls into that same line. You have to see what you have coming back and evaluate it.

You have to take a step back here and see all that. I would tell you that there's a certain grit that has

been developed here, and I wouldn't expect that to change. It's been instilled in these guys, and we just

have to work out little things here. Listen, if there's a positive here, we did better in this game than we

did when we played the Patriots. We put ourselves in a position to win the game at the end, but sitting

here, all of that is hindsight because I'm doing this press conference, and the other team is moving on."

Q: Did you start to feel like this team was special or 'different' as opposed to past teams with their

ability to make late comebacks in games?

REID: "That's why you have that bad feeling in your stomach. You're sitting here and thought you had an

opportunity to possibly move on. We knew it was going to be a dog fight right there to the end. And

here we are."

Q: Looking at the remaining quarterbacks in the playoffs, what does that tell you about what you need

in order to make it this far into the playoffs?

REID: "I still think we can win with Alex [Smith]. We were right there. He made a phenomenal throw on

the two-point play to put us into position to take care of business. This wasn't all about Alex. That's not

what this was -- or with his performance and what it came down to. That's how I feel."

Q: Where in your mind could you get better?

REID: "I'll take a step back and look at it. Right now it was the mistakes we made in the game. I'll take a

step back and look at myself -- we've all got to do that. That's going to take some time moving forward."

Q: Are there any points in the game you wish you would have done differently before the two-point

conversion?

REID: "We finished that last quarter after flipping the momentum. We could've done better in the first

half. We didn't sustain drives well enough. We didn't get off the field well enough or quick enough. We

could have done better in those areas. Our return game was just 'okay.' The first one was good and then

the next couple they kicked to Tyreek [Hill] weren't quite as good. Every area you can get better in. In

the playoffs, when two good teams are playing, there's not a lot of room for error."

Q: What was it like to see Chris Jones, as a rookie, embracing the moment and getting the crowd into it?

REID: "I thought he did just that. He was into the game, played hard and all those things. He'll do

nothing but get better he's got a lot of room for improvement. He wants to be good and known as one

of the 'better' players at this level. He'll have a good offseason here -- he needs that. And he'll be back

next year."

Q: Tamba Hali only had seven snaps. Is that enough for that guy?

REID: "It all kind of depends on how the game goes in certain situations and they were mostly running

the ball. We were using Tamba in mostly pass situations and that's how it ended up."

Q: Were the field conditions what you were expecting?

REID: "The field conditions were fine. They did a good job. They re-sodded it and I thought it held up

well."

Q: Does this loss sting worse than others?

REID: "They sting. I'm telling you, it's the final point of the season. I'm feeling the same thing you guys

are feeling. It's done. It's over. That's not the way you go into the game. You go into it feeling like you're

going to take care of business here and have an opportunity of moving forward. If it doesn't sting, then

you've got a problem. I would expect most of the guys are hurting. That's the way it felt after the game.

It doesn't matter how it goes whether you have the bye or don't have the bye. It's a terrible feeling."

Q: You went through a lot of work trying to keep [Tamba Hali] fresh at the end of the year. Did you feel

like that plan worked?

REID: "Yeah I thought he did some good things. He did some good things early and he did some good

things later in the season. Is he the same as when he was 20? No, but that's why we had that plan in

place for him."

Q: Terrance Smith got to start instead of Justin March-Lillard, you guys brought him back, what went

into that decision? When you guys first brought Justin off [IR] was it with the intent of him starting at

some point?

REID: "We just see how he went here. You remember how much time he had been out, coming off of

the injury, then [Terrance] Smith kind of picked it up and did a fairly nice job in there, which was an

unknown at the time when we did all this. We kind of left that as an open competition there and that's

how it rolled."

Q: Would March have been the next man up if something had happened?

REID: "Yeah, most likely."

Q: On second guessing the decision of bringing Justin off IR return instead of Jamaal.

REID: "No, I feel like we did the right thing."

Q: On Eric Berry returning next season...

REID: "We have to see how that goes. I think everybody here would love to have Eric [Berry] back. We

feel he's a big part of the team and so on. I don't think that's different in the front office than it is right

here as I'm speaking to you. You just have to wait those things out and see how it goes. That's one of

those things that's going to take time to see how it roles."

Q: Last year contract negotiations were a little tough for that, do you feel like this team needs to go in a

different direction, maybe get younger with a guy like Eric Berry that is getting a little older now?

REID: "I don't know about all of that. He's still pretty young, not that old. I'm old, he's okay."

Q: What do you want your guys to take from this?

REID: "I want them to learn just what we've talked about in here, that little things matter because it's

good competition. [They] did a heck of a job battling, tough team, it's going to carry you through into

this next year and give you an opportunity to now we have to take care of all of those small things – the

offside holds, all of those little things, the penalties that take place, the dropped balls, we have to take

care of those things. A missed tackle here or there can cost you, blown coverage, those things add up on

you and so you really have to take care of all of those things and I obviously have to start with myself.

Am I putting the guys in the right position? Bob [Sutton] is going to do the same thing, [Dave] Toub does

the same thing. You have to do that, but you can't lose the focus that we're here, we've done this and I

don't want the players to lose that. You bust your tail and had a good year and the future is bright, but

we just have to take care of some things here and it's going to take hard work to do that."

Q: How do you feel the chances are of Jamaal Charles coming back as something close to the player he

once was?

REID: "That's too hard to predict. Right now it's just a matter of keeping the swelling out of that thing

and him being able to work at that same level that he was able to do before and he's here doing that

and that's important. He wants it and normally with a great athlete like he is, a Hall of Fame athlete, as

he is, given that if at all possible physically, that he would be able to do it again."

Q: Health issue willing, do you see him being back next year?

REID: "I can't answer those questions, we just got done with the game. It's too early."

Q: On the third down pass that Houston covered...

REID: "Fire zone type look on it I guess, they did the same thing – 92 on Jeremy Maclin, you just have to

get to them on the other part of that, on the front side of that. Tamba [Hali] is around his ankle making

that throw, we have to get him on the ground, that's why you're doing those and there's a little risk

involved. The guy made a good play."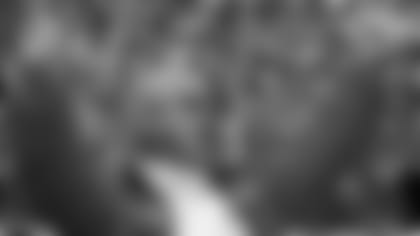 news
A Look Back at Impending Hall of Fame Coach Dick Vermeil's Time in Kansas City
Vermeil engineered some of the best offenses in the NFL during his time with the Chiefs