Kansas City Chiefs head coach Reid had no new updates on the injuries announced after the game against the St. Louis Rams: LB Josh Martin (concussion), TE Richard Gordon and DL Rakeem Nunez-Roces (ankle).
Reid said that safety Eric Berry not playing in the game against the St. Louis Rams was his own decision.
"I honestly kind of gave it to him as an option with what he wanted to do there," he said. "He took a ton of reps this past week if you noticed. He was in all of the scout team, then he jumped in with the ones and did all that, and the twos, and was all over the place. He accumulated a ton of reps, so by the time we got to the game, he felt pretty comfortable with where he's at right now and how he felt.
"Some of that kind of stuff only a player knows. He's a veteran guy—he's not one that's going to try to get out of anything or tell you something. I've got a lot of trust in him. It feels like he's in a pretty good place right now."
Reid liked what he saw out of rookie linebacker Ramik Wilson this preseason.
"He doesn't say a lot until he's out on the field," he said of Wilson. "Then he's got to make calls and things, and he does really well with that. I think he's a smart kid and he's got kind of a feel for the game. I'm not saying he's a blow-up guy or any of that but he's got a good feel for the run and the pass game, and good instincts. He doesn't make a lot of mistakes—that's pretty impressive for a young guy."
Reid revealed the number of wide receivers he usually keeps when making the 53-man roster.
"Normally, you're somewhere around that five, six number," he said. "We'll just have to see. Some of that comes down to special teams and how you handle that, and you kind of have to weigh it out and just see where you're at."
Reid gave WR Chris Conley quite a compliment.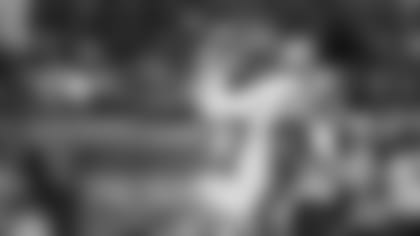 "He's probably our best post route runner," he said of the rookie. "He knows how to do that thing. Whether it's inside or outside, he's got a real knack for it. We noticed that early when he got here, so that's a good thing. I know the quarterbacks have a lot of trust in him. You get into his fourth, fifth step and all of the sudden he's covering a lot of ground and climbing on top of you fast and that helps on that type of a route."
Reid explained why tight end Travis Kelce did not travel to St. Louis.
"We didn't want [his ankle] to swell—that was the only thing," he said. "We kind of had his ankle under control there and we didn't want it to swell with the flight. You always kind of take that into consideration, so we left him back and he did his treatment stuff here.
Reid evaluated the performance of TE Demetrius Harris against the Rams.
"We wanted to get him in 10 plays, right around in there," he said. "He played 11 snaps in the offense and then he played some special teams. It kind of came out just about where we hoped it would. That doesn't always happen that way but it happened in this case. He got good work in, which I think helped him. It looked like early it was fast for him. Then he just settled in and I thought he did well."
Reid shared a lot of updates on the current state of the Chiefs offensive line.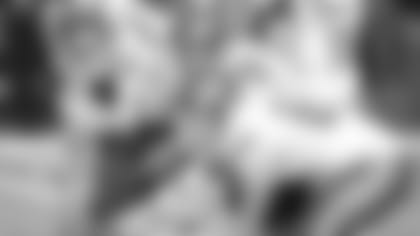 *On Zach Fulton's performance against the Rams at the center position: *"I was actually impressed for the first time of him getting in at center. We did a lot of gun snaps. I was curious to see how he would deal with that when it was live bullets. I thought he handled that well. I thought his calls were good. Not that it was a big bloodbath or anything, I just thought he handled the whole thing pretty well. Then the ability to reach, like one-technique can always be tough and still get the snap up. I thought he did that well in the run game."                                           
*On Larry Duvernay-Tardif being one of the best five linemen the Chiefs have: *"I will tell you that Larry has made a good case for that right guard spot … he's one of the five best guys right this minute. I mean, if I'm telling you right now, then I'd tell you that. A year ago, I probably couldn't indulge that, that level. I'm a big McGill University fan, but the level of football there isn't as great as their academics, if you understand what I'm saying. It's probably equivalent to some of the upper echelon junior colleges here. So for him to go out and improve like he's improved and attack it the way he has is pretty good."
*On whether the door is still open for Mitch Morse to play some guard down the line: *"Yes, we worked him in there early and then he kind of took over that center spot and did a nice job with that. But, sure, it gives you flexibility there, which is important."
*On the state of tackles Jeff Allen (knee) and Eric Fisher (ankle): *"I think Allen's is worse than his, so I can't tell you about Allen. But I think Fish will be back."