Read Tuesday's injury report here.
Offensive coordinator Doug Pederson
Q: What are your thoughts on how it worked for the first team against Arizona?
PEDERSON:"It was good. It wasn't perfect by any means. We did miss some assignments up front, Alex (Smith) was a little off with Jeremy (Maclin) with that first play of the game, but that's something we saw, they rebounded. They hit that same play yesterday, they made some good throws today, and so they learn from those things, they watch the tape. I thought with 15 plays, it's hard to get into a rhythm, even as a quarterback, with that amount of plays. Sometimes, too, in the back of your mind, you know you're only going to play a certain amount of plays, and so sometimes you just know that and you can't get into that flow or rhythm of a game."
Q: What are you looking for to gauge progress with the passing game?
PEDERSON:"The bottom line is that you want to see execution, the quarterback going to the right read, the receiver running the right route and that type of thing, especially from your starters because they're getting the bulk of the work in training camp anyway. That's what you want to see, that execution. Guys are going to get beat, they get paid to defend you, and you want them to see crisp, decisive decision-making and minimal errors if possible."
Q: Are you seeing that execution, to your satisfaction?
PEDERSON:"We are. We are seeing that. Again, you've got a first-year center (Mitch Morse) who's playing his first game, and he had some highs and lows in that game, but he's also learning and he's doing a nice job in practice. We're still having that combination of guys and trying to find that best five, and Coach Reid mentions that all the time. We get Chris Conley back, so we're working with him now, and we get Albert (Wilson) back from illness, and he's a hundred percent. There are just some things as you go through camp that you're trying to find combinations and see how things are going to work. Once you get closer to the regular season, those things become sort of ironed out and now those guys can work on becoming a cohesive group going into the first week."
Q: On your list of concerns, where does the uncertainty of a starting offensive line settle right now?
PEDERSON:"You have to, I think by the time you get to your third week when your starters are playing a lot, three quarters, you should have that ironed out. Going into that last week, where you play all your backups, those starters now get ready for that opening day, so you've still got a couple of days here to really get that thing ironed out. From there, it's all hands on deck. Give the starters all the reps they can handle, and they get ready for that first game."
Q: If Houston, or anyone else you play this season shows the same blitz that got the pick in Arizona, will Mitch Morse be ready for that?
PEDERSON:"Yes. There's no question in my mind. We see it from our defense every day so he understands it. It's reactional, reaction play, and he knows what he did. That play is fixed and corrected and we can move on."
Q: How do you feel about that offensive line being ready to go in week three?
PEDERSON:"Good. Really good. I mean, there are some things, obviously there are some combinations, some injury and things like that, but when those pieces are together and those guys get some reps, there's some good up there. You're seeing that as we go each day. You're seeing that offensive line sort of come together and gel and doing a nice job."
Q: Is it reasonable to assume Mitch Morse can get to that point of being the starting center against Houston if he's needed?
PEDERSON:"Very reasonable, and here's why I say that: we've got so much football—we're changing plays every day. We're still installing plays in our meetings at night so we haven't even game-planned anybody yet. When you game-plan and you hone everything into a specific task, now you focus on that task. So, yes, he will be ready, he will be fine, and again, we will narrow it down once we get to Houston and go from there."
Q: How do you compare what you see in a preseason game versus what you see out at training camp practices?
PEDERSON:"You grade them all the same. You grade practice just like you would a preseason game. Out here at practice, our starters do get the bulk of the work so we can evaluate those guys probably a little bit more than with these first couple of preseason games. To see them against other players, other teams, take what they've learned in the classroom here and take it to the game field, is what you want to see. It goes back to eliminating mistakes, being decisive and executing."
Q: When you see Fred Williams doing some good things against Arizona, does that sort of set in your mind that he can transfer what he's doing out here in practice to on the field on gameday?
PEDERSON:"Yeah, and you have to gauge a little bit, because I've been in that position as a player, where you have to take your instruction and coaching and teaching and just, why would it change on gameday? It shouldn't. And you're seeing guys like Fred Williams, Chase Daniel, play nice games, but they're taking what they've been coached and taught and they're just translating it to the field. That's what you want to see week in and week out with these preseason games."
Defensive coordinator Bob Sutton
Q: Is there a higher number of younger players doing better than you are used to?
SUTTON:"Well, I think this is a real good group. We've had a lot of guys who have stepped in there and competed at a real high level – didn't really step back as far as getting into the actual game and that type of thing. Probably of all the things that they are itching for is making progress. That's one of the most important things for really any player during camp is that you are on the upswing, you are getting better each day – that's a big challenge, but if you want to become a good player, and if we want to become a good defense and become a good team, that's what really has to happen every day out here."
Q: What did you see from Eric Berry on the field?
SUTTON:"Well, I think he has done a great job at coming back, obviously, from a real challenging situation. I think he's really back close to where he's at. He's still got a ways to go and the thing that I said before, the thing people forget about Eric, he missed a lot of last season – not only from the cancer, but you know he had an Achilles problem and missed a lot of camp. So, this is really a chance to get back into football, the fundamentals of his position and I think every day out there talking with him, he's becoming more comfortable. Like I said earlier, we are going to follow his rhythm – whatever he feels – that's what we are going to follow. So far it has been really good."
Q: Coach, how has Ramik (Wilson) and the younger linebackers progressed?
SUTTON:"I think very good.  I think all of those guys in there have done a really good job and they have a lot of things happening to them. Our offense has a lot of groups and a lot of different types of plays, so to stay on top of all that has really been encouraging to watch as a coach."
Q: What's your evaluation on how Jaye Howard has done?
SUTTON:"Good.  I think Jaye has really taken the challenge on. You know, he has done a good job of stepping in there for (Dontari) Poe. As I just said, he has to continue to get better and keep working on a lot of little fundamental things and techniques that happen. That's what this time of year is about – to develop your base, your foundation, that'll carry you through the season."
Assistant head coach and wide receivers coach David Culley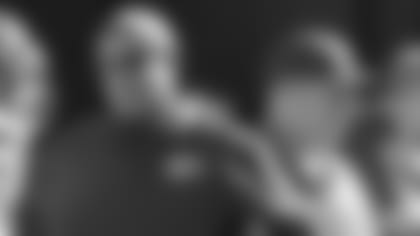 Q: What does it say about guys going from undrafted to fighting for roster spots?
CULLEY:"Well, that happens. I go back to Albert Wilson being an undrafted guy. We have had a lot of success with those kinds of guys. I think one of the reasons is that when we get those young guys and they come in like that, first of all, our personnel department does a great job of identifying those kinds of guys. Somewhere along the lines in college there was something missing or whatever or we might have missed something, but you saw enough to know those guys have a chance to make it. With Albert (Wilson), and Frankie (Hammond) and Fred (Williams), obviously, once you get them in here, the thing about Coach Reid's training camps is that if you're in a training camp here, you're going to get an opportunity to show what you can and cannot do at this position, and that's critical, because you get reps just like the last game. Every kid we got out there got to play and that might not be the case in every game, but you're going to get a chance to say if you can or you cannot play in this league."
Q: So are you pleased with what you saw from that first game?
CULLEY: "Very pleased, and there's still things we can improve on, but very pleased. Guys are making plays. You've got to make plays, that's what that position is all about, making plays. We're fortunate enough that some guys were able to make some."
Q: Was it promising to see three different guys score touchdowns?
CULLEY: "It is. And in this offense, that's what happens. The ball gets spread around so much and when you're in the situation to have a chance to get a touchdown or make a play, you've got to be able to make it. Fortunately, the other night we were able to make those plays and hopefully we have the same opportunities for those guys coming up."
Q: There's a lot of talk that Travis Kelce compares favorably to Rob Gronkowski and Jimmy Graham – what is Kelce's mentality when he hears that or does he ignore it?
MELVIN:"Well, you have to because all three of them are completely different players. To make a statistical comparison, that might be as close as you're going to get. As far as the way that they play the game, all three of them have a distinct, different personality set with the way that they approach the game, what their pluses and minuses are. So you can ignore that, because it really doesn't apply."
Q: How has Kelce assumed a leadership role with the young tight ends group?
MELVIN:"First off, he is extremely adept to the game of football. He understands the chess pieces, the 22 guys on the field, he knows where everybody goes, how they should fit, who went the wrong way, who should have gone where. So he's very good at that. Whether you forget or not, you realize he was a quarterback and he was a center man in hockey, so he was that leader. To him, it comes naturally to him. It was real easy for him to move right into that."
Q: What have you seen in Adam Schiltz's development from last year to this year?
MELVIN:"His biggest thing was the offseason. He transformed himself physically, which, coming from a smaller school, that's always the first thing – they didn't have the training tables, they didn't have the weight staff, they didn't have it quite as regimented of a routine as you have in a bigger school. It took him this offseason to transform himself to where, now, physically, he can do the things that he wanted to last year that couldn't hold up over time or couldn't handle then. Right now, he's done a great job, he's right where we were hoping he was going to be coming into camp. And he's an extremely smart kid, so he can play all three of the tight end sets when we have all three of those guys on the field at the same time. He's a great asset to us in that case."
Quarterbacks coach Matt Nagy
Q: What has impressed you the most this training camp?
NAGY:"Well, I think for us, being able to evaluate off of three years – this being our third training camp – you look back at year one and things were going so fast, I'm talking from the quarterback's position. This year, we are in year three, basically being able to go so much further when we are watching film after practice, being able to evaluate ourselves with what we're doing versus what we're seeing the defense gives us. Our defense gives us so many different looks that really prepares us well for the season."
Q: Looking back at last season, was there something that you thought (Alex) Smith needed to improve on coming into Training Camp and really focus on?
NAGY:"You know what, that's a good question. I think the biggest thing probably in the offseason was really his footwork, and trusting his feet and matching up with the timing of the wide receivers. We started the second the season ended this past year till now, and he's done such a great job – all the quarterbacks have been really focusing on their timing and matching it up with the receivers. As long as you can keep growing with that, then this offense, you become tough to stop."
Q: With the injuries on the offensive line and all the rotations, how has (Alex) Smith handled that?
NAGY:"Great. Alex doesn't worry about any of that. It's the next man up mentality. That's one of his biggest strengths – he plays with what's given to him and he worries about himself, he doesn't worry about other teammates – he trusts them. At the quarterback position, trusting your teammates is one of the biggest things you need to have."
Q: Seeing Chase (Daniel) make big plays under pressure, how will that set him apart this year?
NAGY:"Well, again, that was big for Chase to have such a good game the other day. He stood tall in the pocket. He took some hits, but that happens – that's part of football. So I was proud of him for that. To really show the confidence in his teammates and really trust his wide receivers, trust his line, trust his backs – he did that – and when you do that you see good things happen."
Offensive line coach Andy Heck
Q: What are the things guys struggle with on the line, initially?
HECK:"Particularly, for a tackle moving inside, as a tackle you're playing with a lot more space and so you're covering more ground. Inside, those movements and reactions need to be much smaller and much tighter and much more controlled, so that takes a little bit of a learning curve to slow yourself down."
Q: What have you been getting out of Jarrod Pughsley?
HECK: "Jarrod's a versatile guy and a talented guy. We had him last year on our developmental squad and so this is really our first opportunity to see him working in different situations, whether it's with the ones or the twos, or at tackle, and that's not to say we couldn't play him at guard. It's a great opportunity to evaluate him, it's a great opportunity for him to continue developing and becoming a better football player and really see what he can be and what we've got on our hands."
Q: Are there more battles than you anticipated at this point in camp?
HECK: "I wouldn't say that. This is a very deep group. There's a lot of good, talented and hungry guys. I'm very pleased with how they're all coming out to work to better themselves individually, to not just be one of those five guys but one of those seven that's up on game day or to be one of however many we keep on this football team and it's a process we're still going through and the guys are really doing a nice job with that."
Defensive backs coach Emmitt Thomas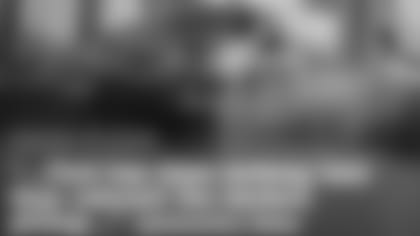 ](http://yourmidwestforddealers.com/)
Q: How have you seen Marcus Peters progress?
THOMAS:"With him being on the quarter system we lost a lot in OTAs and minicamp, but he's been working hard since he's been here. We've been fortunate enough for him to stay healthy and take a lot of reps and hopefully this week we'll get a chance to see more of him in live action in the game against Seattle. But right now, he's got great ball skills, we've just got to get him to finish harder and be more consistent, but he's a good athlete. He's what we've been missing back there; he's a guy than can intercept the ball and get turnovers back there. I saw him in the running game the other night and he will tackle, he's a tough guy. He's working off his rookie mistakes and there are some ups and downs, but he's a talent that we're fortunate to have."
Q: Is it harder to play corner in the league now opposed to when you played?
THOMAS:"Yes it is, because we could use our hands and be more physical down the field, whereas within four yards they have to get their hands off and can't be as physical. We could intimidate receivers a little bit more than they can right now.  Right now, it's an offensive game. It's basketball on grass sometimes, but we've got pretty good athletes back there and hopefully we'll come through."
Q: Is it harder to learn the corner position today?
THOMAS:"Yes it is, because you play more combination coverages now than when I played. Even back when Al (Harris) played, you played a lot of man-to-man and just straight up. But now, you play a lot more combinations."
Q: What has having Eric Berry back meant for the room?
THOMAS:"Well, I was here when they drafted him as a rookie. He came in as a leader and for him to get that ownership back and to come in, we just hope his health holds up, but right now he's progressing really well. We like what we see; he made a couple of plays in the preseason and during training camp. I think he'll be the leader back there."
Q: Do you expect him to be 100% in the first couple of weeks?
THOMAS:"We'll bring him along slowly, but we play so many different packages. We started with four or five, so he'll be able to play a lot."
Spread game analyst and special projects coach Brad Childress
Q: How do you look ahead, what do you work on as far as the Thursday-Sunday game?
CHILDRESS:"From my standpoint, I look at everything that Romeo Crennel has done. Also, it's kind of funny, you're looking at the Texans, but you're looking back a couple of years when Wade (Phillips) was the defensive coordinator there and what kind of system he's running in Denver. Then, of course, you take the Denver film from Seattle this weekend and the other ones."
Q: What are your thoughts on the schedule this season?
CHILDRESS:"I'm excited about it. I know we're all excited to play. You have to play them one at a time, you have to play a Thursday night game, people make gripes about that, but you'd rather play one early in the year than late in the year."
Q: What type of challenges do Vince Wilfork and J.J. Watt bring when playing the Texans?
CHILDRESS:"It all starts up front, always, on the offense. You better be able to change the line of scrimmage offensively. Those guys are going to give you problems physically, they're going to give you problems with their movement and their pass rush. We'll really have to be about our business with those guys."