*Injuries: LB Derrick Johnson did not practice due to inflammation in his knee and DL Dontari Poe left practice early with a back issue. *
Quarterback Alex Smith filled the media in on what he's working on in OTAs.
"There are specific things that I've targeted with coach Reid and Doug (Pederson) and coach Nagy," he said. "Along with just generally fine tuning, you're always trying to play well out there and be smart and throw accurate footballs. 
"For me, footwork is something that never goes away and your constantly trying to get better with your feet. Just working on being more consistent from under center and in the gun when I do go back and forth—that's something looking at the tape last year, I was a little bit all over the place."
Smith also said he's focusing on what he described as the "little things."
"Even for me, I'd [like to] perfect ball carriage— where I carry the football in my motion," he said. "I'm trying to be as efficient as a I can."
Smith has enjoyed working with wide receiver Jeremy Maclin early on.
"It's the stuff I saw on tape, too," he explained of Maclin, "a guy that just does it all. I don't think you can really pigeonhole him in any one facet of the receiver game. A guy that can do all those things really well. Move him inside, move him outside, he's good outside the numbers."
"He's really fast, he's good in and out of breaks. I think the one thing is not knowing his personality or approach to the game. A guy that's been around and sees a lot. He's really smart, sees the defense."
Smith has showed confidence in new center in Eric Kush.
"Having Kush here the last few years, to be honest, has been very seamless," he said. "Obviously Rodney (Hudson) is a heck of a player and he's missed. He moved on, but to be honest it's been very seamless. Haven't really missed a beat. I feel like Kush has stepped in, he knows the offense, he knows what we're doing— a really good communicator up there. He and I already have a very good rapport together."
De'Anthony Thomas mentioned that he's been grouped in with David Culley and the wide receivers at this point.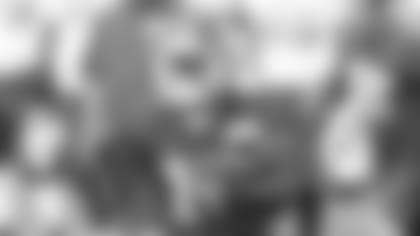 "When I got back, I was surprised that they told me I was in coach Culley's room," he said. "It's amazing just to get to have a great year with coach E.B. (Eric Bieniemy) and then come to Culley and just maintaining that great work ethic."
Thomas said that he's been learning a great deal from Maclin and Jason Avant.
"Just two professionals that have been in the league," he said of the two veterans. "They know everything about being a pro and just how to be successful and just stay healthy."
Wide receiver Albert Wilson said that he isn't taking anything for granted.
"Me being still young, I've got a lot to learn," he said. "I'm just trying to take advantage of this opportunity. We're still early in the season in OTAs and we still have camp to go, so I'm just out there fighting for a spot."
He knows that he needs to earn his role once again. 
"I still feel like I have to fight until it's guaranteed. I'm still fighting like I'm still the underdog."
Cornerback Sean Smith, despite his great season in 2014, said he's looking forward, not behind.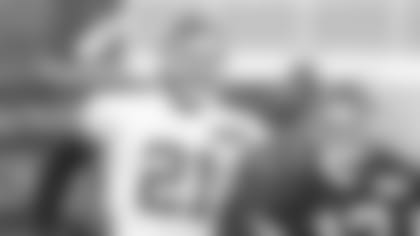 "I hate to say that I'm picking up where I left off because I look at us as a team and as a unit and we really didn't make it where we needed to be," he said. "As a secondary, we didn't finish number one. We were number two in pass defense but we weren't number one, so I feel like there's always room for improvement. I definitely learned from what I did right and what I did wrong from last year and this year I'm trying to build on it, improve in some areas and make more plays."
Smith explained why he believes OTAs are so valuable.
"Could you imagine if you gave players from January to August off, then you come back to go full speed and get ready for a game in a month?" he asked. "No, so you definitely need this time to come out here, get the guys together, get them back in shape and get them in the swing of things."
Smith confirmed he hasn't had any contact with new rookie cornerbacks Marcus Peters and Steve Nelson as they are currently unable to practice.
"I haven't had the chance to talk to them, see them, none of that," he said. "I'm definitely excited. I can't wait to work with young guys. As crazy as it sounds, I am the older guy in the room now, so I can't wait to get them with me."