S Sanders Commings, WR Frankie Hammond and TE James O' Shaughnessy were at the podium today.
Wide receiver Frankie Hammond believes the key to contributing to the Chiefs offense is being "available."
"I'm just trying to be available," he told the media Thursday. "Whether they need me to play gunner or inside on punt team, returner, wherever they need me, I'm just trying to learn a little bit of everything. You never know— somewhere down the line, you may need to play that role, so I'm just making sure I'm available. When they need me I'll be ready to go."
Hammond took a lot from garnering the playing time last year.
"That experience last year was real valuable," he said. "To get that year under my belt and see what it's like and to see how the game is and how fast the game is and how things move on Sundays. It was a great experience. Now it's just detailing it; it's making sure I do things the right way."* *
Hammond explained the tight-knit wide receiver group.
"We all come in and we all treat everybody like family," he said. "If someone needs help or there's a little nuance that can help somebody get better, whether if it's from Kenny Cook to (Jeremy) Maclin, we all sit here and help each other out."
Safety Sanders Commings reflected on the 2014 season, his second missed season in a row.
"It's always tough being hurt and not being able to help the team, but it was definitely a learning experience," he explained. "I got to learn from all the vets on the team— just sit back and take it all in."
Commings commended Al Harris and Emmitt Thomas for their support after he was placed on IR last year.
"They were very helpful, very positive," he said. "They just told me to stay up, keep my head in the game and be a part of the team as much as I can ... Everyone was encouraging. Kickers, longsnappers, everybody."
Commings said he even feels like a better player than he was before.
"I honestly feel faster now than I was," he said. "I've lost about 10-15 pounds this past offseason just changing my diet. I'm feeling pretty good out there now."
Tight end James O' Shaughnessy has enjoyed learning coach Andy Reid's offense.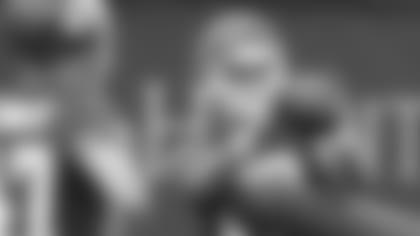 "It's really interesting to learn," he said. "You think you know football, but to be honest, I didn't know anything about football. Now, leaning all of the complexities of this offense, you really get to learn the game inside and out from every position, learning every defense and how it changes with what play you're running. It's pretty interesting."
O'Shaughnessy commented on what it's been like to play with players he used to watch.
"To play on the same field as Travis Kelce and Jamaal Charles and Alex Smith is unbelievable to me," he said. "It's even more unbelievable the fact that I've got to block Tamba Hali, (Allen) Bailey, and getting covered by DJ (Derrick Johnson), so it's been a lot of fun and it's something that I've really enjoyed the fact that I got this opportunity."
A look at OTA's on Thursday at The University of Kansas Hospital Training Complex.