That high five Derrick Johnson talked about yesterday was initiated by defensive lineman Mike DeVito.
"As soon as we got out here, I went right up to him," DeVito said of the high five, "because we've been working so hard to get back to this point, to finally get out there and be a part of it—real football stuff. We've been doing all the running and lifting. That's great, but to get out here, put the helmet on, 11-on-11 drills, we're kind of back to the real stuff, so I went right up to him because I know how hard he's worked and I know how much he's helped me to get back out here."
DeVito said he was reminded of high school in getting back on the field yesterday.
"I'm just so grateful for another opportunity to be out here. I didn't know if I was going to have another chance. I'm grateful to this organization for giving me another chance. They could have easily gone a separate way, but they decided to bring me back, so I'm going to make the most of every second I have out here because I realize how fast it can be gone."
DeVito says he's not easing back into practice; he's going 100 percent.
"I'm hitting the ground running. I can't ease into anything anymore. I've been easing for however many months now, so it's time to roll."
With tight end Anthony Fasano departed to the Tennessee Titans, Travis Kelce said he has stepped into the first team position.
"I come in and take the role, it's as simple as that," he said. "It's not like it's a hidden secret or anything. I'm probably the most comfortable in the offense for being on the field for an entire year. We have Richard Gordon, who's a vet, who knows a lot and understands the game very well and we'll go from there, but it's clearly my room and I'm going to go ahead and take the bull by the horns and lead us to success."
Kelce talked about Chiefs rookie TE James O' Shaughnessy.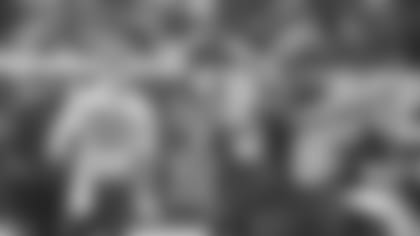 "James is a hard worker. He's a tough kid," Kelce said. "He comes out, he puts his nose to the grind and tries to get better. He's got a lot getting thrown at him right now. I've been in the position and to be honest, it's even more stressful on him because when I came in, everybody was getting used to the offense. Well everyone's already used to the offense right now, so it's kind of like he's the young guy getting told to do everything, every aspect of the game. It's a lot at once, but he's picking it up real well."
Linebacker Dee Ford revealed what part of his game that stands to gain the most improvement.
"My situational football, definitely," he said, "the situations that I didn't quite understand. I could spit it out to you, but once the bullets were flying, it was different. But now that I've seen them an ample amount of times and I've studied, it's coming to me."
Ford said that in order to do that, he's working on his mentality.
"You have to create a mental process," he explained, "pre-snap awareness, seeing the formation. You have to do these things on your own—create some muscle memory and it's really seeing the formation."
The offensive line group got together for Memorial Day, per Eric Kush.
"We cooked up some burgers and some hot dogs and had a good time and we're definitely going to continue that and hanging out on weekends and bonding as a unit."
Kush is very excited to be getting early repetitions with the first team.
"It's awesome. It's everything that growing up as a football player, you hope to achieve and opportunity's knocking. It's right there, so I'm ready, keep rolling and do this thing. We'll see."
Offensive lineman Zach Fulton, who has taken some snaps at the center position, explained how it's been different from guard so far.
"You kind of see the defense a little bit differently," he said. "Obviously, you have to know the playbook—the ins and outs of it. You have to know every detail, bit my bit, and it's just a different view. You really have to be on top of your game. It's a little bit hard because your call points out what everybody else is doing, so it sets everything up."
OL Ben Grubbs said he gets the playbook down by using a pen and paper.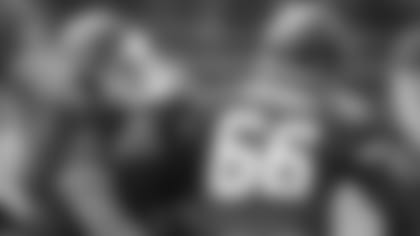 "The way I learn is by writing it down," he said. "I still think there's some value in taking notes. Nowadays, we're so technical, we have iPads and stuff like that for the playbooks, but I still think there's some value in writing things down. I still go back to the index cards. I do flash cards and I try to make that transition into the field. It's different. When you're writing down the plays, it's not the same as having (Dontari) Poe and (Allen) Bailey in front of you, but you want to make sure that you know the basics and we work on technique and the fundamentals when we get out here."
Grubbs said that Kush has been helping him a lot with the playbook.
"Kush is very knowledgeable," Grubbs said. "He had a good foundation of the playbook and he's been helping me out—him and Fish (Eric Fisher), they've been doing a great job. I don't want to be a burden too much, but there are some things that I just haven't quite gotten the grasp of and they've been doing a really good job bringing me along with them."
Grubbs spoke about his growing relationship with left tackle Eric Fisher.
"I don't think there's any substitute for actually playing next to him," Grubbs said of his fellow lineman. "The continuity's going to come over time, but we just have to get some reps underneath our belt. I think the off-the-field relationship plays a part in there and I'm big on getting together with the guys off the field and we've done that in Baltimore and New Orleans. I think there's some importance to that, but there's no substitute for just getting out here and bleeding and sweating together."
Grubbs even detailed one visit with Fisher in particular.
"I've been over Fish's house once and he had his boxer jump all over me and he really didn't correct it, so I don't know if I'm coming back over there," Grubbs jokingly said.