Read Monday's injury report here.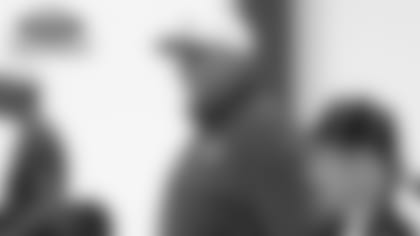 The team needed to stop practice and hold it indoors at St. Joseph due to lightning, but head coach Andy Reid encouraged the fans to come back out tomorrow.
"We had to make a little bit of a sudden change and my heart goes out to all of these fans that showed up here," Reid said. "We've got these rules and regulations and whatever it is, tells us where lightning is. Bottom line is we had to come in … Come tomorrow. Let's try it again and hopefully we'll be outside."
Monday's pratice marked the first time the team put the pads on all year.
"We've put the pads on," Reid said. "This is offense versus defense and here we go and we're rolling. Today was a thud day, so there wasn't any tackling to the ground today but there was a lot of good hitting. It was good live-up until tackling to the ground. That's how we worked it.
"I appreciate the competition, the way they did it, especially with the sudden change. Sometimes that can be a bit of a distraction, but we got in here, we knocked it out, and our equipment guys did a phenomenal job.
Reid responded to a suggestion that he was more vocal today.
"That's how we go all the time," he said. "It's high energy. When you're out here, you're working, and within that, we don't condition them after practice.
"You're in and you get your conditioning during practice. Hustle on and off the field, work your drills, keep bodies off the ground. You try to eliminate the injuries as much as possible."
** Kush discussed on his first training camp as the first-team starter at center.
"[In] my first training camp, you come in here as a young guy and you don't know what to expect," he said. "It's going to be a tough, tough camp. It's an NFL training camp. My first year was lots of anxiety and not knowing what's going to happen.
"But this year, coming in here and doing this thing for the third time feels great. I know what to expect every day, I know how to properly prepare for the next day and correct my mistakes and everything.
"It feels good and I'm going to keep this thing rolling and keep the guys together and keep a lot of energy going forward."
Offensive lineman Ben Grubbs came to the Chiefs in exchange for a draft pick, making this his first training camp in the Kansas City offense.
"It has been [smooth]," Grubbs explained, "a lot of that is just familiarizing yourself with the calls. When you think you've got it down, defense throws something else at you. It's just trying to stay a step ahead of the defense and a lot of that is just getting to your playbook, asking questions, making the mistakes on the field, and then correcting them the next day."
Grubbs was asked whether it is an advantage going up against the highly touted Kansas City defense.
"It's definitely a plus for us," he explained, "but at the same time we want the defense to feel the same way about the offense. Going against us. Going against a physical, hard-nosed offense is bettering them as well.
"We're just trying to have a balance across the board: offense, defense, special teams. Once we get into the team, that would be a good compliment for all aspects of this team."
Grubbs, right now penciled into the team's starting left guard spot, is finding early continuity with center Eric Kush.
"Eric is a big communicator," he said. "He leads the ship each and every play. We look for his calls and at the same time he looks for ours. A lot of that, like I said earlier, is just learning the offense and knowing the defensive schemes. I don't want to be a burden on anybody. One man doesn't have all the responsibilities.
"All five guys have to know the calls and coach [Andy] Heck is coaching everybody, not just Kush. We're just trying to help each other out."
](http://yourmidwestforddealers.com/)
Defensive lineman Mike Catapano has returned after a year missed due to illness and injury, and his confidence is not lacking.
"I think I'm the leanest, meanest 290 (pounds) in the NFL right now," he said.
Catapano believes he took the right approach to the season he lost, choosing to be positive rather than negative throughout his comeback.
"Every misfortune has a blessing on the other side. I really think that," he explained. "When negative happens, you've got to turn it into a positive, and that's what I did this offseason. Out here today, I really felt the results of all that positivity."
Running back Knile Davis said he worked on both his receiving and blocking this offseason.
"I was in Houston training; Dallas a little bit," he said. "All I was working on was my feet and routes. That's what Andy wants to see me do better—come out the backfield, running routes, being in the slot and being out wide, things like that. Be more versatile.
"And I think I've worked on that and I think he can tell the difference. I think he's gaining confidence."