Chiefs head coach Andy Reid
Head coach Andy Reid began Monday's press conference with both congratulations and condolences.
"I want to put just a word out for Will Shields," Reid said. "Congratulations to him and his family, not only from myself, but from the organization. What a great honor that is, and he did a heck of a job on his speech. I'm proud of him."
"To the Gifford family, our thoughts and prayers go out to them at this time. There's been a lot said about Frank Gifford and all of it is true. Great person."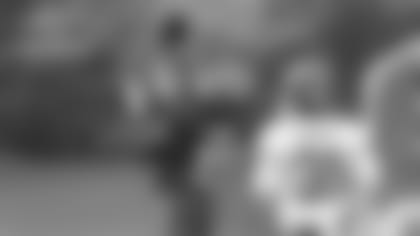 Reid spoke to the progress of wide receiver Chris Conley, who returned to the field on Monday morning.
"This was just a test to see where he's at," he said. "We'll see where the pain is, or if there's any when he's done. We tried to monitor him today, and again, we'll see. If it flares up again, we'll sit him out. If not, he'll be able to go. We just have to be smart with it."
Reid commented on the starting offensive line combination of Eric Fisher, Ben Grubbs, Mitch Morse, Zach Fulton and Jeff Allen.
"This group seems to be working well together and we're happy with it so far. Again, we'll just see. We're going to try to play the five best guys."
Cornerback Sean Smith discussed the process of trying to force turnovers during training camp practice.
"We don't want to hurt our own guys, but at the same time, when the ball is in the air, we have to go attack it," Smith said. "That's the only way you work on it. No drill we do can get us ready for making an interception. The majority of the time, you don't even know the ball is coming to you because we're always pressed. You have to turn your head and the ball's right there. But when you have a chance to go and make a play against our guys, like I said, we're not trying to hurt anybody but we have to go attack the ball."
Smith said that despite taking less first-team reps this preseason, he knows his job is to be ready to go when he's eligible to play regardless.
"It doesn't really matter to me," he said. "My job is to get ready regardless of how many reps I get. When my number is called, I'm going to go out there and give 100 percent. When I'm not on the field, I'm going to make sure those guys are ready to go."
Cornerback Phillip Gaines
](http://yourmidwestforddealers.com/)
Cornerback Phillip Gaines, in his sophomore season, was asked to speak to his greatest progression since last season.
"I'd say definitely more mentally," he said, "just being able to get a hold of what offenses are trying to do—it's so much different from college. That first year is pretty tough for, I'd say, any DB to come in ready to play well, so a tribute to anybody who does that.
"[In this] second year, I'm more comfortable. I know what they're trying to do so I can move a little faster."
Gaines, who was a part of the Chiefs very successful secondary last season, remains unsatisfied headed into 2015.
"We're going to have to prove it every year," he said. "Anybody can say anything, but you have to go out there and prove it. We definitely did a great thing last year finishing second in passing defense, but this year we're going to try to go for it all. We have a lot of good pieces. That front seven is amazing between Tamba and Justin. You can't ask for any better pressure than that, so that definitely helps us out a lot. We're going to try to make a run for it."
Gaines spoke about how he's now in a role to help the rookie defensive backs along in their transition to the NFL.
"I just look at it as a teammate helping another teammate," he said. "Especially with Steve [Nelson], I was in a similar position to him last year. He's never played nickel before and I hadn't either. It's really hard to come in and try to learn leverages, learn the different things and that's what he's going through right now. As opposed to Marcus [Peters], he's doing a great job on the outside, he looks really comfortable, he makes a lot of good plays on the ball, he's good at the bottom of the route and when it's a 50-50 ball, he's going to compete. Steve's picking up the defense really, really fast. He knows a lot of the checks, so they're doing a really great job."