Read Monday's injury report here.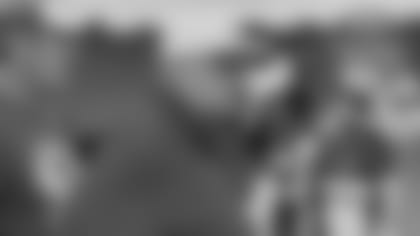 Kansas City Chiefs head coach Andy Reid felt good to get back on the field after the 31-19 over the Arizona Cardinals.
"I'm glad our fans showed up today; that was a good thing," he said. "That practice after a game is normally a tough one because the guys are a little bit sore. So it was good to get them back out here. They worked hard and we're working on getting better."
Left tackle Eric Fisher left practice early with a sprained ankle.
"They're going to look at it," Reid said. "I'm not sure exactly what it is yet, but it's an ankle sprain. That's what I've been told. They'll X-ray it and MRI it and see what the deal is."
When Fisher went down, offensive lineman Donald Stephenson moved over to left tackle and Jarrod Pughsley stepped in at the then vacant right tackle position.
"We saw good things in the game, then we saw good things today," he said of Pughsley. "He had a lot of reps. He's not short on opportunities out here. He got a lot of reps in the game then we asked him to come out here and take a lot of reps today, so I'm sure he's a little bit tired and sore. But he did a nice job of pushing through it."
Reid commented on the progress of cornerback Marcus Peters. "Marcus is playing good, solid football," Reid said. "He's had a lot of touches on the ball and he's been working his tail off. I would tell you, now does he have to keep doing it? Yeah. You have to keep doing it every day. It's a long camp, it's a long season, and so we're just at the beginning here. And then the more film people get on you and they study you, the better you have to be there. It's a constant process."
Linebacker Ramik Wilson shared his evaluation of the first-team defense's play in the preseason game against the Cardinals.
"I think they did great stopping the run, playing against the pass. They did good for their couple of series they had." Wilson broke down his interception play.
"[I went] into my zone and I saw the quarterback throw it to the curl," he said. "I sprinted over to the curl to help the corner back make the tackle—a good play by the defensive back made it pop out. I sheer-handed it and tried to run it in."
Wide receiver Fred Williams
Wide receiver Fred Williams is in his third season with the team, and that helped him in his great performance Saturday night.
"It was a big advantage," he said. "I'm getting more comfortable in the offense. I'll still need to tighten up a few things but it was a big advantage coming in after being on the practice squad last year and learning the offense."
Williams shared what he believes he needs to continue to work on.
"Just understanding the scheme of things, being more versatile on the offense, and continuing to make plays."
Williams, who is used to taking reps with the backup quarterback Chase Daniel, thinks that helped their rapport on Saturday.
"Chase is getting a little more comfortable with me," Williams said. "We just had a good game, good chemistry coming in through the week. I just want to continue to build on it. Just keep making plays and making progress."