Read Saturday injury report here.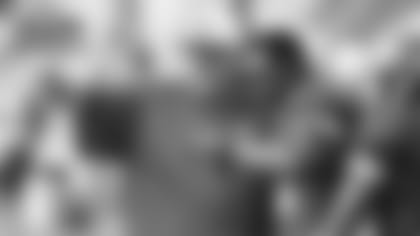 Kansas City Chiefs head coach Andy Reid acknowledged the outstanding play of rookie cornerback Marcus Peters thus far.
"He's playing well," Reid said. "At this level, you've got to do it every day. You've got to do it in games and you've got to do it every game. That's how you become a good player in this league, so he's got to continue to do that, continue to push himself and challenge himself. He's very, very talented and he wants to be good. He's handling everything the right way. He's a smart kid."
Reid shared what he sees in second-year linebacker Dee Ford to this point.
"He's out here and he's rotating in with the ones," he said. "He's getting a lot of snaps. He's getting better against the run. Remember, he switched from defensive end to an outside backer position, so he's continuing to work his fundamentals in the pass game and the run game, but the one thing we know he can do is pass rush."
Reid likes what he's seen from running back Charcandrick West.
"He can do everything," Reid said. "He's working hard on the pass protection part of it right now. Not as far as knowing who to pick up, but he's a smaller guy, so working on his fundamentals and technique. His pass game, the actual routes and the run game, he's doing a phenomenal job."
Reid was impressed with the Chiefs fans for coming out in such great numbers (more than 6,000) on Saturday.
"It's awesome; What a great deal," he said. "I think that's the way the Chiefs are. It starts with the Hunts who are very family-oriented and just carries right down to us and the fans. We appreciate their support. They came out here after there had been a little lightning earlier and we had to postpone this thing for an hour, and they hung around."
Reid said that even though the first preseason game is next Saturday, preparation for that wouldn't start for a few days.
"We're not that worried about the preseason game right this minute," he said. "We normally install that the day before and go from there. We've got a lot to do before we get to that point."
Linebacker Josh Mauga believed that starting in the place of Derrick Johnson last season helped him mentally.
"I had to learn on the fly and what helped me was I had been in the system before with the Jets," he said. "As the season went on, I just got more comfortable and more comfortable. Now I just have to get better."
Having Johnson back in lineup has made Mauga push his own game even further.
"I'm out there and I've got to compete with him," he said of Johnson. "Last year, I was competing with James-Michael Johnson, trying to make plays. Now with DJ, he's all over the place. So it helps me step my game up—trying to get reads faster, break on passes quicker and trying to get there before he does."
Offensive lineman Jeff Allen appreciates the challenge of having to play against a great defensive line at training camp.
"Iron is as sharp as iron," he said. "We've got some guys across the board: Justin [Houston], Tamba [Hali], Jaye [Howard], [Mike] DeVito, [Allen] Bailey, [Dontari] Poe when he's back. So we're out there competing and we're getting better. There's no better way than to go against the best. I think we have the best front seven in the league, and we face them every day. It's only going to make us better."
Allen believes the Chiefs have a great O-Line room this year.
"We've got some veterans in there like [Ben] Grubbs, who's giving everybody advice and we're learning from his experience," he said. "We've got some younger guys in there, and I'm coming in with those older guys so I'm trying to step into that leadership role."
Allen said that Grubbs' impact on the room is major.
"He's a guy who's seen pretty much everything in this league," he said of Grubbs. "He's an All-Pro type of player, been to Pro Bowls, so any time you've got a guy like that in your room, you can't do anything but listen to him."
The Chiefs took to the field for another full pads practice during the 2015 Training Camp.