Defensive coordinator Bob Sutton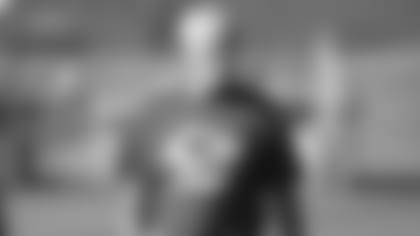 Defensive coordinator Bob Sutton likes what he's seen thus far from rookie cornerback Marcus Peters
"He's done a good job coming in here and competing," Sutton said. "Yesterday, he had a great day as far as getting his hands on the ball and finishing it off. He had a couple today he could have got and didn't quite get … He's learning on the run. As you guys know, he didn't have a lot of the OTA sessions, so this is really his first concentrated effort here of multiple days back to back.
"I think he's shown that he's got some talent and like every player, and certainly like every young player, consistency is the challenge in this league."
Sutton wants to see more turnovers from his defense this season.
"It's obviously an area we want to improve in and get back to where we were two years ago with taking the ball away," he said.
Sutton called safety Eric Berry's story "unbelievable."
"He's done a tremendous job," Sutton said. "What he's been through with the disease and chemo, and then to come back this soon and be back on the field is an incredible story. We've just got to be smart with him, and he's got to be smart in realizing that this is going to take a little time here, no matter who you are.
"I think when he came back originally, he was excited. He was running on adrenaline, just going. It's going to take some time, so we've kind of made a conscious effort to manage this thing as well as we can and let him be the lead dog in it and what he needs.
"We've got plenty of time. He's played a lot of football so we're not too concerned about that. He's just got to get back where he feels comfortable and reacts, that type of thing."
Sutton commented on defensive lineman Jaye Howard, who has replaced Donatri Poe since he's been out.
"I think Jaye has had two really good days," he said. "I think between him and Mike DeVito in there, we've got enough people. Big Nick [Williams] is in there playing some of three. So we have some people that we've got to develop yet, but we've got some possibilities in there. So far, we're okay with what we've done in there."
Sutton was asked to evaluate linebacker Derrick Johnson's performance so far in training camp.
"I think he's back to where he was. I mean it," he said. "He came out yesterday a couple times in the indoor on wide plays and chasing Jamaal [Charles] down. He looked to me like DJ looks. He's very athletic as you all know, and I think he looks fine. And as far as I know, talking to him, he feels great."
Special teams coordinator Dave Toub
Toub provided an update on the ongoing long snapper battle between Andrew East and James Winchester.
"They're really close," Toub said. "I think both of them are both NFL caliber guys, there's no question, which is a good thing for us because we're going to pick the best one.
"It's going to take a while I think. We're looking at at least two preseason games I'm guessing before we really know. You need to get some good live reps. You try to mimic that as best you can here, but you really can't."
Toub said that fullback Anthony Sherman could be the best combination fullback and special teams player in the league.
"He sets the example for everybody," Toub said of Sherman. "He sets the tempo on practice field, in the meeting room, in the locker room. He's just a great guy to have as a core guy, him and Zombo."
Toub addressed whether or not the Chiefs could have someone different in either their punt or kick returning positions this season.
"We have some guys that could, possibly," he said. "It's too bad Chris Conley got hurt, because I really thought coming out of minicamps that he was going to be a guy, at least as a kick returner, that would be able to push Knile [Davis].
"Hopefully he gets back sooner than later to get back in the mix. But right now those guys are the front liners. I really feel good about Frankie Hammond on both. Frankie's so solid back there; he could do either one."
Former Missouri wide receiver Tiger L'Damian Washington picked the Kansas City Chiefs out of seven teams who called for his services.
"This is definitely home, and I told the Chiefs that when they called," he said. "I was like, 'I'll come right now.' It's a blessing to be right down the road. I said, 'I'm heading to Tampa tomorrow, but I'll come in right now and do a workout for you guys.'"
Being from the University of Missouri, Washington said he quickly had people to turn to with the Chiefs.
"It's big," he said. "Every other team that I was with, I didn't have a guy that I could go to and lean on whenever I was down and not having that confidence about myself. So just having J-Mac (Jeremy Maclin) right there by my side, Chase Daniel as a quarterback and my guy Mitch [Morse], who I basically grew up with at Mizzou, it's great."
Center Mitch Morse shares the Missouri college connection with the newest Chiefs wide receiver.
"It was great to see L'Damian Washington," he said. "I played with him and that's one hell of a dude. He was a captain, a part of that season where we were able to turn around the SEC and he did a lot for us. He's a really close friend of mine so it was really nice to see him."
Morse spoke about his developing relationship with starting center Eric Kush.
"That's a good dude right there," he said. "He's very football savvy and has been in my shoes once before. So if I'm having a down day or having a down period, he's like, 'Listen, this is what you need to do. Dude don't worry, you're not the only guy who's been through this.'
"He's a fun guy to be around and he's the kind of guy who brings everyone up, rallies the troops and is a real energy creator, which is one of coach's big things."
Morse was asked to name a player that he had a feeling might be more powerful when the pads came on.
"I knew once Mike DeVito put the pads on he as going to be a strong man," he said. "Just look at the guy. All those guys are big, strong guys. I think Jaye Howard is an incredibly strong guy, all three of them. You single out each and every one of them and they've got their perks. Their game is amplified with pads, so your game has to step up another notch if you want to compete."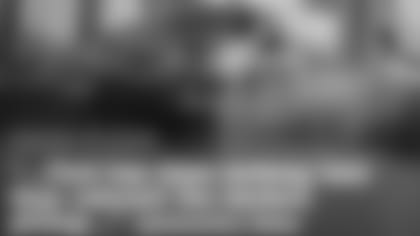 ](http://yourmidwestforddealers.com/)
Chiefs kicker Cairo Santos spoke about how much he enjoyed recently visiting London as part of the International Series.
"It was a good time," he said. "I'm thankful that the Chiefs selected me to go there and represent the team, represent the NFL in the media event preceding the London games that are happening this year. They sent a player from all the six teams that are playing there. It was a really good time.
"I was impressed that if you cover your ears and not hear the accents you would really think that you were in the United States. That's how much the kids that we're playing with knew about football and the fans there, so I was really impressed how much they knew and how excited they are for the games.
"We hear that Wembley becomes sort of a festival that day. They have lots of stuff going on outside of the stadium and they pack the stadium for every game. I'm very much looking forward to that and thankful that I got to go and represent the team for that week."
During 2014 training camp, Santos was in a position battle with former Chiefs kicker Ryan Succop. This year, he came in as the starter.
"It feels really good," he said. "I feel like I know what to expect from the coaching staff, and the elements here in Kansas City with the wind. I think that was the biggest change for me last year. I came from college playing in a dome to playing outdoors in the cold. I look forward to adjusting and the things that I learned this offseason kicking into that wind.
"So far it's been going really well in camp. We've had some windy days. I love taking all the reps. I do love competition as well, but being the guy here that can take all the reps, it's more reps for me to get better. I'm thankful for the opportunity and am looking forward to the season."
Santos outlined his goals for 2015.
"I want to make the kicks that I didn't make last year," he said. "I felt like I definitely had the leg for all of the kicks but I misjudged the wind, so those mistakes that I had, especially early in my career, I look forward to [correcting]. I know I've done it in college before and make all my kicks, so I know I can do it here."