HEAD ATHLETIC TRAINER RICK BURKHOLDER
OPENING STATEMENT:"With Jamaal [Charles], what you saw this morning is part of our process. It's all pre-planned stuff. With the rules in the NFL with PUP, our coaches can't have him out doing anything and be able to evaluate them like we do as athletic trainers. This was the next step in the fine-tuning process where he got to go through some stuff with Coach [Eric] Bieniemy. Coach Bieniemy and Coach [Andy] Reid will evaluate what he did and get back to us. We'll tweak his rehab so that he gets closer to playing. It's an absolute day-to-day process. We'll evaluate every day that he's out here. We'll change what we're doing up in the fieldhouse as well as on the field. And then we'll give him more and more as we go.
"The next couple days he may do exactly what he did today. But we'll keep feeding him more of practice until we can get him back into where he's ready to play in the game. We have to take him off PUP to allow Eric Bieniemy and Coach Reid to evaluate him. That was just part of the process. It was pre-planned today, what he was going to do. He did fine in my mind. And we've done that with him as athletic trainers. What we saw was what we expected. We took him up to do his rehab and tomorrow is another day."
Q:Did he have to pass a physical before he was taken off the PUP?
BURKHOLDER:"Yeah, that's a rule."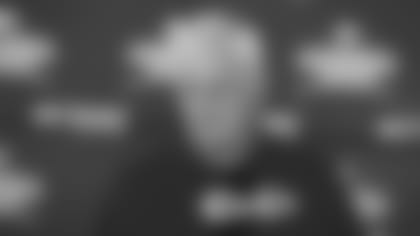 DEFENSIVE COORDINATOR BOB SUTTON
Q:On Chris Jones performance on the defense?
SUTTON:"Chris [Jones] did a lot of good things as a rookie. As we've talked about before, he's a big man, he has really good quickness, he's got a natural ability to do a couple of things. To name one, he can get through small areas, which is impressive. He's got a sense of when to get a hand up when the quarterback is about ready to throw, as he's rushing, which is a real gift. With that wing span, it can be a really effective thing for him and for us on the defense."
Q:Does the end of the preseason game still bother you?
SUTTON:"Yeah, anytime you lose it bothers you, so we don't like to lose. We worked hard, the players busted their tails. To me, it was just a great example of why you've got to play 60 minutes. You have to play every second, all the way down. A lot of things happen in between there and that could have changed things. We had a chance – you've got to get it done."
Q:Is this a perfect example of finish what you start?
SUTTON:"Yeah, you have to be ready to play every single play. You've got to do things the exact way that you're told and what you're expected to. It's a lesson you don't like to take, but you'd rather point it off on someone else's film, you know, than to take it on yourself. Yeah, we showed it. We're going to teach from it and understand it. It's a huge part of the game."
Q:What did you tell Malcolm Jackson after the game?
SUTTON:"Nothing. He was in a tough position, the height differential was pretty significant there, you know. Like I said, there were a lot of plays in between that and Malcolm Jackson's. There was a two-point play that we could have stopped, so all those things. Like you're saying, they are great teaching tools and understanding that you just got to play this thing all the way out and you can still win it – even after that touchdown pass – you can still win the game. That's a great thing to remember out of that as a player, coach or whatever. You have to be in that exact moment immediately."
Q:How do you feel like Steven Nelson and Phillip Gaines performed?
SUTTON:"Well, Phillip [Gaines] didn't play, so he had no mistakes. No completions on him, but we would like to get a little more on the takeaways from him.  I thought Steve [Steven Nelson] competed in there and really got going. Of course, he played inside and outside. As the game went along, I thought he really got in the groove. They hit some quick passes on us early. I liked his competitiveness - I really did. I thought he did a great job competing."
Q:Did you like the way the secondary communicated with one another in general?
SUTTON:"Yeah, overall – pretty good. You know, in a 70-some play game, there's always things that you're going to point out and say, 'Hey, we could have done this, could have done that, could have done that, should have done that.' One of the golden rules out there is whatever you're going to do out there, do it with a conviction and then fight your way through it. As long as we're all on the same page and go - it may not be the optimum adjustment or call, but if we're all on it and we're all playing hard, then there's a good chance that'll work out."
Q:Do you think Gaines will play in the game this week?
SUTTON: "I don't know that. Not in my wheel house."
Q:How about at practice this week?
SUTTON:"He's working in and his ankle is sore I think too. I don't know all of those things but if they put him out there we'll put him in."
Q:I was going to ask about Jamaal Charles coming back. I know that's not your side of the ball, but presumably you're going to be getting Eric Berry and Tamba [Hali] back in the near future what kind of lift does it give a team, whether he's an offensive or defensive player, when one of the guys they're counting on comes back to practice?
SUTTON:"I think coaches, players, all of us, we would all love to have all of our players, any player that we have on our roster, we'd like to have available, so I think any of those guys are going to make an impact on the team. But I think the other part of that is, I don't think as a player or as a coach you can wait until these guys get back. Players on the field are the team and they have to compete and prepare and like we talked about a week ago, whoever's in there has to play like he's the guy. That's really important because even as these guys come back, there's going to be a handful of guys that maybe aren't on the first unit today, but they're going to play. It's inevitable. It happens every year in the National Football League. That's why they have to attack these opportunities; they're precious right now. You have to take advantage of every single one of these deals and get yourself ready to play in the position you play. I think we'll all be excited when those guys get back, but for the time being we have to charge."
Q:How do you feel like Dee Ford's preseason's gone?
SUTTON:"Okay. We've only had one game, I think he played like 18 plays, so we'll get a better chance to see him this week. He's like a lot of our guys, he has to get better, improve, and the optimum word for me is you have to develop a level of consistency defensively, individually, whatever, if you want to be the team or the unit to be reckoned with."
Q:What do you want in your second preseason game? What are you hoping your defense does? What do you want to see different than game one?
SUTTON:"They're going to play more plays, they're going to see more situations. I think we want to see a high level of energy and execution. That's the starting point of this whole thing. We have to develop a little bit of grit and toughness as a unit. That comes from playing. I think having a chance to stay out there for a whole half will be really advantageous to us. We have a lot of new faces on defense, so those guys need to be bonded and together. The best way to do that is right out there on game day against another team."
Q: What did you see from Moses [Dezman] and Nicolas [Dadi]?
SUTTON: "I thought both of them did a really good job. I thought Dezman played really hard, great effort plays, he pressured the quarterback. Dadi came in there and did a nice job. He got one, missed another one, but I thought he played hard. He's got a ton to learn, but we appreciate his energy and the way that he attacks. As long as you do that you've got a really good chance to make something happen."
Q: You have a lot of young guys on this defense, D.J. White in particular seems to be standing out on every play. Is that your assessment here on the practice field and then moving into the next preseason game?
SUTTON: "Yeah, I think we have a lot of young guys, and guys that are new playing their positions. I just think that you've got to continue to drive down on these details to keep going and to keep competing. D.J. does a great job of that. He competes like that, he gets beat, he's right back up. He doesn't flinch, nothing bothers him, he's right back in. He learns from his mistakes and that's a great trait to have for any young guy. We're encouraged by the way those guys are going after it and attacking and you've got to know collectively where we're playing. It's a funny game and we can't play with eight or seven or six, we need all eleven of those guys humming to play the way we like to play."
Q: How much does it hurt you if you don't have Tamba [Hali] every day, if Eric Berry isn't here and you're still waiting for Justin [Houston] on when he can come back? Is that hard to get what you're talking about if you don't have those key guys?
SUTTON: "No, that's what I was saying. The guys that are out there are the team. That's the group that's going to take the field in Chicago, and it may be the group that take the field for the first game of the year. We've got to push ahead with that type of mindset and that type of grit to get to where we want to go. That's why when you ask the question of if you're looking forward to it, yeah we're looking forward to it, but we're not making our plans based on it. We're making our plans, this is our team right here. We have to charge and we have to get each of these guys better and each of them have to have that same feeling. You have to develop whatever that word is, chemistry. You have to get that going. That's a big part of this whole process."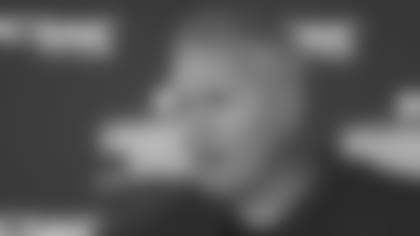 SPECIAL TEAMS COORDINATOR DAVE TOUB
Q: Do you have a number one kick returner and punt returner, based upon what you saw last weekend?
TOUB: "We're going to stick this week with the same guys. So Knile [Davis] will be our number one kick returner and Frankie [Hammond Jr.] will be our number one punt returner – we'll go from there."
Q: Who stood out to you on special teams?
TOUB: "A lot of guys, a lot of young players. I was really happy with D.J. White – he made some plays for us. Eric Murray made some plays, [Terrance] Smith made some plays – so I was happy overall."
Q: Every group has its own unique advantages – disadvantages – their aptitudes and things like that. What do you feel like this group has?
TOUB: "Everybody is working really hard. The competiveness – there's a lot of competitiveness out there that brings out the best in all the players. So as a coach I couldn't ask for anything better."
Q: Could you sense that Tyreek Hill was nervous at all on some of those returns [Saturday]?
TOUB: "Probably a little bit. On the first punt return he set it up a bit too long – he was going too far one way and he came back from just a little short fake."
Q: You have a guy that can hit it from 58 yards [Cairo Santos] what do you see from him so far in camp?
TOUB: "He's having a really good camp. He's been 100% the last three days of practice as well and put in a lot of tough situations [fast field goals] and he's been great. I think his leg is a little bit stronger – it looks like to me, we're not afraid to hit those 58 yarders in a game."
Q: What do you think his range is at this point?
TOUB: "Probably 55 [yards]. I mean 58 we're pushing it – we have to have perfect conditions – we had a little bit of wind behind us in that game and he was feeling pretty good. We went with it, it was a preseason game."
Q: Would you let him try a 60 [yarder]? He feels he can do 60 [yarder].
TOUB: "In a preseason game? Yeah. I know he does [feel he can make 60 yarder]. If the situation is right – end of a half, we got the wind at our back – he can probably try it."
Q: What did he do to strengthen his leg?
TOUB: "He's gotten more mature, he's gained some weight in his lower body, he's worked out hard, and he's done plyometrics and squats. He works hard at what he does and he's gotten stronger – he kicks, he kicks a lot, he kicks all throughout the offseason."
Q: And a better relationship with the snapper?
TOUB: "No question - second year for [James] Winchester. He's not chasing the ball as much and he's right on the money. He's hitting the ball longer – the whole operation has been good."
Q: Seems like every year we talk about this with you, we get down to when the roster needs to get cut down – what have you seen from this group compared to the groups in the past?
TOUB: "Just like I said before – there's a lot of competition. These next few games for these guys on special teams are going to be critical. Usually by the third game a lot of the team is chosen to be honest. And very rarely by that last game – things aside, maybe one or two players – sometimes it comes down to special teams. Who's the better special teams player? If the guys are close, we may take the better special teams player. They know the competition is there – it's real. They're working hard."
Q: You've seen Jamaal [Charles] attack his rehab – the way he goes after it – is that kind of an inspirational thing for everyone around here?
TOUB: "It is. He stepped on the field here today – came off PUP – and everybody was as excited that he was out here. It's just good to see 25 out on the field; it lifts everybody's spirits anytime you get a veteran player like that back."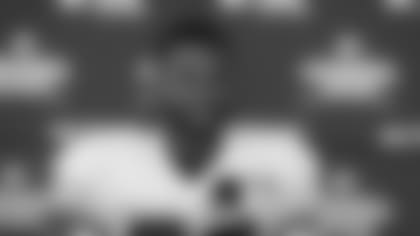 CB STEVEN NELSON Q:What do you want to get out of game two?
NELSON:"Just to go in and play faster, confident and quicker than our last game."
Q:What did you see in game one that makes 'faster' a priority for game two?
NELSON:"Individually in game one, I got on my opportunity and it was my first time in there really. Now I'm ready to get out there for game two."
Q:How many snaps did you anticipate getting last week?
NELSON:"I knew I was going to be in there for a while to get some work and gain some experience. I was fine with it."
Q:How valuable was it to come back in the second half?
NELSON:"It was real valuable. I liked it and being able to get in there and work is valuable."
Q:Have you had a chance to look at some tape? How was it?
NELSON:"I thought I did great. I definitely could have done better, but that's what practice is for. I think I'll be ready for this next game."
Q:What do you need to improve on in your own game to get better?
NELSON:"It's the small things. Playing defensive back is a game of inches back there, so working on the small things is important. Having a short-term memory is important too."
Q:How well does this team absorb the loss of Sean [Smith]?
NELSON:"It's all about the next man up. Whoever is on the field, that's who we're going with."
Q:Is it good to see 25 [Jamaal Charles] out there?
NELSON:"Yeah. We love 25 and we're glad to have him back."