Read Wednesday's injury report here.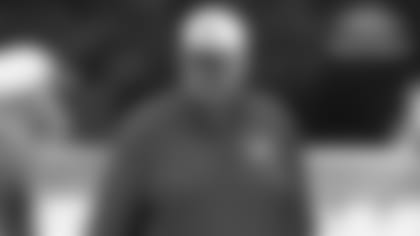 Head coach Andy Reid ran a lighter practice for the Chiefs before the day off Thursday, implementing a 10-10-10 format (10 reps per first team, second team and third team).
"You're servicing each other, rolling people in and out with each group and making sure everybody gets enough reps there," he said. You can't read into it too much from starters and that because we're trying to get reps in and balance them out the best we can in this type of practice.
"That's what this was and if you see somebody get beat, it's probably because it's an offensive-defensive period and that scout team player has been told to do something that they normally wouldn't do."
Reid thinks that left tackle Eric Fisher has come into camp looking stronger this season.
"I think that's a big thing," Reid said of Fisher. "There's a time and a place when you've got to deliver. You saw a drill going on over here; those guys work like crazy to get your hands out of the way so you've got to have strength there to deliver on that.
"That's what I thought he needed to add this off season."
The team is looking forward towards tight end Demetrius Harris' return and Andy Reid addressed how his absence fits into the overall tight end picture.
"Harris is making progress to get himself back," he said. "He was really coming on before the Buffalo game. Then you add in [Richard] Gordon, [Ryan] Taylor and [Adam] Schiltz and there are some good guys there that could work into potentially a second or third spot.
"I think we've got good competition there and for what we do, we've got some pretty good players."
Offensive lineman Eric Fisher
Offensive lineman Eric Fisher knows that he's getting good reps because of the fantastic competition he's going up against.
"Like I said, a big thing with the one-on-ones is the confidence. The guys we're going against, I mean going against Justin [Houston] and Tamba [Hali] all day, you couldn't get a better work out here. That's been great and it's helping me improve myself going against those guys. We're out here working every day."
Fisher said he's learning a lot from Ben Grubbs.
"A guy like Ben, we call guys like him a salty vet," Fisher said. "They've been in this game a long time and playing next to somebody like that is really good for me. We've got a good thing going, we're working together every day, we're communicating with each other on what we need to improve, just taking it one day at a time and trying to get better."
Fisher said that there's a "feeling" in the locker room that this team is going to be very good this year.
"You just get this feeling," he said. "You get the gut feeling that this is our year, and we're really looking forward to it. You can't really explain it. It's just something that feels right. We're working for it."
Fisher believes he benefitted from the 10-10-10-style practice.
"A practice like this is very beneficial because you can work on things that you wouldn't necessarily be able to work on," he explained, "things you need to work on in a fully padded practice but you're not quite there at, you can work on things like that. Your technique, things you need to correct.
"When it slows down a little like that, you can really concentrate on those things and be confident in them."
](http://yourmidwestforddealers.com/)
Defensive back Ron Parker said he wouldn't be shocked to see a multitude of positions before camps over.
"I wouldn't be surprised," he said. "With all of the situations I've been through last year, I'm pretty sure nothing will be new to me."
Parker is having similar feelings to that of Fisher.
"I sense a real buzz," he said. "It's a lot of competition out there and in the locker room. In the secondary, we have a lot of competition out there. It's just fun to have that out there because when you sense that, it just brings out the best of everybody."
Parker reacted to Eric Berry's interception during practice.
"It just brings electricity," Parker said. "It just runs something through my body to see him out there running around. It's another energy he brings out there. So when I saw him get that pick it was just a good feeling to see him with his hands on the ball again and back moving around."
Wide receiver De'Anthony Thomas explained the difference between learning the playbook as a wideout rather than a running back.
"A lot more learning, learning the whole offense," he said. "I learned the running back stuff last year and now I'm learning the receiver stuff also. So it's just all about just learning the whole offense. I feel like the more valuable I can be to the team, the more time I can be on the field."
Thomas said that fellow wide receivers Jeremy Maclin and Jason Avant are helping him along in the adjustment process.
 "Me and Jason [Avant], we play pretty much the same position," he said. "Learning from him and watching him go out there running routes and being patient on stuff. It's great to just learn from him. He played several years. He's a great guy off the field. I'm just learning from him and it's unbelievable."
The Chiefs took to the field to close out the first week of the 2015 Training Camp held at Missouri Western State University.