Read Wednesday's injury report here.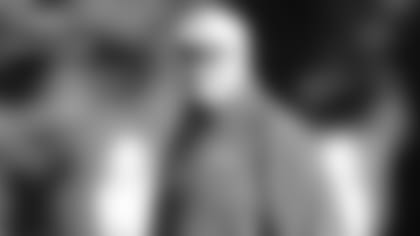 Kansas City Chiefs head coach Andy Reid revealed who would play when against the Arizona Cardinals on Saturday.
"The ones will go for a quarter, the twos will go for the second quarter and half of the third and then the threes will finish up the game," he said. "Again, it could change, but right now that's what it is."
Reid spoke on what he's seen from safety Eric Berry since his return to the football field.
"I told him I saw too much of him today because he had a couple interceptions out here, from an offensive standpoint," Reid joked. "But, I'm happy as can be for him. He's like a little kid out here playing, he's having fun and he's appreciative of everything and everybody that has been with him throughout this whole ordeal. He's loving life right now and it shows on the field too."
Reid likes what defensive lineman Allen Bailey has to offer in the trenches.
"He is a bull, he's a strong guy," he said. "To be built like he is – that big and proportional, the way he is put together is something. He's a strong human being and he's even a better person than he is a football player, which makes it great. He brings intensity every day, works his tail off and never says anything. I love watching him."
Reid thinks that Justin March, a previously undrafted free agent, has shown something in training camp so far.
"I like March. He's a tough kid and you saw he and [Ramik] Wilson step in when [Josh] Mauga was out, and take reps in there with the ones and you're not losing that intensity when they come in. Mauga's having a great camp, these kids stepped in and they kept the level up, so that's a positive thing. We're excited about March. Anytime you get a college free agent that's playing as well as he is, that's a positive."
Quarterback Alex Smith outlined his goals for Saturday's game against the Arizona Cardinals.
"Getting into a rhythm, hopefully sustain some drives and score some points," he said, "especially from these first ones, that's what you're looking for as the first group – go out there, let's move some chains, get into some rhythm, get a sustained drive and hopefully score some points and be a good teammate after that."
Smith believes the Chiefs are a little "deeper" at offensive line this season compared to last.
"In that sense, I think the pieces are here right now," he said. "Last year, I don't think that was necessarily the case at this point. I think we have the pieces in place. It's a matter of figuring out the best five and what that's going to be. Inevitably, like every year, it's more than five. You need depth, it's going to be seven, eight guys that are going to have to step in and play over the course of a year. Depth is important with that."
Smith feels comfortable with the play of the line up to this point in training camp.
"I feel good about it," he said. "I think those guys are doing a great job, they get great work in practice – we go against such a good front, so they get tested every single day, every play. They've been doing a great job. For me, I've got enough on my own plate to worry about."
Running back Jamaal Charles
Running back Jamaal Charles weighed in on how he feels about getting in-game reps in the preseason.
"Whatever coach wants to do," he said. "I've been playing football all of my life, and in pro I'm going on my eighth year. I know how to catch the ball, I know how to run and I know how to see the holes. So, if coach wants to play me in the preseason – hey, that's my job."
Charles said it would take "dedication" for the Chiefs to be very successful in 2015.
"Nothing is given to you," he said. "You have to go out there and work for it. It's going to take goals. You have to sacrifice some things on the field and you have to sacrifice your family as well. You have to stay in the playbook, you have to work hard and stay in the locker room and be the last person in the locker room watching film."
"You have so many great kids, you have so many great people from so many schools around here and I'm putting everything in their ear. They're really dedicating. They really want to win. That's what you want to be a part of. You want to be around some people that love to win and I think this team right here, being a part of some of these kids, some of these adults on this team, they want to win."
Charles thinks the offensive line has improved since 2014.
"It was rough last year," he admitted. "Now, seeing the more experience we have now, it's going to be better with having a great talent at left guard, having that confidence. When you play a team and you go for that team. They [might say] 'Oh, we're about to eat them up for lunch because we have a rookie, we have no experience.' People seize that. Grubbs, he reminds me of Brian Waters and Brian Waters was a great guard for the Chiefs for a long time and that's what we need—guys like that."
Wide receiver Jeremy Maclin
Wide receiver Jeremy Maclin said the upcoming preseason games will be critical in developing an in-game rapport with his quarterback.
"I think now, more so than ever, just getting the timing down with Alex and I, just getting the feel of the offense and everybody getting in there together," he said. "Although we do go live here sometimes in practice, it's a little different in the games. I'm excited about it."
Maclin said that at this point, he and Smith are "right where they need to be."
"I think we've gotten off to a tremendous start – even in OTAs," he said. "I can only think of one day out here where we were kind of off a little bit, but that's just how it goes sometimes. I think we're right where we need to be. I think the chemistry is good. I think he trusts me, I trust him. He'll put the ball in a place for me to make plays and I think that's how it's supposed to be."
Maclin addressed the on-the-field scuffle he had the other day and said that he and cornerback Marcus Cooper worked it out.
"That's how it goes sometimes," he said. "After practice, I talked to Coop, that's not what I represent, that's not what I stand for. It's one of the dog days of practice, it's hot out here and I let my emotions get the best of me. I know that in a game, obviously, I'd be thrown out of the game and possibly kicked out for the next game, hurting my team. You can't do that, I'm not going to do that anymore."
Linebacker Justin Houston
Linebacker Justin Houston, like the rest of the fans, is eager to see safety Eric Berry perform in a game.
"I think it is going to be a very exciting time, not just for him, but for us to have a guy like that back behind you," he said. "You know he is going to come play hard every play and it's great to have him back."
Houston said he's in favor of the current starting offensive line of Eric Fisher, Ben Grubbs, Mitch Morse, Zach Fulton and Jeff Allen.
"I like it. I don't know what Coach is planning on doing, but I think I like this lineup," he said. "I think it's a great lineup for them. They got it good understanding with each other and they play well with each other."