CHIEFS HEAD COACH ANDY REID
Opening Statement: **"As far as guys that won't practice today. Tamba (Hali) wont practice, we're going on turf, and then Bennie Logan is doing fine, but we're going to back off of him just a little bit. Other than that, everybody else is going. I look forward to the challenge of playing Denver. I will go ahead and sub in, according to position, some of the younger players. Patrick (Mahomes) will go at the quarterback spot. There's going to be some rotations going on and so on. I think that's probably your primary concern, so that's what's going on. We look forward to the challenge of playing Denver. We know they're a good football team. It's just the situation we're in right now and it gives the young guys an opportunity to get some experience and that's invaluable against a really good team. You prepare yourself to play your best possible game and that's what we'll do."
Q: How much can you use this as coaching tape throughout the offseason as you review things with Patrick Mahomes ?
REID: "I don't know that. I want to just see how everything goes. It's not going to hurt him for sure and he will learn from it. Every snap that he gets is a valuable snap for him for whenever he has that chance of getting in there. It's invaluable and fortunately we're in a situation where we can do that. Fortunately we have a quarterback in Alex (Smith) that understands it and is having a phenomenal year. It's an MVP caliber year, so he understands the situation and this won't detour anything off of what he's doing the remainder of the season."
Q: What will Patrick have to do so that you feel good about what he can do on Sunday?
REID: "I just think the fact that he goes in and plays and has that experience. I'm not going to set expectations or any of that, that's not where I'm at. I just want him to go play, learn the game plan, play it and lead the team, the offense. Most of all have an opportunity."
Q: Will Alex be inactive?
REID: "We'll see about all that. We'll see how all that rolls when we get there. That's really neither here nor there. The fact that the other kid's playing I think that's probably your main concern."
Q: How does that affect what you do on the offensive line?
REID: "You don't have the numbers that you have at some positions. So those guys, they'll rotate in there and play and adjust by numbers."
Q: You'll play all of them?
REID: "For the most part that's where I'm at right now."
Q: Is it possible for you to gage how much progress Patrick has made since the end of preseason?
REID: "Just the fact that he's been here and gone over everything, from where he started to where he's at now I think it's been tremendous. To have the opportunity to be in that room that he's in is priceless. Not only with the coaches, but with the players. You're going to have a hard time finding a guy who comes to work every day like Alex does and to be able to learn from that, that's priceless. I would tell you he's come quite a ways."
Q: You've talked a lot about the things you like about Patrick. I was just wondering now that you've had even more time to evaluate the kid what really stands out to you now?
REID: "You hear what he's all about, but until the player's there you really don't know. I'm saying as a person and so he's everything everybody said he was. A great person and works hard and loves playing. All of those things we've seen. Obviously he hasn't played in the game other than the preseason, but he's done a great job of the other stuff."
Q: How are the practice reps split up during the week with keeping Alex fresh and getting him ready for the week after?
REID: "He'll do most of the scout team stuff and then any individual work, he'll get all that done. It'll be good for him going down the stretch here. This will be a good period for him."
Q: So Patrick will get all of his reps?
REID: "Patrick will get the reps with the offensive group."
Q: You said you're still working through some of the other positions. Are there any other guys that you know for sure won't start?
REID: "Let me get later in the week and I probably could give you a better read on that. But right now let's just start there, everybody else is practicing and going."
Q: Have you had any players amongst the starters who have come to you and said that they want to play this week? I'm thinking particularly Mitchell Schwartz who's never missed a snap?
REID: "He would love to play every snap. He's got a record going and he would love that."
Q: Is that part of your deal as a coach to think about that?
REID: "Yeah, I look at that, sure. That doesn't mean I'm going to do it, but I do look at it. He's the ultimate team guy so whatever we decide he'll do. He's not there banging on my door, but I know he'd love to go."
Q: Is there any downside to doing it this way, to giving Alex a week off and probably some other guys?
REID: "I've done it before and it's worked pretty good. I haven't seen a negative with that. As long as they continue to work. You have to keep practicing, keep yourself in condition, all of those things, but it can be a positive if handled the right way."
Q: **Is it easy to stay sharp this week when you know you are not playing?
SMITH:"No, I feel good about it at this point in the season. A lot of football under our belt. Just kind of getting to focus on Denver this week, I know who we are going to play and get ready to roll for that."
Q:Do you feel better where you are offensively than you did earlier in the season?
SMITH:"I think we have a good thing going. Every week is a different matchup. But I do feel like that right now. If there is an area that does jump out, certainly would love for Harrison (Butker) not to be the AFC (special teams player of the week), for him to not be kicking so many field goals. Certainly, points are good nonetheless. I think there are some areas to keep improving on. As far as confidence, everyone is really buying into what we are doing and the details of it. The balance that we do have right now, I think it is a good thing."
Q:What is your message to Mahomes to help him out?
SMITH:"I think being there and being a good teammate, being there to help him if I do see something. It's a good opportunity for him, it's a unique type though with the scenario we are in. Obviously, at the same time, staying sharp and staying ready."
Q:Do you think resting guys is a good thing?
SMITH:"I think at this point it is a good thing to get healthy. Not every team gets something like this and gets an extra week to get healthy heading into the playoffs. It is important to take advantage of it. Certainly, I think there is a challenge, you are getting a week off and how do you handle it? So there is an element there of that."
Q:What was your message to Mahomes once you found out?
SMITH:"Nothing crazy. I think he understands the situation. It isn't any one thing. I think it is this whole week as he prepares. His first time to have a week preparing as a starter, a whole week with a real game. Just kind of how he goes about his business. Certainly, for me just being there just like those guys are for me. It is no different than when we are watching tape, when we are getting ready, I bounce a lot of things off those guys all the time, asking them questions. It is so nice to have a sounding board of other guys, 'Hey, what are you thinking on this? Am I thinking the right thing on this?' I do that all the time with these young guys. Certainly just role reversal there."
Q:What do you appreciate about his approach to it or his skill set so far?
SMITH:"I've said this before, as a young guy he has a great ability just to play the game and not get locked into scheme and too many fundamentals and things like that. Those are all important, don't get me wrong. I think he has a great ability to just go play, which is really important as well. He has worked really hard since day one, since he has been here. He has put in a lot of time, really diligent. That stuff will pay off."
Q:What can you tell him about the Denver defense?
SMITH:"I think, like I said, it is not one thing. It is just being there, being there all the time. It is all the little situations. That's what goes into playing quarterback. It isn't just one thing, it is handling every little situation that goes into the game. And all the what-ifs. You have to get ready for all of them. You don't know which ones will make the difference, you have to be prepared in all those situations. It just has to be talking through those things. Especially this late in the season, that is what it is about. Preparing and talking through all the what-ifs, and there is a lot of them. You have to be able to compartmentalize and handle all those different situations, especially at this level. I think just going through those with him and helping him where he needs it."
Q:But Denver, they don't like the Chiefs.
SMITH:"He knows that, it's the NFL. I don't think I need to tell him that it is a division game and a rivalry. He gets it and he knows what is at stake."
Q:Do you want to put a summary on your season statistically?
SMITH:"Statistically, yeah, it is done now. I hadn't really thought about it till you asked. Sure, I guess it is a reflection of the group, though. As a quarterback, that is what happens. They have been doing some really good things. Coach is doing a great job putting us in good situations and then some really good players around. All for not, right? It is all just to punch a ticket. That is what we have talked about. The first step and being able to get into the second season, whatever you want to call it. Take advantage and keep what we got going, going."
Q:How much development have you seen from him from those conversations you guys have watching film and being a sounding board?
SMITH:"I think it's exactly that. All the little things, the situations, playing through the what-if game. As you are preparing, you don't get the luxury like college to get all those things repped, all the different looks versus all the different plays. Especially this late in the year, it is just not going to happen. You really have to be more on it with all those things. 'Hey what if I get this on this play, what if I get this kind of leverage, this match up.' All those things, you have to play out and talk through to have it all pre done so you can go out there and play fast. And then all the little situations, right? Two minute, four minute, third down, redzone, all the things that go into it. Those are all unique. I think that is the thing. He has a good grasp on it here as the season has gone on and handling all those things."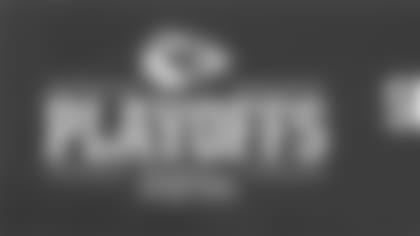 ](https://www1.ticketmaster.com/kansas-city-chiefs-playoff-game-1-kansas-city-missouri-01-14-2018/event/0600536891592930?artistid=805955&tmlink=tmheader_search)
Q: **How different is this week for you, knowing you get the start?
MAHOMES:"It isn't very different. Every single week this entire season, I've been trying to prepare like I was the starter and try to learn and making sure I was ready for any moment. So this week I am going to do the same thing and keep preparing and try to go out and produce on the field."
Q:What about Denver's defense?
MAHOMES:"They have a great defense. It will be a great challenge to go out there and get the first start and get to compete against a great defense. There is nothing else better than getting to go against the best and they have one of the best defenses in the league."
Q:How did you find out you were getting the nod?
MAHOMES:"Coach Reid came up and told me yesterday. We were in here watching film as a group and we were trying to learn as we go and he came out and gave us the plan. It was exciting news, but now it is going to work and getting the film done and all the practices."
Q:Did he tell you that in the quarterback meeting room?
MAHOMES:"It was in the quarterback meeting room. He came in and talked to all the quarterbacks and gave us the plan this week for what we were going to do and moving forward, the plan for them."
Q:Did you say anything right then or wait till later?
MAHOMES:"I pretty much told them I was ready and I am ready to go and I am going to go out there and try to do the best I can to win a football game."
Q:Did Alex or Nagy or Tyreek say anything to you?
MAHOMES:"All those guys, we have great relationships. For them, they just gave me confidence and told me to go out there, play your game and play fast and hopefully come out with the win."
Q:How much does this change your routine now?
MAHOMES:"Not much. I get a few more practice reps. That's a big thing. But at the same time, I've been trying to do as much as I can every single week so I am going to try to stick to that routine, get a few more reps so I can get the physical reps of practice, but the same time do what you have been doing all season."
Q:How helpful is it that you have already prepared for the Broncos once this season?
MAHOMES:"It is good to have some film of how they have played us. Get to talk to Alex, he has played them a couple times. It is good to talk to him and get some insight from him. At the same time, it is a great defense, so it will be a great challenge to go out there and try to get a win."
Q:Do you feel this offense will be tailored more to you rather than just the generic Chiefs offense?
MAHOMES:"I don't know if it will necessarily be tailored for me. For me, it is just going out there and producing in whatever plays Coach Reid and Coach Nagy call. It won't necessarily get tailored more for me, but I'm sure they will try to play to my strength a little bit. But the offense is a great offense to be for anybody."
Q:How do you think watching Alex prepare this season has gotten you ready for this game on Sunday?
MAHOMES:"Definitely just preparing for an NFL football game, he is one of the best at it of just being prepared and knowing every situation. Knowing if this happens, he needs to go here, if this happens, go here. Just those things I've watched him do and watched him make those adjustments on the sideline and just preparing to win a football game."
Q:What do you expect from yourself on Sunday?
MAHOMES:"The biggest thing for me is just to go out there and win. Any way possible, just go out there. If it is 300 yards, 100 yards, whatever it takes to get a win is the biggest thing."
Q:How much has been running scout team against this defense changed the way you are able to view the game and your decision making?
MAHOMES:"I mean, just having our defense as the team I am going against every single week, we have a great defense and a lot of great players. They try to help me as much as they help themselves. So just getting those mental reps and physical reps of going against a great defense will help me when I do this week."
Q:Is this the best scenario for you, having the week knowing you're going to be the starter?
MAHOMES:"It definitely helps to be able to prepare for the defense for a full week and get all the reps you can against the certain looks. But there's not really a best way you could play, just being able to play will be awesome."
Q: **Is that something that is very special for you?
BUTKER: "Yeah. It's a huge honor to get recognized across the AFC. There's kickers, punters, long snappers, returners – everyone included in there so it's a huge honor."
Q:How do you continue the consistency week in and week out?
BUTKER: "It's a difficult thing. I think I'm getting better at that, week by week. I think focus is huge in your preparation every week. But I mean there's great kickers that miss short kicks, I miss short kicks. They seem easy, but at the end of the day if you aren't focused in, if you aren't taking it seriously you can miss the kicks. I've had a lot of opportunities but I'd say the mental game is most important, however, you focus in and take it seriously every rep and make the kick."
Q:How cool is it to be a part of the small group of only two other rookies getting AFC player of the week twice in one season?
BUTKER: "Yeah it's cool. I didn't know that until now but it's an honor. This whole year and season has been really amazing just with all these records and stuff. It doesn't feel like that because it's not just me doing that, it's the longsnapper or the holder or the line, everybody. Really the whole team putting me in position for all of those opportunities. I kind of just fell into this opportunity and I've worked hard through all the offseasons in college. It's just cool, I'm really enjoying it right now."
Q: You must be really good at forgetting the ones that you do miss?
BUTKER: "Yeah. I mean you miss and you go to the next one. You can't worry about it. You hope to get another opportunity to kind of redeem yourself a little bit. But yeah, I don't get too worried when you miss it. If you do get worried as a kicker that's going to be trouble in your career."
Q: Did you ever imagine that when you were picked up by the Chiefs you'd get so many opportunities?
BUTKER: "No, no way. In college I didn't have a lot of opportunities and now I feel like I have more attempts than anyone else in the NFL with missing those first three games. But it's been amazing, it's a kickers dream to have all these opportunities and you do kind of get comfortable with the whole operation and getting out there in front of the fans and making kicks in the stadium. That helps, that definitely helps."
Q: Have you kicked in high altitude before?
BUTKER: "When I was a freshman we played BYU at their place. It definitely makes a difference I think it'll show up on kickoffs, definitely. It helps definitely for kickers."
Q: You're one field goal away to break the top-10 of most field goals made in one season – did you ever imagine that?
BUTKER: "No. Like I said it's amazing and it doesn't feel real. The season's not over yet so I don't want to get too complacent with all those records and accolades. I've been given the opportunity so I'm doing the best I can with them."
Q: You had a pretty good reaction on the one that banked in – what went through your mind?
BUTKER: "Yeah that was the luckiest kick I've ever hit. Probably even in practice. I hit it and (thought) that was left and then the wind kept pushing it right and right and then when it hit the post I didn't see the ball come back in the end zone so thought it must have been good. That was the craziest field goal I think I've ever hit in my life."
Q: Was that the coldest environment that you've kicked in?
BUTKER: "Yeah definitely. In college, probably the coldest was mid-thirties."
Q: Is the weather something that you have to take extra time to prepare for?
BUTKER: "No I mean it's new. It's not something I had to deal with in college. But Dustin (Colquitt) has been great to talk to and same with James (Winchester). Kind of just talk through things with those guys but at the end of the day you just do what you've been practicing your whole life and just kick the ball. I will say it is a new experience so I'm learning as I go."
Q: Anyone reach out to you saying you helped them win a Fantasy Championship?
BUTKER: "Yeah I've gotten a couple donations, or they're asking me where they want me to put the money just because they've won like these big sums of money from winning the whole league. Which is kind of funny. I didn't really play Fantasy growing up so I don't really understand all the hype around it but people are extremely happy that I scored a lot of points for them I guess this past game and helped them win. But it's been very funny I guess to read all that stuff."