While the Delta flight carrying Kansas City Chiefs #1 draft choice Eric Fisher touched ground in Kansas on Thursday, the team's top pick is still filled with emotions that are flying no less than 30,000 feet.
As confident as Fisher was heading into the NFL Draft, he couldn't prevent the anxious thoughts that began from the moment he opened his eyes on Thursday morning.
"I woke up, went to the Children's hospital, had a great experience over there, helping out in the community and then started getting ready and headed over to Radio City and the rest was a blur," Fisher said.
"I think it's been a whirlwind since my name has been called. It's been nonstop. I think I only got like two hours of sleep last night and then I was here. It will settle here in the next couple of hours I think, maybe on the way home tonight. It's just amazing. I'm so excited to get back here and get to work and really get to know this organization and the tradition that runs here."
Chiefs head coach Andy Reid is just as excited about his newest offensive lineman.
"He's a competitive kid that is intelligent and a good citizen and he'll be good in the locker room," coach Reid said. "He's not a real loud guy, he's a quiet guy that goes about his work and does his job. Everyone that you speak to that knows him gives you that same run down, humble kid that's had to work to get where he's at and I appreciate that part, that's a good quality to have."
As far as his previous knowledge of the Chiefs and Kansas City in general, the number-one overall pick is proving that he's a quick learner.
"The biggest thing I have heard is about the barbeque and on top of that even, just the fans. I heard the fans are just awesome. You couldn't play for better fans. Coming out to a Sea of Red, I can't imagine what that is going to be like. It's something I'm really looking forward to this fall."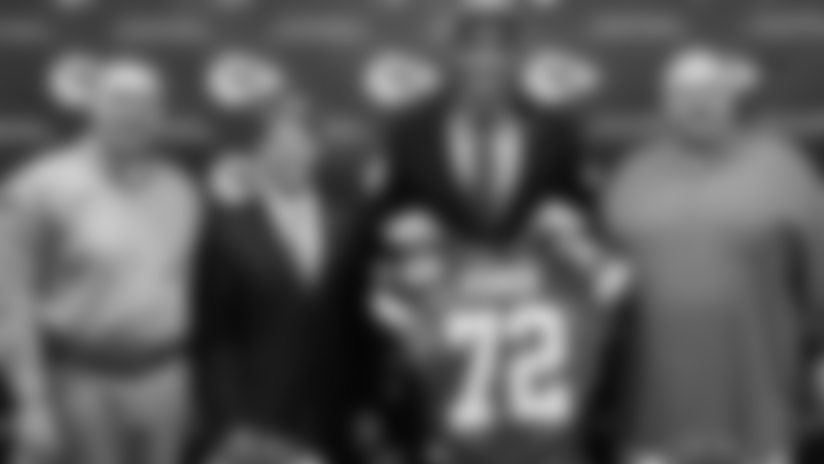 Fisher likely received no shortage of calls and/or text messages after NFL Commissioner Roger Goodell announced his name; one such call came from Chiefs QB Alex Smith.
"It was good," Fisher stated. "It was obviously right after the draft and (I'm) going from place to place, from interview to interview, so talking to him real quick and just getting to hear his voice and get to know him a little bit; I'm looking forward to meeting him in person." Fisher's excitement from last night carried right into his introductory press conference on Friday at One Arrowhead Drive.
"Driving in today, it's exactly where I need to be. I'm a country boy. This looked like home to me," Fisher said.
"It's nice to start learning some faces, and it's great learning the area around here, seeing where I am going to be the next however many years of my life. I'm really looking forward to it, can't wait to go over to Arrowhead and see that stadium because I've heard it's absolutely amazing."
Fisher will have countless fans throughout his career but none more important than his mother, Heidi.
"My mom has been my biggest supporter throughout my life," Fisher proudly stated.
"She's been to all my games; she sacrificed a lot to give me a lot in life. That's the thing I like most about her is that she didn't hand me anything in life. She told me if I wanted something in life to go out and work for it. That's the kind of family I come from, I'm a very blue collar kind of guy."
Speaking of work, Fisher reports to rookie minicamp in two weeks, prior to the team's start of phase three of the offseason program.