"Just turn on the Florida game."
That was University of Tennessee standout defensive back Rashaan Gaulden's advice for anyone who wants to know who he is as a player.
Gaulden, who started all 12 games for the Volunteers last year, finished with 65 tackles, including 3.5 for loss, an interception, five pass breakups, three forced fumbles, and three fumble recoveries. He started nine of their 13 games at nickel as a sophomore in 2016, recording 68 tackles, six for loss, and four pass breakups.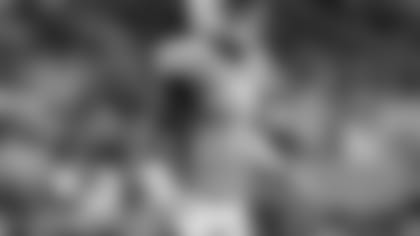 In that game against Florida, Gaulden finished with a season-high 10 tackles, an interception and a pass defensed.
And according to a couple of well-known draft analysts, it sounds like more people should tune in to that game because they believe he's not getting the praise he deserves.
Dane Brugler of CBS Sports named Gaulden his most underrated player in the draft to this point.
"At some point this engine is going to get going and people are going to realize how good of a player he is," Brugler explained. "Not enough people are talking about him yet. He's your ideal nickel defender. He could probably play outside cornerback and he could probably play safety, but he's at his best as a nickel defender—play speed and toughness. That's what I want from my defensive backs and that's what he can do.
"You plug him in as a rookie and I think he makes your defense better."
Another guy who won't disagree with that assessment is Charles Davis—a former Volunteer defensive back and current NFL draft analyst for NFL Network and Fox.
Gaulden, who was one of the Chiefs' 60 formal interviews this week in Indy, said he doesn't worry about what's being said in the media.
"I really don't pay attention to much," Gaulden explained. "I have a big chip on my shoulder and that's because I'm a competitor. I love balling. I just know whatever team is going to take me, they're going to get a great football player with high IQ and just tons of passion for the game.
"I'm very smart, very tough, very instinctive. I feel like I check all the boxes," he added. "I can play anywhere in the secondary, so I just want them to know my name and that I'm a workhorse and a guy who can do anything."
Besides just meeting with the Chiefs this week in Indy, Gaulden has another connection to the team and that's because he trains at XPE Sports in Florida, which is the same place as Chiefs' All-Pro safety Eric Berry.
"I was (recently) doing position drills with [Berry] and he's looking very good health-wise," Gaulden explained. "I was able to pick his brain as far as the safety position and him being a mentor and having that personal relationship is really awesome."
And whichever team does ultimately pick him up, Gaulden had a message for the fans of that team.
"They're getting a guy with a ton of swagger," he said. "I like to play to the fans, I like to make them happy when I play and I just love to compete, a guy that's not going to be the guy to give up the deep ball, a guy who is not going to be the weakness on the secondary. I'm just a natural leader."