Tuesday wasn't a normal off day for the Kansas City Chiefs running backs.
While it largely included the gaming and relaxation practices some Chiefs indulge in after a game day, Tuesday also included a few of America's heroes.
The Chiefs running backs traveled to Arrowhead Stadium for the sixth annual "Pros vs. GI Joes" gaming event where they took on members of the Marines Combat Logistics Regiment 4 at Madden and Call of Duty as a way to say thank you for their service to the country.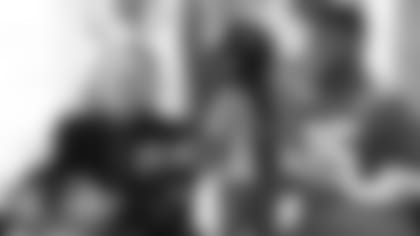 "It's just being able to come out, take some time off and just enjoy it," said Charcandrick West. "They're pretty competitive. I mean, I'm not very good at Call of Duty, but I think I'm the best Madden player in the world."
Part of the not-for-profit Joint Forces Initiative, the "Pros vs. GI Joe" movement started in 2007 with the idea of connecting troops in Iraq with professional athletes using the medium of video games. This outreach program is designed to provide troops who are either deployed or on-site with a once-in-a-lifetime opportunity to play head-to-head against their favorite professional athletes in video game competitions.
The troops play either at a sports venue or in USO centers all over the world versus these professional athletes.
"I started with my wife about eight years ago," said Craig Zinone, founder of Pros vs. GI Joes. "I played ball for West Virginia, so I knew football players play video games. My wife was in Iraq and she said in their down time all these guys do is play video games. We just put the two together and it worked."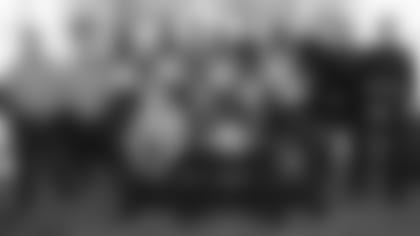 The event is in its sixth year of partnering with the Chiefs and recorded its biggest season in its eight years of existence with participation from 17 NFL teams.
"Last year, I was able to participate in this and we played with the defensive backs," said Gunner Sergeant Chad Sawyer of the Combat Logistics Regiment 4. "It was good competition for us as well as the players.
"I think Charcandrick West got me, but we'll talk about that later."
In addition to thanking them for their service, Tuesday's Pros vs. GI Joes event also thanked the Marines Combat Logistics Regiment 4 for its assistance with the Toys for Tots collection at the club's Salute to Service game this Sunday.
"Combat Logistics Regiment 4 is the Toys for Tots organization that does it here in the Kansas City metro area," Sawyer said. "They cover five counties in Kansas and Missouri, and this Sunday, they'll be doing it again. It's all about the kids that are less privileged in this area and it's our chance for something you donate here to go back to the community that you're in."
Last year's Toys for Tots event raised just under $11,000 in cash donations and almost 800 individual toys were donated during the drive.
For more information on Pros vs. GI Joes, please click here. And for more information on the Chiefs drive for Toys for Tots, click here.
---
Members of the Kansas City Chiefs Running Back group took on some local Marines in a the annual Pros Vs Joe's event at the stadium on Tuesday.