10 years from now, when you think back to that Christmas night game against the Denver Broncos in 2016, what will you remember?
It won't be the score—33-10.
It won't be the streak—10 division wins in a row and a sweep of the Broncos for the first time since 2000.
It won't even be the fact that the Chiefs clinched a playoff berth—something they have now done three times in the last four seasons.
What you'll remember is the "Hungry Pig" opting to share his scraps—Dontari Poe's touchdown pass to tight end Demetrius Harris.
"That is my dog," Poe's rookie protégé, defensive tackle Chris Jones, said.  "Listen, [when] he scores, it is like we score.  I keep on telling Alex (Smith), we are coming for his position, man.  We aren't playing with him—we are not playing. We are quarterbacks.  I keep on telling everybody—we are just big quarterbacks."
Actually, Poe isn't just a big quarterback; he's the *biggest *quarterback. No QB who has thrown a touchdown in the history of the game has been heavier than Dontari Poe, something he was already able to say about rushing touchdowns.
But before as onlookers we start begging Andy Reid for Poe to take reps with Jeremy Maclin and Chris Conley to complete the cycle, there could be a lot to be taken from Jones' statement.
Jones, as is his nature, was being intentionally lighthearted Sunday night, obviously, but what it perfectly captured is the spirit of this Chiefs team after their win.
If Dontari Poe, at 346 pounds, can come into a game, fake a defense out of their shoes and alley-oop a touchdown pass to a former college basketball player, isn't anything possible?
Of course, the Chiefs don't see it that way, or at least they would never admit to it.
"I've learned this over time here, you can't score enough points against these teams," Reid simply said when asked about the play call.  "So, you can't take anything for granted. We're going to score as much as we can until we can't do it."
At the time of the call, the Chiefs were up three scores, 27-10, and the Broncos, needing a miracle to keep their Super Bowl defense alive, had just called their second timeout to stop the clock.
Poe stood next to Reid, seemingly begging him to make the call.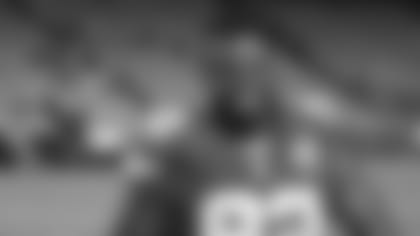 "I was pretty excited," Poe said. "I was kind of 'egging' coach Reid on."
Reid paused, waited, then finally obliged, and the Arrowhead faithful and defensive players on the sideline erupted.
"It was good just to hear the fans calling and cheering him on, once he got in there," Harris said. "We have been practicing and have had that play in our back pocket for a long time, so we just had a perfect time to call it."
What set the play up perfectly is what happened earlier this season and even going back to last. Facing third-and-goal against the Raiders in Oakland Week 6, Reid called "Hungry Pig Right," a play designed for Poe to receive a pass, then bang his big body into the end zone. This was after Poe took a handoff for a touchdown against the Chargers back in 2015.
Both plays worked, so the Broncos, using the only tape they had, must have figured he might do the same against them.
With the crowd in a frenzy, Poe set up in the Wildcat formation and clapped his hands…this was happening.
Poe caught the snap cleanly and lowered his head. The Broncos defense swarmed. Behind them, Harris waited, wide open.
At the last possible second, Poe propped his head up, and on a holiday usually known for NBA basketball, he took his best jump shot.
Harris, the Wisconsin-Milwaukee-basketball convert, jumped up and snagged the ball, tapping two feet in bounds for the score before he fell out of the back of the end zone.
"There wasn't pressure," Harris said. "It was just Poe—I told him to throw it up, man.  It was Memphis to Little Rock.  We are always messing around.  He threw good ball where I could only get it.  I just tried to high-point the ball and come down with it."
Asked about the "jump part" of the throw after the game, Reid used one of those magic words sure to garner the attention of the national sports world.
"Yeah, [the jump throw] was part of it," Reid said. "Yeah, a little bloated Tim [Tebow] pass."
And just like that, with less than two minutes left and the Broncos now down four scores, the game was over.
In a final stretch in which the Chiefs have seemed to need magic to get to their 11 wins, on Christmas night, they created their own.
And that's what you'll remember 10 years from today.