In case you happened to still be dazed by the sight of Kansas City Chiefs nose tackle Dontari Poe leaping into the end zone as a fullback on Sunday against the San Diego Chargers, there's a good chance you missed fullback Anthony Sherman lining up at safety.
With a little more than a minute remaining in the game and with the Chargers facing a second-and-9 from the 31-yard line, Sherman took the field as a defensive back.
(Here's the video clip highlighting Sherman's play)
"We were running out of people there at the end of the game," Chiefs defensive coordinator Bob Sutton explained, "so coach sent him in as a free safety, and he did a great job back there."
Sutton made this comment in jest, considering the score was 33-3 and the game was all but over.
"He's now a dual-role player," Sutton added, jokingly. "Poe runs on defense and offense and Sherman runs on offense and defense.
"I don't know, Poe may end up back there (at safety) next."
A 346-pound safety? That'd be something.
Now, Sherman isn't an emergency safety and there was no plan for him to play safety at any point.
"It was just a spur of the moment thing," Sherman explained. "He just told me to go play free safety. I was totally amped up. As soon as he said it, I said, 'Yeah absolutely, what snap?'
After laughing about the situation, Sherman critiqued his performance.
"I really didn't do anything besides jump on the pile," he explained. "I was hoping he'd check the ball and try to throw it over my head or something like that."
Sherman wasn't tested deep, this time.
But you never know, teams now have tape of his ability to come down and finish off a play from 20 yards deep at free safety. Next time they may try to test him in coverage.
"It was crazy to look up and see him out there," quarterback Alex Smith said. "Definitely a first for me to see a fullback play free safety in an NFL game, but I don't think he blinked.
"He does such a good job for us on special teams and as an all-around football player. I think he jumped at the opportunity and then I think guys had a lot of fun with it."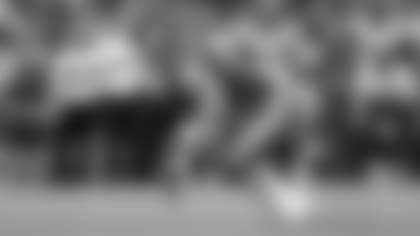 If you would have said before the game that Sherman would have taken a snap in the defensive backfield, there's a good chance you would have thought something had gone terribly wrong.
But after four straight wins, everyone was all smiles about Sherman's performance.
"Oh, we gave him a hard time," Chiefs offensive coordinator Doug Pederson laughed and said. "He just comes up there at the end and piles on.
"Poe's is much more, in my eyes, impressive than that one."
Poe at fullback. Sherman at safety.
That'll be hard to top on Sunday, when the Chiefs face the Buffalo Bills at Arrowhead Stadium.