On Monday evening, former Chiefs G Will Shields hosted a Women's Football 101 Clinic at 68's Inside Sports, to teach women the basics of football and to raise money for charity.
"The clinic is all about the football fundamentals," Shields said. "We split the group of ladies up into offense and defense and explained the X's and O's of each player's position and then broke into smaller groups and had them participate in drills. Afterwards we had a Q&A session, so they could get their questions answered and continue to learn more about football."
About 50 women participated in the event and then gathered to watch Monday Night Football with Shields and the other coaches to put their new knowledge to the test.
"After teaching the women the basics of football we watched the game, so that we can actually talk to them about it and say, 'okay see what they just did there?' or 'did you see this?' or 'see that?' It's teaching them a different perspective of how you watch the game, so that they can then say, 'did you see that guy on the slant route?' and know exactly what they're talking about."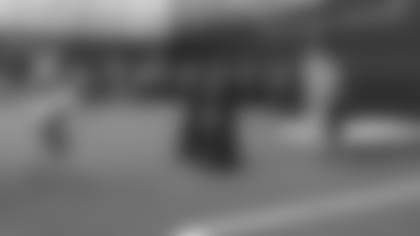 This year, a portion of the proceeds will benefit Shield's foundation, The Will to Succeed, which is a non-profit organization that helps women and children who have been abused or neglected.
"The Will to Succeed Foundation was created in 1993 and we work with battered and abused women and children," Shields explained. "This is something that is really close to our hearts and we're glad to have these women out at this event to help support the foundation."
The women in  attendance were happy to help support the foundation and enjoyed their time at 68's Inside Sports.
"It was a lot of learning and a lot of work; we worked on throwing, hitting, catching and learned different positions and more about the NFL," Sally Schuetz, participant at the event, said. "Not only is this a great event to learn about football, but it also supports Will Shield's foundation, so I'm so glad I could attend to learn about football and support a great cause. It was a great way to meet other ladies, give back to the community and get ready for football season."