Sunday's game brought the Kansas City Chiefs a 30-22 win, something familiar in their now 8-6 all-time record against the Buffalo Bills at Arrowhead Stadium.
But that feeling wasn't the only familiar part of Sunday. A familiar face also came home to Arrowhead Stadium: Class of 2015 Pro Football Hall of Famer Will Shields.
During halftime, Pro Football Hall of Fame (PFHOF) president and executive director David Baker and executive vice president Joe Horrigan presented Shields with his Hall of Fame ring.
"It's almost to that point where it's your own personal Super Bowl," Shields said with a smile. "By yourself, you get the chance to have something that is beyond compare. I'm excited about it.
"I might sleep with it on my finger for a couple of days and see how it goes."
Along with Shields, Pro Football Hall of Fame kicker Jan Stenerud and linebacker Willie Lanier received new rings at the Founder's Suite in Arrowhead Stadium on Saturday night.
"It's a great honor to have David Baker and Joe Horrigan here from the Pro Football Hall of Fame," said Clark Hunt, Chiefs chairman and CEO, "but it's also special this evening to get a chance to honor some of the past Chiefs greats, particularly Willie Lanier and Jan Stenerud.
"The two of them having a chance to get their new Pro Football Hall of Fame rings. They're such an important part of the history of the Chiefs and what makes this franchise great. It's just a pleasure for our family and the organization to be able to honor them."
Baker and Horrigan began delivering the new rings two years ago in what has been only the third redesign since the institution began.
According to Kay Jewelers, who makes them, the rings contain a total diamond weight of one and three-fourths carats and include outer diamonds made to "create a stadium effect."
These diamonds encircle an inner football-shaped diamond center.
Each ring is personalized with each member's bronze bust on the side, his Hall of Fame class, his position and the Hall of Fame logo.
"There's something special about the ring because it's given to them in their stadium in front of their fans," Baker said. "It's an opportunity for the fans to acknowledge them and cheer for them one more time."
Each ring takes about eight to 10 weeks to create and is entirely personalized to the member receiving it.
"They're about the same size as my fist," Hunt said. "I know the guys are really excited about them. They're beautiful, and they remind me a lot of the modern Super Bowl rings in terms of size and grandeur. I think that was one of the things the HOF wanted to accomplish is make the rings more special and they certainly have done that."
Shields also doubled as the Chiefs Drum Honoree—something he never experienced in his time with Kansas City.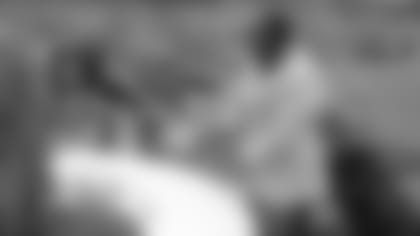 "I love it," Shields said. "That's one thing we never got to do beforehand. We never had the drum before, and that cheer and chant is something that you remember forever. I think it's going to be cool to say you got your chance to be back there."
According to Baker, Shields' bronze bust will last around 40,000 years, long after the crowds will remember his name.
But in a hall in Canton, Ohio, his legacy and impact on the Kansas City Chiefs will forever live on.
"Our job at the Pro Football Hall of Fame is to guard [the players'] legacy forever," Baker said. "It's one of the neatest things I get to do to present that ring, especially to some of the older guys and to watch the expression on their face as those fans cheer for them one more time.
"I wish every fan had my job."
CHIEFS KINGDOM FOOD DRIVE
Sunday also marked the second annual Chiefs Kingdom Food Drive, in which 50 volunteers from Farmland, Harvesters and Hy-Vee and the Chiefs Women's Organization helped round up canned goods for hunger relief.
The CWO greeted fans as they arrived on the South side of the stadium and passed out cards.
Last year's food drive saw the Chiefs set the record for the largest food drive in the NFL by providing 179,681 meals.
Through this initiative and other hunger-relief programming, the Chiefs provided 238,681 meals in 2014.
They looked to top that this year.
"We're trying to beat that," Chiefs wide receiver Jason Avant said earlier this month at the kickoff, "and it's not so much about a competition as much as it is about helping people.
"We know that there are a lot of people that have to make hard decisions this time of year with buying gifts and rent and all of those things, so if we can help them out with some food, it will go a long way and they will be appreciate of it."
Fans will have another opportunity to provide to those who are less fortunate during the Chiefs game against the San Diego Chargers at Arrowhead by participating in a 50-50 raffle.
If every person in Arrowhead on game day donated just $1 to the Chiefs Kingdom Food Drive, that alone would provide 225,000 meals within the community.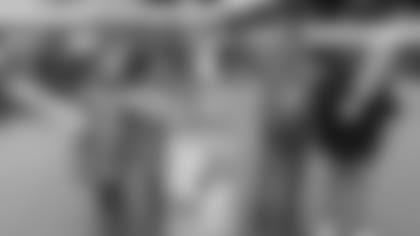 If you can't make it to the game, you can also support the food drive via the virtual food drive, which is found at http://www.chiefs.com/fooddrive. There is a text-to-give donation line for fans that wish to contribute financially as well, accessible by texting 'CHIEFS' to 31996 (standard messaging rates apply).
PUNT PASS & KICK CHAMPIONSHIP
Sunday's game also featured the annual Chiefs Punt, Pass & Kick Team Championship.
40 youth representing five age groups and all genders participated in the Training Complex Sunday morning beginning at 8 a.m. The Chiefs crowned 10 champions whose scores will be matched to the other team championships around the country with the top scores ultimately qualifying participants for the national competition in January.
After the competition, all 40 youth were brought to the field to watch pre game warm-ups and took the field before game time. Once on the field, Hunt presented the 10 Chiefs team champions with their award—a golden football.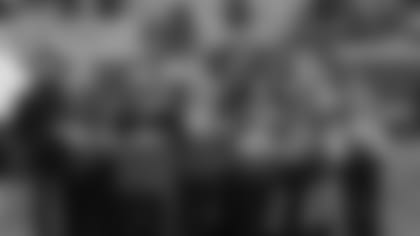 Lastly, 11 youth leaders in the Fuel Up to Play60 program spent the day at Arrowhead on behalf of the Chiefs partner Midwest Dairy.
They spent the morning in Chiefs Kingdom fashion at a special pregame tailgate in Midwest Dairy's tent before making their appearance on the field.
The Chiefs honored their efforts in supporting the Play60 platform with an introduction through the player intro funnel beside the Chiefs Red Coaters.
Photos from the Chiefs Week 12 matchup against the Bills