Former Chiefs offensive lineman Ryan Liljah said it over and over again on the Chiefs Download Podcast back in April.
"When I came to Kansas City as a rookie, it was Willie Roaf, Brian Waters, Casey Wiegmann, Will Shields, John Welbourn," he said. "Those guys would make calls with hand signals. Those guys wouldn't have to make calls because they were in each other's head."
As the Chiefs entered OTAs last week, the truth right now is that is definitely not the case. The sole certainty of their offensive line unit is that there are no certainties.
With the departures of starters Rodney Hudson and Ryan Harris to in-division rivals and Mike McGlynn to the Saints, the only thing anyone can be sure of right now is that when the Chiefs enter the 2015 season, the line will be vastly different than we last saw it.
Current Chiefs Offensive Line
What that means is this year's version of the Chiefs O-line needs to use times like these, OTAs, to start building that continuity, that trust.
"Continuity is going to be something this team has to develop," Liljah added. "In the offseason, right now, these guys need to be eating together, these guys need to be lifting together, these guys need to be golfing together."
And to humorously drive that point even further home…
"Sleepovers, movies, skate parties, all of that stuff."
What should come as a delight to Chiefs fans, according to Eric Kush, is that process has already begun, and it seems that he's even taken the lead in that regard.
"We got together a little bit for Memorial Day, cooked up some burgers and some hot dogs and everything and had a good time," he said. "We're definitely going to continue that, hanging out on weekends and bonding as a unit."
Here's a tweet from Chiefs head athletic trainer Rick Burkholder of Kush already incorporating rookie center Mitch Morse in his and Anthony Sherman's "Fat Arm Friday" tradition:
A major move that general manager John Dorsey made this offseason was acquiring two-time Pro Bowl guard Ben Grubbs for a draft pick.
Amazingly, Grubbs is the only Chiefs offensive lineman over the age of 30 on the roster right now. So earlier this week, reporters questioned how he's helping the younger players along.
"They're helping me through it, actually," he said. "(Eric) Kush is very knowledgeable. He has a good foundation of the playbook. He has been helping me out, him and Fish (Eric Fisher), they have been doing a great job."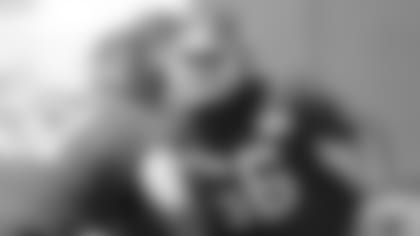 Head coach Andy Reid's playbook is one that is notoriously known to be difficult to grasp, and Grubbs didn't shy away from admitting he's still taking time to get it all down. The positive news that came out of it is how welcoming the team has been to his questions.
"I don't want to be a burden too much, but there are some things that I haven't quite gotten the grasp of," he said. "But they've been doing a really good job of bringing me along with them."
A relationship that Grubbs knows will be important to the success of the team will be with Fisher, who as a left tackle will frequently be the one lining up next to him.
He opened up on how that is coming along by sharing a story of a recent visit with Fisher.
"I've been over Fish's house and he had his boxer jump all over me," he said with a smile. "He really didn't correct it, so I don't know if I'm coming back over.
"It's been great though."
Kush, as the center of all this both literally and figuratively, recognizes that prosperity along the line starts with a close-knit group, and it appears the message has already gotten across to the team.
"We have to bond as a unit, we have to trust each other, know what each other's going to do, know what each other's thinking," he said. "Being together, hanging out certainly helps when something's going down and you have to make decisions fast."
The best images from the first week of OTAs.