Kansas City Chiefs - 2015 Draft
Round 3, Pick 12 (76) (from Vikings)
Round 3, Pick 34 (98) (comp)
Round 5, Pick 36 (172) (comp)
Round 5, Pick 37 (173) (comp)
Round 6, Pick 41 (217) (comp)
Now that the three-day 2015 NFL Draft has come and gone, we've compiled some interesting tidbits about the class of 2015:
1- Director of player personnel Chris Ballard went to West Oakland just a few days before the Chiefs selected cornerback Marcus Peters with their first overall pick.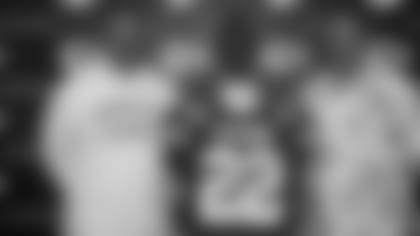 B.J. Kissel wrote an article on how the Chiefs decided to draft cornerback Marcus Peters with their first-round draft pick. Knowing about Peters' well-cited off-the-field issues, the Chiefs sent Ballard out to West Oakland to meet with him and his family. What Ballard found was honesty, and a player the Chiefs would ultimately draft with their most important pick.
"I went out there and it wasn't a recruiting trip," Ballard told Kissel. "This was an honesty trip with me being directly honest with Marcus about what happened and also very honest with his parents about what happened.
"Nobody made excuses—not mom, not dad, not Marcus. They all know that he made a mistake and he was wrong in the situation."
2- General manager John Dorsey took Missouri center Mitch Morse because he loved his flexibility.
During his four-year career at the University of Missouri, Mitch Morse played special teams, left tackle, right tackle and center.
"He can play multiple positions," Dorsey explained on Friday night after the pick. "He's played center, guard and he can play all five positions. His versatility is phenomenal."
That ability to jump around and play anywhere merited the second-round pick in the eyes of the Chiefs' evaluators.
3- Morse was the lone local prospect taken by the Chiefs.
It was a draft filled with local prospects.
Among those out there were Missouri linebacker Shane Ray (Broncos), Kansas cornerback JaCorey Shepherd (Eagles) and Kansas State wide receiver Tyler Lockett (Seahawks).
Morse wound up being the only local flavor the Chiefs were interested in.
Dorsey complimented the local coaches after taking Morse.
"I think the coaches at Missouri have done a really nice job of developing him as he comes along," he said.
4- Chris Conley, speedy receiver and Star Wars filmmaker.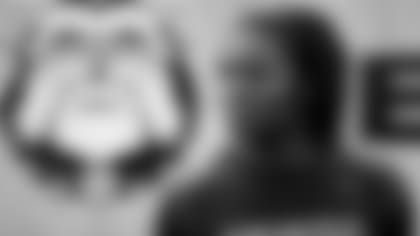 The Chiefs not only picked Conley out of Georgia, they also traded up to get him. At that time, Dorsey explained that he felt it was the best move given the number of receivers being drafted by other teams.
"I thought as you sat and looked at what was going on, what was transpiring, it was probably best to react right now and go and get a receiver," he said.
That receiver was Conley.
Do a quick Google search on the receiver and two things will jump out—his blazing 4.35 40-yard dash time at the NFL Scouting Combine and a 26-minute Star Wars remake titled "Retribution" that he created with some friends. As of Saturday evening, the video has more than 500,000 YouTube views.
"I was an Obi Wan (Kenobi) guy when I was a kid," he said.
5- Bulldogs and Bulldogs and Bulldogs, oh my!
Before the draft, the Chiefs had three Georgia Bulldogs on their roster (Justin Houston, Aaron Murray and Sanders Commings).
Now, after adding Conley in the third round and inside linebacker Ramik Wilson in the fourth, there are five Georgia Bulldogs on the roster.
Murray was well aware of the developments as the draft transpired.
And already, diehard Georgia fans have begun to take notice.
6- What once was 11 ended up being 9.
Prior to the draft and before the Chiefs traded for offensive guard Ben Grubbs, the expectation was that the Chiefs would have 11 picks.
But after sending a fifth-rounder to the Saints for Grubbs and then trading up for Conley on day two, the Chiefs' class of 2015 wound up being nine.
7- The positional breakdown
Here is how the positional breakdown shaped out after the draft:
Marcus Peters, Steven Nelson
Ramik Wilson, D.J. Alexander
Chris Conley, Da'Ron Brown
With their nine picks, the Chiefs took five (5) defensive players and four (4) offensive players.
8- The conference breakdown
Here is how the conference breakdown shaped out after the draft:
Marcus Peters, Steven Nelson D.J. Alexander
Mitch Morse, Chris Conley, Ramik Wilson
Missouri Valley Conference
The PAC-12 and the SEC tied for the most players with three apiece, while the Missouri Valley Conference, Conference USA and the Mid-American Conference were all represented with one player.
Eight of the Chiefs nine draft picks are either exactly 6 feet or taller. The only exception?
Cornerback Steven Nelson, who measures in at 5 feet 10 inches.
Reporters actually brought that up to Dorsey at his post-draft press conference on Friday night.
"Wait a minute, now," Dorsey said with a smile. "He's right above the Mendoza Line."
10- Undrafted free agent time
Now that the draft is over, the league enters the period of undrafted free agents. All those prospects that were not drafted by teams are free to sign wherever they get an offer.
In the draft room while we are making our selection in the first round.