A group of special needs students from the YMCA's Challenger Flag Football League visited training camp on Tuesday. The group enjoyed practice from the VIP tent and afterwards had the chance to meet some of the players, get autographs and take photos.
"These kids love the Chiefs and admire these football players," Shannon Milbourn, head coach of the team, said. "It means a lot to us to be a part of camp and it really shows how much the Chiefs care. We are just a small group, yet, they took the time to have us out here and let the kids meet some of the players. It was awesome and I know they all appreciated it."
The team ranges in age from five to about 18 years old and the league offers this group a way to stay active, learn teamwork and build confidence.
"It's an organized flag football league for kids with special needs or disabilities ages five and up," Milbourn explained. "During the games, most of the time, we start them on the 35-yard line and work towards the end zone. We try to make sure they have fun and score at least one touchdown a game, but we also try not to baby them; we want to let them have fun."
Following practice Vincent Houseman (9), who has spina bifida and Brock Opfer (16), who has down syndrome, had the chance to participate in the helmet walk. They made their way up the hill with Alex Smith and Dontari Poe, holding their helmets and talking football.
"This was truly a dream come dream for Vincent," Kim Housman, Vincent's mother, said. "He was all smiles and was just in awe of Alex Smith. It was great to see him interacting with Alex and he loved it. It means so much to me that the Chiefs would provide this team with this incredible opportunity."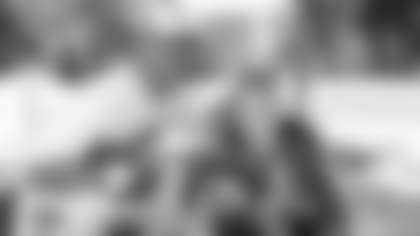 Vincent is the team's quarterback and said he got some pointers from Alex Smith on the way up the hill.
"He is the quarterback, so it was awesome to see him and Alex talk about the position," Kim noted. "This was amazing and I know Vincent loved every minute of it."
After receiving an autograph from Alex Smith you could see the excitement and joy on Vincent's face, as he yelled with pride, "YES!"
Brock Opfer then walked up the hill with Dontari Poe and was overjoyed.
"It was a wonderful experience to see the players spend time with Brock and it meant so much to us to be a part of it," D. Dee Opfer, Brock's mother, said. "It was so special because he really looks up to these players and admires them. He was just ecstatic."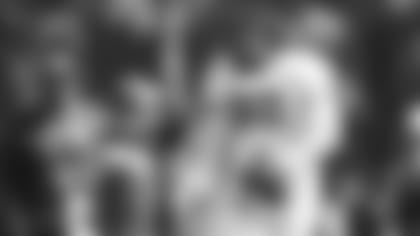 The team is always looking for volunteers to help with their game day.
"We have some kids that come out and volunteer to either help the children in wheelchairs or just make sure the kids are going the right direction or teach them how to throw the ball," Milbourn said. "We always need volunteers though."
If you would like to volunteer to help the team on game days, or for more information, visit kansascityymca.com.