As anticipation for the American Royal at Arrowhead Stadium builds this weekend, Zarda Barbecue, one of the vendors for the event, shares a deeper connection with the Kansas City Chiefs that has stood the test of time.
It was morning in the middle of August this past summer, and the sun beamed down on the shining red helmets on the campus of Missouri Western State in St. Joseph, Mo.
As they do annually, the dog days of Kansas City Chiefs training camp had come and the feeling of anomaly that a professional football team brings with it when it invades a college campus had worn off.
By this time, school employees and students taking summer classes were used to seeing the 6- and 7-foot men as they rode through campus and the coaching staff members had adjusted to their harder-than-usual dorm-room beds.
But there was something different about this day.
For the 27th time in as many years, Terry Hyer, Zarda Barbecue's chief operating officer, stood outside of the players' mess hall.
Hyer had been coming to training camp since the late 1980s to serve a free barbecue dinner to the Chiefs.
"This all started when Marty Schottenheimer had us come out to Liberty at William Jewell and feed their training camp out there," Hyer explained. "We had done that two years, and then I had gotten my Red Coat.
"On the night that I did, Carl Peterson and Lamar Hunt were there, and we talked about doing a taste of home, a taste of Kansas City up in River Falls because the camp had transferred. Lamar thought it was a great idea, and we orchestrated it and started doing it up there."
Over the course of the time Hyer has been doing this, he has worked with six different coaching staffs and has gone through three regime changes.
When general manager John Dorsey and Andy Reid landed in Kansas City in 2013, Hyer and Zarda didn't go away.
"At this point it's about our relationship and keeping the tradition going," Mitch Reynolds, the Chiefs football operations coordinator who handles all aspects of training camp, said. "That's some big-time dedication on their behalf.  We always enjoy having them come out and I think they can feel that.  At the end of the day, they just want to feed us some good barbecue and see us leave with a smile."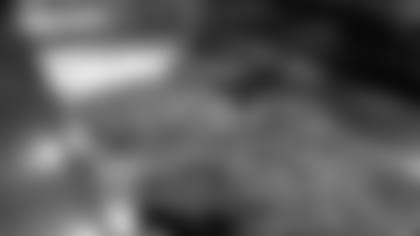 Hyer and his crew feel that connection.
"I think that what it reminds me of is it really feels bad to a sort of Dick Vermeil era. I told Coach Reid that this past training camp," he said. "They're just a lot of fun to be around, it's very relaxing, it feels like a family feel to the whole thing, and that's what I felt with Coach Vermeil. [The family feel] is back. It most certainly is."
On this particular day, Dorsey, as he usually does, rode his bicycle back up to the dorms after practice.
But once he saw Hyer standing with his smoker, the mechanism he would use to feed more than 100 grown men that evening, the general manager decided to take a pit stop.
Hyer knew what Dorsey, who he refers to as a "gentle giant," was looking for.
"Of course, I knew him from years past, and he says, 'Hey guys, what's going on,'" Hyer explained. "I said, 'Hey do you want to see what we're cooking up?' And he's like, 'Absolutely.'
"So we started hand carving brisket and everything else, ribs, and he was just sampling everything."
From several accounts, the food was so good that Dorsey had no problem eating with whatever was available to him.
"From a picture I saw, utensils weren't necessary," Reynolds jokingly said.
With training camp being a three-week grind of uninterrupted football preparation, Reynolds admits that feeding the players barbecue every night wouldn't be the healthiest choice, but the tradition provides a welcomed change of pace, a treat for the players and their hard work.
This weekend, Zarda will be one of two vendors serving food to customers at the American Royal event at Arrowhead Stadium.
Hyer, who obviously shares a special relationship with the Chiefs, said he couldn't be more excited for the opportunity.
"The very first day that I heard it announced that this was coming to Arrowhead Stadium, the immediate thought I had was game changer," he said. "With the backdrop being where we tailgate and where the Kansas City Chiefs play, you're taking one iconic event and moving it to an iconic area. To me, it's really big."
---
On the visit to camp this year, Hyer debuted a new item, at the time, exclusively to the Chiefs—a new style of burnt end—which will be served this weekend at American Royal.
To buy tickets for this weekend, visit[Ticketmaster](http://www.ticketmaster.com/search?tmlink=tmhomeAheadersearch&user_input=American Royal BBQ&q=American Royal BBQ).