Arrowhead Art Collection | Kansas City Chiefs - Chiefs.com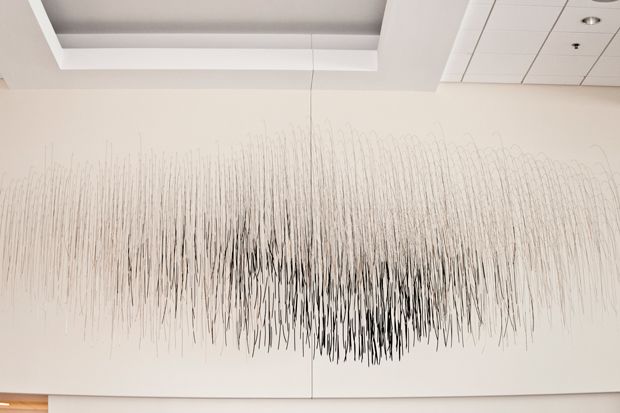 Home of the Brave, 2013
Graphite, Acrylic, Ink, Spray paint, and Mylar on paper
While taking Sunday drives through Kansas City as a child, Marilyn Mahoney was struck not so much by the polished and the elegant, but by the gritty, industrial honesty of bridges, trains, and half-completed buildings. These outings fueled her fascination and interest in re-imagining architecture.
She honors the energy of Arrowhead Stadium by picking apart the structural elements that intrigue her: the industrial edges, the uplifting wings, the sheer hulking mass of the building, and the immense Midwestern space and sky around it. All elements for this deconstruction and reconstruction were guided by studying the architectural drawings of the original Arrowhead Stadium completed in 1972 and the 2010 renovation.
Mahoney currently resides in Kansas City, Missouri.
Marilyn Mahoney